The Mystery of the Ivory Charm is the thirteenth volume in the Nancy Drew Mystery Stories series. It was first published in 1936 by Grosset & Dunlap under the pseudonym Carolyn Keene. The actual author was ghostwriter Mildred Wirt Benson.
This is one of the few Nancy Drew books where an acknowledgement has been made to Mildred Wirt Benson. The acknowledgement from the 1974 edition reads as follows:
"Acknowledgement is made to Mildred Wirt Benson, who under the pen name Carolyn Keene, wrote the original NANCY DREW books."
Summaries (original edition)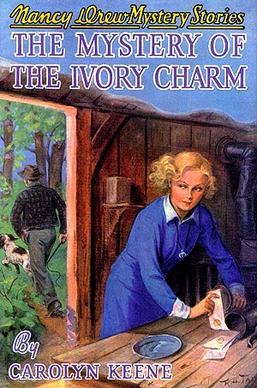 The plot finds Nancy, Bess, and George investigating a mysterious boy from India. The boy, Coya, works for a traveling circus, and is treated poorly by his guardian, Rai, also a native of India, who is in charge of the circus. Coya runs away from his abusive guardian and seeks asylum at the Drew home in River Heights.
Soon after his arrival, the girls begin investigating property owned by the unusual Miss Anita Allison. They encounter a house "with no insides," and a hidden tunnel. The property mysteriously catches fire, revealing a hidden cache of jewels. Nancy traces Coya's parentage and uncovers a sinister kidnapping plot involving both Miss Allison and Rai. The climax also reveals a secret about the ivory charm, and its mysterious powers.
Nancy Drew #13 The Mystery of the Ivory Charm First Edition Book Identification Points
Only the first few printings of the first/second year are included. Printings codes are based on the Farrah Guide, 12th printing. Please refer to the guide for later printings.
Note: Glossy+: Glossy frontis + 3 glossy internals.
How to Identify Nancy Drew - The Mystery of the Ivory Charm First Edition Guide

| Printing | Frontis | Copyright Page | Rear Book Ads |
| --- | --- | --- | --- |
| 1936B-1 | Glossy+ | Nancy Drew #1-13 | Nancy Drew #1-10/Judy Bolton #1-9/Melody Lane #1-5/Dana Girls #1-5 |
| 1936C-2 | Glossy+ | Nancy Drew #1-13 | Nancy Drew #1-10/Judy Bolton #1-9/Melody Lane #1-5/Dana Girls #1-5 |
| 1937A-3 | Glossy+ | Nancy Drew #1-13 | Nancy Drew #1-10/Judy Bolton #1-9/Books for Girls(7)/Melody Lane #1-5 |
| 1937B-4 | Glossy+ | Nancy Drew #1-13 | Nancy Drew #1-10/Judy Bolton #1-9/Melody Lane #1-6/Books for Girls(9) |
Nancy Drew #13 The Mystery of the Ivory Charm First Edition Dust Jacket Identification Points
How to Identify Nancy Drew - The Mystery of the Ivory Charm First Edition Dust Jacket

| Printing | Price | Front Flap | Rear Panel | Rear Flap | Format |
| --- | --- | --- | --- | --- | --- |
| 1936B-1 | 50c | Nancy Drew #1-13 | Judy Bolton #1-9 | Dana Girls #1-5 | 3 |
| 1936C-2 | 50c | Nancy Drew #1-13 | Judy Bolton #1-9 | Dana Girls #1-6 | 3 |
| 1937A-3 | 50c | Nancy Drew #1-13 | Judy Bolton #1-9 | Dana Girls #1-6 | 3 |
| 1937B-4 | 5050 | Nancy Drew #1-14 | Judy Bolton #1-10 | Dana Girls #1-6 | 3 |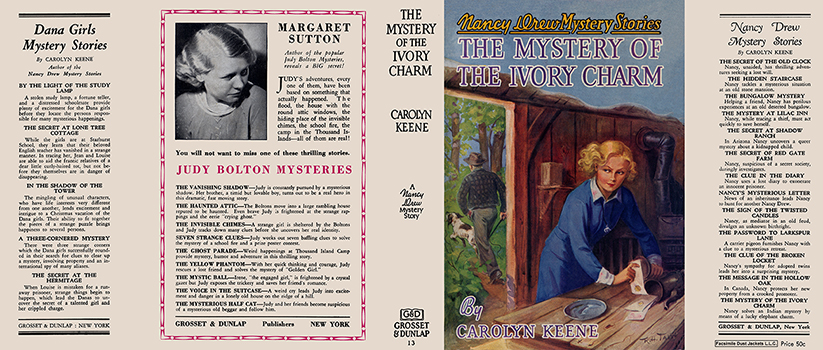 Reference:
Farah's Guide to Nancy Drew, 12th printing