The Message in the Hollow Oak is the twelfth volume in the Nancy Drew Mystery Stories series. It was written by Mildred Benson under the pseudonym Carolyn Keene and first published in 1935.
Summaries (original edition)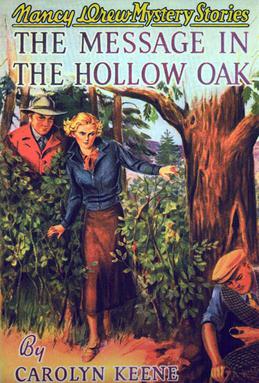 Nancy Drew finds out that she has won a rather unusual prize in a contest, a piece of land in Canada. She takes a trip, her first outside of the United States, to see what her new property looks like.
As she is traveling by train to Canada, she meets an author named Ann Chapelle. Suddenly, the train crashes, and everything is thrown into confusion. Nancy and her two friends, Bess Marvin and George Fayne, are uninjured, but Chapelle is taken to a nearby hospital, gravely injured. When Nancy and her friends find her, Miss Chapelle tells Nancy the reason she was going to Canada, and asks a favor of her—to give a message to Miss Chapelle's grandfather, and to a lost love whom she hasn't seen since she ran away from home some years ago.
Along with this request, Nancy also has another problem: Two men have heard that there might be gold on Nancy's land, and are determined to get there first.
Nancy Drew #12 The Message in the Hollow Oak First Edition Book Identification Points
Only the first few printings of the first/second year are included. Printings codes are based on the Farrah Guide, 12th printing. Please refer to the guide for later printings.
Note: Glossy+: Glossy frontis + 3 glossy internals.
How to Identify Nancy Drew - The Message in the Hollow Oak First Edition Guide

| Printing | Frontis | Copyright Page | Rear Book Ads |
| --- | --- | --- | --- |
| 1935A-1 | Glossy+ | Nancy Drew #1-12 | Nancy Drew #1-10/Dana Girls #1-3 |
| 1935B-2 | Glossy+ | Nancy Drew #1-12 | Nancy Drew #1-10/Melody Lane #1-3 |
| 1935C-3 | Glossy+ | Nancy Drew #1-12 | Nancy Drew #1-10/Melody Lane #1-5 |
Nancy Drew # The Message in the Hollow Oak First Edition Dust Jacket Identification Points
How to Identify Nancy Drew - The Message in the Hollow Oak First Edition Dust Jacket

| Printing | Price | Front Flap | Rear Panel | Rear Flap | Format |
| --- | --- | --- | --- | --- | --- |
| 1935A-1 | 50c | Nancy Drew #1-12 | Judy Bolton #1-8 | Dana Girls #1-4 | 3 |
| 1935B-2 | 50c | Nancy Drew #1-12 | Judy Bolton #1-8 | Dana Girls #1-4 | 3 |
| 1935C-3 | 50c | Nancy Drew #1-12 | Judy Bolton #1-9 | Dana Girls #1-5 | 3 |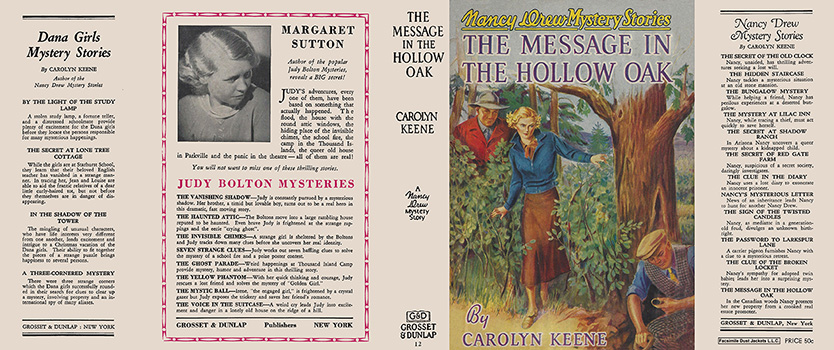 Reference:
Farah's Guide to Nancy Drew, 12th printing