The Ringmaster's Secret is the thirty-first volume in the Nancy Drew Mystery Stories series. It was first published in late 1953 under the pseudonym Carolyn Keene. The actual author was ghostwriter Harriet Stratemeyer Adams.
Summaries (original edition)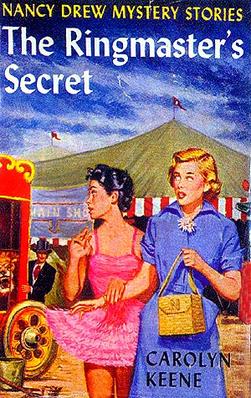 1953 Edition: Nancy's Aunt Eloise, aware of her niece's current interest in learning horseback riding stunts, sends her a second-hand golden bracelet bearing charms of horses in all five gaits; a sixth charm is missing. Coincidentally, the Sims Circus, former employer of Nancy's equestrian instructor, is coming to town. Nancy investigates the link between the unhappy circus star, young aerialist, Lolita, and her bracelet.
Lolita is the adopted daughter of the acting manager, Ringmaster Kroon, and his wife. Pietro, the young, handsome clown, tells Nancy Lolita has the missing charm from her bracelet. Nancy's regular appearances at the circus, and her detective reputation brings the ire of Kroon. When a bareback rider is injured, Nancy is asked to join the show as her replacement. Bess Marvin stands in at an interview with Kroon, and agrees to audition later, while Nancy lightens her hair and cuts it to resemble her friend.
Nancy's travels with the circus come to an abrupt end when she and George are kidnapped and left aboard the car of a freight train. After their escape, Nancy continues following up on clues, including a mysterious woman in England linked to both the bracelet and Lolita! In the climax of the story, Nancy is rescued by Ned when Kroon tries to imprison her in the lion's cage, and all is revealed.
Nancy Drew #31 The Ringmaster's Secret First Edition Book Identification Points
Only the first few printings of the first/second year are included. Printings codes are based on the Farrah Guide, 12th printing. Please refer to the guide for later printings.
How to Identify Nancy Drew - The Ringmaster's Secret First Edition Guide

| Printing | Frontis | Copyright Page | Notes |
| --- | --- | --- | --- |
| 1953A-1 | Plain | Nancy Drew #1-31, Dana Girls #1-15 | |
| 1953B-2 | Plain | Nancy Drew #1-31, Dana Girls #1-16 | |
Nancy Drew #31 The Ringmaster's Secret First Edition Dust Jacket Identification Points
How to Identify Nancy Drew - The Ringmaster's Secret First Edition Dust Jacket

| Printing | Price | Front Flap | Rear Panel | Rear Flap | Format |
| --- | --- | --- | --- | --- | --- |
| 1953A-1 | 9595 | Nancy Drew #1-31 | Dana Girls #1-15 | Vicki Barr #1-9 | 15 |
| 1953B-2 | 9595 | Nancy Drew #1-31 | Dana Girls #1-15 | Vicki Barr #1-9 | 15 |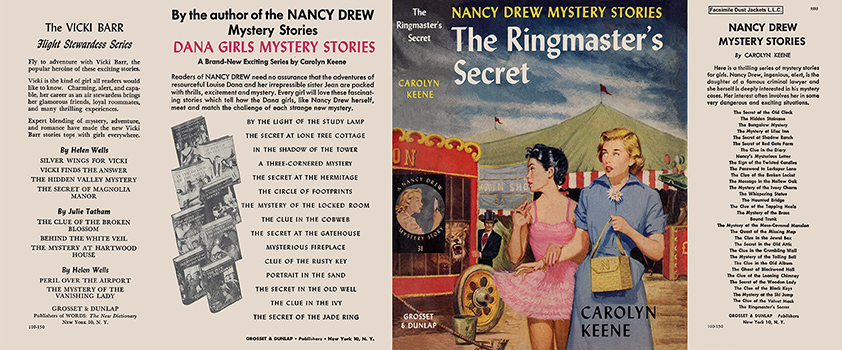 Reference:
Farah's Guide to Nancy Drew, 12th printing