Theodor Seuss Geisel (Dr. Seuss) – American author and illustrator 1894-1991.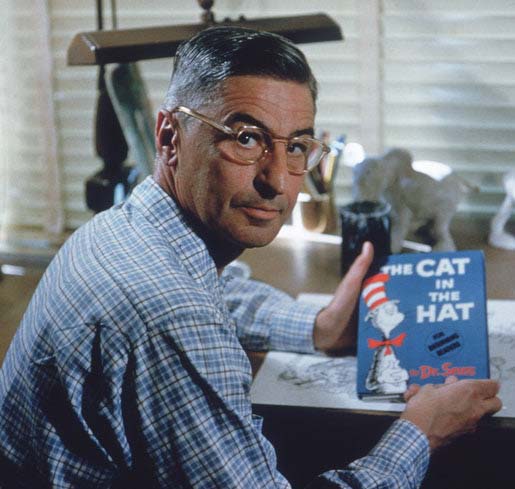 American author and illustrator, 1904-1991, Writing under the pseudonym "Dr. Seuss," Theodor Seuss Geisel was a publishing phenomenon, an author of unique nonsense books for children who gained unprecedented acclaim outside the children's book field.
Two of his picture books, The Butter Battle Book (1984) and Oh, the Places You'll Go (1990), broke records for the number of weeks they appeared on the New York Times best-seller list. Since 1937, his books have sold more than two hundred million copies and have been translated into some twenty languages as well as Braille. Yet Geisel never compromised his own artistic impulses, creating original, iconoclastic books that were at one lime considered "too different" to be marketable.
Theodor Seuss Geisel's versatile creativity earned him three Academy Awards, including one for the animated cartoon "Gerald McBoing-Boing," and two Peabody Awards for the tele­vision specials "How the Grinch Stole Christmas" and "Horton Hears a Who," adapted from his children's books. His recognition within the children's book field was marked by two Caldecott Honor Awards, for McEligott's Pool (1947) and Bartholomew and the Oobleck (1949); in 1980 he was awarded the prestigious Laura Ingalls Wilder Award from the American Library Asso­ciation for the body of his work.
Geisel was born in Springfield, Massachusetts, where his father was curator of public parks, including a small zoo. He spent much of his happy childhood with his lather, learning about animals and storing that knowl­edge for the fantastic creatures that would later popu­late his picture books.
In 1925 Geisel graduated from Dartmouth College, where he was editor of the school humor magazine—the first outlet for his freewheeling, zany humor. Geisel then attended Oxford University, intending to earn a Ph.D. in English literature; he found bis studies "astonishingly irrelevant," however, and re­turned home. He soon found success—but not fulfill­ment —as an advertising illustrator and as a cartoonist for such national magazines as Vanity Fair, The Saturday Evening Post, and Judge.
Dr. Seuss: An Interview
How do you get your ideas for books?

This is the most asked question of any successful author. Most authors will not disclose their source for fear that other less successful authors will chisel in on their territory. However, I am willing to take a chance. I get all my ideas in Switzerland near the Forka Pass. There is a little town called Gletch, and two thousand feet up above Gletch there is a smaller hamlet called Uber Gletch. I go there on the fourth of August every summer to get my cuckoo clock repaired. While the cuckoo is in the hospital, I wan­der around and talk to the people in the streets. They are very strange people, and I get my ideas from them.

How do you handle the nonsense words in translation?

The books have been translated into about fifteen foreign languages. I have no idea how they handled it in the Japanese. Oddly enough, the Germanic and Nordic languages are much more successful for translating the nonsense words than die romance languages are. Why that is, I don't know. The Ger­mans will take a name like Bartholomew Cubbins and turn it into Bartel Lugepros, which I think is a very beautiful approximation.

Do your characters live with you all the time?

Well, I hope not… If I were invited to a dinner party with my characters, I wouldn't show up.
Was your first book, And to Think That I Saw It on Mulberry Street (1937), rejected by many publishers before it was accepted?

Twenty-seven or twenty-nine, I forget which. The excuse I got for all those rejections was that there was nothing on the market quite like it, so they didn't i know whether it would sell.

How much has your own early childhood influenced your work?

Not to a very great extent. I think my aberrations started when I got out of early childhood. My father, however, in my early childhood, did, among other things, run a zoo, and I used to play with the baby lions and the antelope and a few other things of that sort. Generally speaking, I don't think my childhood influenced my work. I think I skipped my childhood.

Do your ideas for books spring forth from free drawing you might be doing?

Mine always start as a doodle. I may doodle a couple of animals; if they bite each other, it's going to be a good book. If you doodle enough, the characters begin to take over themselves—after a year and a half or so.

Sometimes you have luck when you are doodling, I did one day when I was drawing some trees. Then I began drawing elephants. I had a window that was open, and the wind blew the elephant on top of a tree. I looked at it and said, "What do you suppose that elephant is doing there?" The answer was: "He is hatching an egg." Then all I had to do was write a book about it. I have left that window open ever since, but it's never happened again.

How do you shut out the reality of the world when you're creating your books? Do nuclear weapons, can­cer, unemployment, and pollution affect you?

They're all there, but I look at them through the wrong end of the telescope. I change them in that way.

Excerpt from The Horm Book Magazine. Vol. 65. pp. 582-588.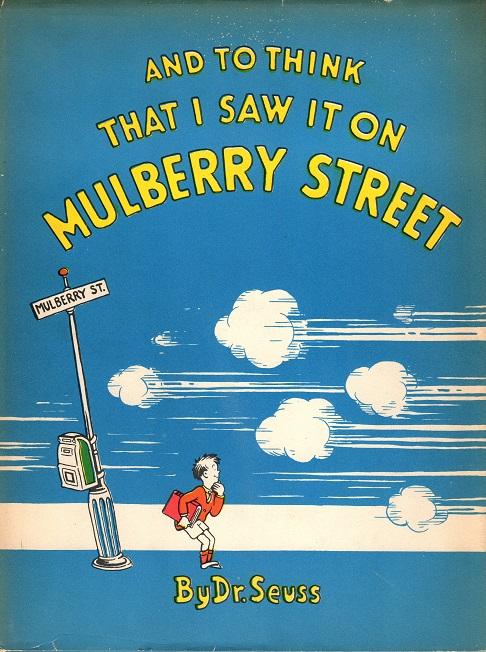 A couplet he made up to the relentless pulse of an ocean liner's engines—"And that is a story that no one tan beat/when I say that I saw it on Mulberry Street"—- developed into Geisel's first children's book. In the cumulative tall tale And to Think That I Saw It on Mul­berry Street (1937) a little boy's imagination transforms an ordinary horse and wagon into an increasingly out­rageous parade of rajahs, elephants, brass bands, and magicians. The innovative, aggressively rhythmic Mul­berry Street—the first of forty-six children's books writ­ten by Dr, Seuss—was reputedly turned down by twen­ty-eight publishers before it was finally accepted.
Mulberry Street was followed in 1938 by The Five Hun­dred Hats of Bartholomew Cubbins., an original, Seussian fairy tale in which a hapless boy's hats keep reproducing as he doffs them, desperate to obey the mandate "Hats off to the King!" The story's traditional fairy-tale struc­ture contains pointed digs at pompous adults and spoiled children as well as the first glimmerings of Gei­sel's joyous experimentation with the English language.
Another beloved Dr. Seuss character was introduced in Horton Hatches the Egg (1940), about an elephant who agrees to sit on a bird's egg while the flighty, irresponsi­ble mother takes a long vacation. Horton's brave con­stancy is rewarded when a tiny winged elephant hatches from the egg; his refrain, "I meant what I said, and I said what I meant/An elephant's faithful, one hundred per­cent," has become a classic line in children's literature.
The sequel, Horton Hears a Who! (1954), finds the kind elephant doggedly protecting a complete, microscopic world that exists on a speck of dust. The moral, "A per­son's a person, no matter how small," reflects Geisel's great respect for the world's underdogs—including its children.
During World War II, Geisel worked as a political cartoonist and as a filmmaker for the army (two of his wartime documentaries, Hitler Lives! and Design for Death, won Academy Awards). His concern for social and political issues found continuing outlets in many of his children's books, which explore such topics as the commercialization of Christmas, in How the Grinch Stole Christmas (1957); totalitarianism, in Yertle the Tur­tle (1958); pollution, in the ecological allegory The Lorax (1971); discrimination, in The Sneetches and Other Sto­ries (1961); and nuclear disarmament, in The Butter Bat­tle Book.
Many of his books are simply celebrations of inven­tion. Books such as There's a Wocket in My Pocket (1974) , Oh, the Thinks You Can Think (1975), and Oh, Say Can You Say (1979) sparkle with wordplay and tongue-twist­ers. Geisel's imagination runs rampant in extravaganzas such as If I Ran the Zoo (1950) or On Beyond Zebra (1955) with their impossible, fantastic, funny creatures and wildly imaginative situations.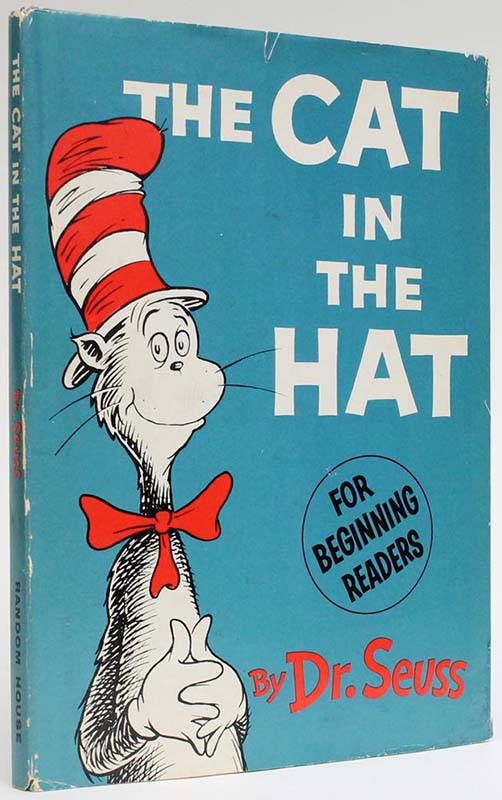 Perhaps Geisel's greatest contribution to children's literature, however, came with the publication of The Cat in the Hat and its companions. In a 1954 article in Life magazine, novelist John Hersey decried the dullness of the "pallid primers" used in schools to teach reading, complaining that they featured "abnormally courteous, unnaturally clean boys and girls" that bored real chil­dren and discouraged them from learning to read, Gei­sel responded with The Cat in the Hat (1957), published simultaneously as a trade book and a textbook; in it, Geisel used just 223 words to tell a decidedly unpallid story about what happened one rainy day when a com­pletely conscienceless, mischievous, mayhem-making cat came to play.
The book's open acceptance of chil­dren's misbehavior (subversive for that time), its wildly imaginative pictures and situation, and its spontaneous humor combined to give children a compelling incentive to read. The Cat in the Hat became the first of the Begin­ner Books, a division of Random House of which Geisel was president; seventeen more limited-vocabulary books followed, including the immensely popular Green Eggs and Ham (1960), which contained just fifty words— and, as one critic noted, "unlimited exuberance."
Although he received some criticism for a repetitive sameness of rhyme and illustration style, Dr. Seuss remains a favorite of children of all ages—so beloved, in fact, that his name is "synonymous with laughter," according to critics May Hill Arbuthnot and Zena Suth­erland. He gave children stories of great originality- accompanied by pictures "characterized by a strange, wild grace, with their great heights and depths" and bright, clear colors. He inspired generations of children to explore the infinite possibilities of language and of their own imaginations.
The late Bennett Cerf, the publisher of the Dr. Seuss books, once said: "I've published any number of great writers, from William Faulkner to John O'Hara, but there's only one genius on my authors' list. His name "Ted Geisel."
Martha V. Parravano
Source: Children's Books and their Creators, Anita Silvey.
---
List of Books by Dr. Seuss
1. And To Think That I Saw It On Mulberry Street (1937)
2. The 500 Hats Of Bartholomew Cubbins (1938)
3. The King's Stilts (1939)
4. Horton Hatches the Egg (1940)
5. McElligot's Pool (1947)
6. Thidwick The Big-Hearted Moose (1948)
7. Bartholomew And The Oobleck (1949)
8. If I Ran the Zoo (1950)
9. Scrambled Eggs Super! (1953)
10. Horton Hears A Who! (1954)
11. On Beyond Zebra (1955)
12. If I Ran The Circus (1956)
13. The Cat in the Hat (1957)
14. How The Grinch Stole Christmas (1957)
15. Yertle The Turtle And Other Stories (1958)
16. The Cat In The Hat Comes Back! (1958)
17. Happy Birthday To You! (1959)
18. Green Eggs And Ham (1960)
19. One Fish Two Fish Red Fish Blue Fish (1960)
20. The Sneetches And Other Stories (1961)
21. Dr Seuss's Sleep Book (1962)
22. Dr Seuss's ABC (1963)
23. Hop on Pop (1963)
24. Fox In Socks (1965)

25. I Had Trouble In Getting To Solla Sollew (1965)

26. The Cat in the Hat Song Book (1967)

27. The Foot Book (1968)

28. I Can Lick 30 Tigers Today! And Other Stories (1969)

29. My Book About Me (1969)

30. I Can Draw It Myself (1970)

31. Mr Brown Can Moo! Can You? (1970)

32. The Lorax (1971)

33. Marvin K. Mooney Will You Please Go Now! (1972)

34. Did I Ever Tell You How Lucky You Are? (1973)

35. The Shape Of Me And Other Stuff (1973)

36. Great Day For Up (1974)

37. There's a Wocket in my Pocket! (1974)

38. Oh, The Thinks You Can Think! (1975)

39. I Can Read With My Eyes Shut! (1978)
40. Oh Say Can You Say? (1979)

41. Hunches In Bunches (1982)

42. The Butter Battle Book (1984)

43. You're Only Old Once! (1986)

44. I am Not Going to Get Up Today (1987)

45. Oh, The Places You'll Go! (1990)