The Scarlet Slipper Mystery is the thirty-second volume in the Nancy Drew Mystery Stories series. It was published in 1954 by Grosset & Dunlap and written by Charles S. Strong under the house pseudonym Carolyn Keene
Summaries (original edition)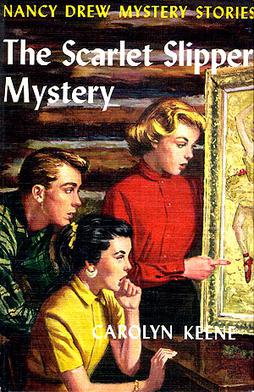 Nancy meets the Fontaines, refugees from the fictional country of Centrovia, who run a dance school in River Heights. The Fontaines receive threats from a mysterious assailant, and Nancy offers to help, but then the Fontaines disappear.
Nancy begins her search for them and becomes involved in a mystery involving a pair of scarlet dance slippers, a painting, and missing jewels. There are many people pretending to be friends of the Fontaines, but Nancy does not know if they are lying.
Nancy Drew #32 The Scarlet Slipper Mystery First Edition Book Identification Points
Only the first few printings of the first/second year are included. Printings codes are based on the Farrah Guide, 12th printing. Please refer to the guide for later printings.
How to Identify Nancy Drew - The Scarlet Slipper Mystery First Edition Guide

| Printing | Frontis | Copyright Page | Notes |
| --- | --- | --- | --- |
| 1954D-1 | Plain | Nancy Drew #1-32, Dana Girls #1-16 | |
| 1954E-2 | Plain | Nancy Drew #1-32, Dana Girls #1-16 | |
Nancy Drew #32 The Scarlet Slipper Mystery First Edition Dust Jacket Identification Points
How to Identify Nancy Drew - The Scarlet Slipper Mystery First Edition Dust Jacket

| Printing | Price | Front Flap | Rear Panel | Rear Flap | Format |
| --- | --- | --- | --- | --- | --- |
| 1954D-1 | 9595 | Nancy Drew #1-32 | Dana Girls #1-15 | Vicki Barr #1-10 | 15 |
| 1954E-2 | 9595 | Nancy Drew #1-32 | Dana Girls #1-15 | Connie Blair #1-10 | 15 |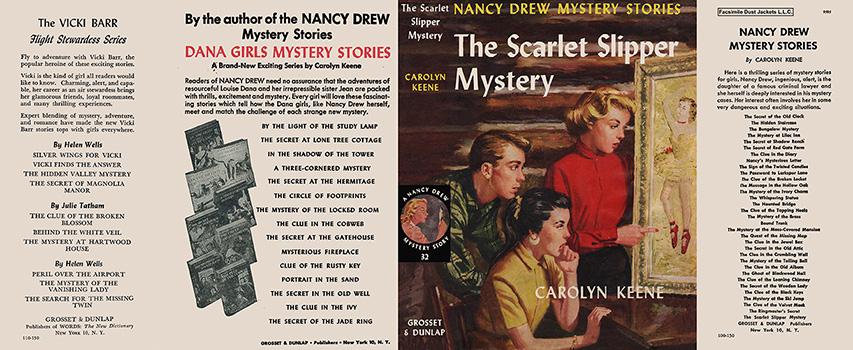 Reference:
Farah's Guide to Nancy Drew, 12th printing