Joanne Rowling – British author, b. 1965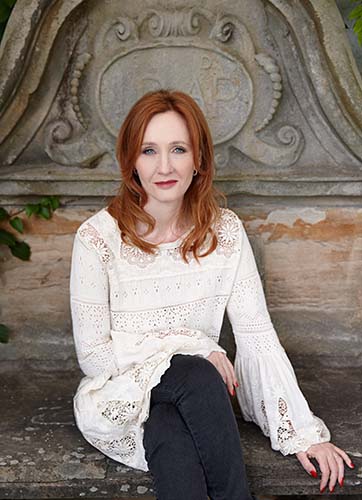 A phenomenon in children's book publishing began in 1998 and continues to whirl around author Joanne K. Rowling and her books about the young wizard Harry Potter. The literary hoopla began in Eng­land, where Harry Potter and the Philosopher's Stone (1997), published as Harry Potter and the Sorcerer's Stone in the US. Rowling's first novel, written when she was a young mother living on unemployment benefits, immediately hit the top of bestseller lists in England. Less than a year after it was published, the book, written for eight-to twelve­year-olds, won the British Book Awards Chil­dren's Book of the Year. It was sold to publishers in eight countries, including the United States.
The first four books of the series — Hany Potter and the Sorcerer's Stone (1998k Harry Potter and the Chamber of Secrets (1999k Harry Potter and the Prisoner of Azkaban (1999). and Harry Potter and the Goblet of Fire (2000) have sold more than fifty million copies in the United States alone. Although the books haw certainly delighted both adults and children, children themselves immediately took Harry and his stories to heart. It is easy to understand why. The stories are chock-full of the right in­gredients: quirky and courageous characters, magic, humor, whimsical and bizarre settings, and a convincing blend of fantasy and reality. And throughout, the narratives are woven with age-old themes of good and evil.
After twelve years of working shoulder to shoulder with her central character, J. K. Rowling "thinks one reason Harry's stories are so appeal­ing is he has to accept adult burdens in his life, although he is a child. He is also an old-fashioned hero. What I mean by that is — there are enough human frailties in Harry that people of all ages identify with him, but he is also an hon­orable, admirable person?'
The idea for Harry Potter's story came to the author when she was delayed on a train to Lon­don: "Harry as a character came fully formed, as did the idea for his sidekicks, the characters of Ron and Hermione, It started with Harry, then all these characters and situations came flooding into my head. It was an excitement I'd never known before?' The characters arrived in 1990 but it took Rowling six years to develop the plot and write the book.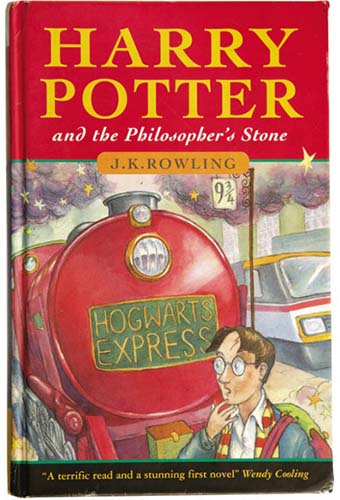 In Harry Potter and the Philosopher's Stone Harry is orphaned in infancy and deposited on his aunt and unde's doorstep. For ten years, Harry is raised in the household of his truly vile rela­tives; his bedroom is a closet under foe stairs. But Harry is unique; he is a wizard. He is the surviving son of wizards who were killed by the evil sorcerer Lord Voldemort, and as a result of his ancestry he is blessed with enough common sense and tenacity to cope with his Muggle (non magical) relatives. An unassuming hero, he is oblivious to his own magical powers until a giant plucks him from the clutches of his nasty aunt and uncle and delivers him to Hogwarts School for Witchcraft and Wizardry.
Once at Hogwarts, his life changes . forever. Harry begins to hone his magical skills and finds wonderful friends, as well as a few malcontents. As the story unfolds, readers realize Harry has a destiny to fulfill; he must rout out an evil within the depths of Hogwarts School. With the help of his pals, Hermione, Ron, and the giant Rubeus Hagrid, along with the guidance of Head Wizard Dumbledore, Harry summons his courage and common sense to unearth an old enemy camped beneath the school building — Voldemort. The friends combine magical talents and send the odious sorcerer packing, at least temporarily, in a rousing, completely satisfying denouement.
In Harry Potter and the Chamber of Secrets, Harry returns to Hogwarts for his second year. His escapades are full of magic, genial ghosts, ri­valries, eccentric teachers, and, once again, a sin­ister mystery lurking in the halls of Hogwarts. Rowling has used many of her trademark story ingredients to keep this tale zipping along, tap­ping into an engaging vein of fantasy peppered with humor, convoluted plots, a cast of idiosyn­cratic characters, and evil — which is kept at bay until Harry sorts out the skullduggery.
By the third installment of the Harry saga, the popularity of the books had become stagger­ing. Children stood in lines for hours, waiting to buy Harry Potter and the Prisoner of Azkaban. All the basics remain in place in this book, though several new, colorful characters are introduced, and a tricky bit of time manipulation brings the tale to a delightful hair-raising climax. Most sat­isfying is the development of Harry himself, who squarely faces the violent deaths of his par­ents and becomes a stronger person and a more complex and endearing hero.
Most of the characters from the earlier books, beloved or bedeviled or both, return in Harry Potter and the Goblet of Fire- a fire that is almost extinguished by the book's sheer length, 734 pages. Devoted fans still follow the action to the end, although many subplots — including a preposterous, lengthy explanation of how Voldemort infiltrates Hogwarts —are distract­ing. Themes of good and evil, courage, loyalty, friendship, and bigotry are expanded and have a powerful impact on Harry's spiritual and emo­tional odyssey as he comes of age.
Harry Potter is a publishing phenomena, un­like any seen in the United States. Some adults have wondered whether the public's attention and subsequent sales of the books result from the success factor itself, rather than the literary merit of J. K. Rowling's work. But clearly one of the most remarkable aspects of the Harry Potter craze is that children, even reluctant readers, have found sheer delight in reading the stories — time and again — for pleasure. Warner Brothers released a full-length feature film of Rowling's first volume in 2001, further fanning the enthu­siasm of fans — who are just wild about Harry.
S.L.
Source: Children's Books and their Creators, Anita Silvey.
Harry Potter's First Editions Collector's Guide
J. K. Rowling – Harry Potter's First edition Identification Guide.
---
J. K. Rowlings Books
Children
The Ickabog (publishing in installments online 26 May until 10 July 2020; to be published in book form, November 2020). The first two chapters were published in May 2020.
Young adults
Harry Potter series
Harry Potter and the Philosopher's Stone (26 June 1997)
Harry Potter and the Chamber of Secrets (2 July 1998)
Harry Potter and the Prisoner of Azkaban (8 July 1999)
Harry Potter and the Goblet of Fire (8 July 2000)
Harry Potter and the Order of the Phoenix (21 June 2003)
Harry Potter and the Half-Blood Prince (16 July 2005)
Harry Potter and the Deathly Hallows (21 July 2007)
Related works
Fantastic Beasts and Where to Find Them (supplement to the Harry Potter series) (1 March 2001)
Quidditch Through the Ages (supplement to the Harry Potter series) (1 March 2001)
The Tales of Beedle the Bard (supplement to the Harry Potter series) (4 December 2008)
Harry Potter and the Cursed Child (story concept) (31 July 2016)
Short Stories from Hogwarts of Power, Politics and Pesky Poltergeists (6 September 2016)
Short Stories from Hogwarts of Heroism, Hardship and Dangerous Hobbies (6 September 2016)
Hogwarts: An Incomplete and Unreliable Guide (6 September 2016)
Fantastic Beasts and Where to Find Them (Original Screenplay) (19 November 2016)
Fantastic Beasts: The Crimes of Grindelwald (Original Screenplay) (16 November 2018)
Short stories
Harry Potter prequel (July 2008)
Adults
The Casual Vacancy (27 September 2012)
Cormoran Strike series (as Robert Galbraith)
The Cuckoo's Calling (18 April 2013)
The Silkworm (19 June 2014)
Career of Evil (20 October 2015)
Lethal White (18 September 2018)
Troubled Blood (15 September 2020)