Tasha Tudor – American artist and author, 1915-2008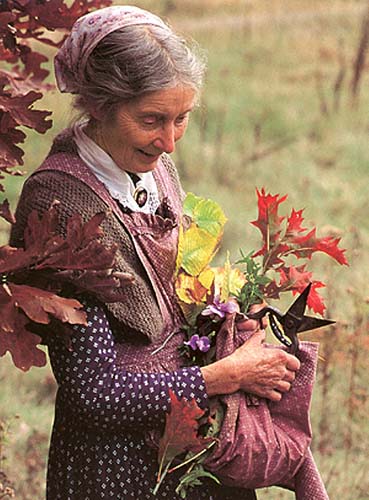 Tasha Tudor, gifted artist beloved by generations of readers, published her first book, Pumpkin Moonshine) in 1938. Since then, she has written, illustrated, and edited over seventy-five books for young children. Born Starling Burgess in Boston, Massachusetts, the daughter of a naval architect and his independent artist wife, Tudor was nicknamed "Natasha" by her father after Tolstoy's heroine in War and Peace and she eventually changed her name to Tudor, her mother's maiden name.
When Tudor was nine, her parents divorced and she went to live with family friends in Connecticut while her moth­er pursued her a career in art. Tudor embraced the fam­ily's unconventional lifestyle and credits them with lib­erating her creativity. Convinced that she had a past existence in 1830, Tudor has lived a simple, serene life in accordance with that time in rural Vermont, surround­ed by animals, children, and breathtaking gardens.
In books characterized by delicate illustrations and simple prose, Tudor presents an unashamedly senti­mental view of childhood. She outfits her characters in old-fashioned attire and places them in pastoral set­tings. In A Is for Annabelle (1954) the charming sepia- toned illustrations create a mood Of nostalgia, as two little girls play dress-up with their grandmother's doll. The companion book, 1 Is One (1956), a Caldecott Medal Honor book, alternates pages of soft black-and-white sketches with glowing watercol­or illustrations. At the time, 1 Is One was a unique sort of counting book, using elements in nature to teach numbers. The pages are bordered with the intricate gar­lands of flowers, birds, and animals that have become a Tudor trademark, reflecting her lifelong love of nature.
Tasha Tudor's work repeatedly expresses a realism afforded only by close interaction with her subjects. Animals, children, and Situations, she says., are "done from ac­tuality, not imagined." Even in books of fantasy, such as A Tale for Easter (1941), which describes a magical ride on Easter eve, Tudor's depictions of animals asso­ciated with Easter are thoroughly lifelike.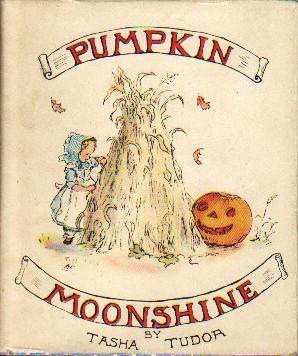 Tasha Tudor's favor­ite book is Corgiville Fair (1971), a bucolic tale Centered around her beloved corgi dogs. In matter-of-fact, conversational prose and busy, action-filled pages, Tudor tells a rollicking tale of feline scoundrels, prize "race goats," and mischievous, troll-like "boggarts " The Tasha Tudor Book of Fairy Tales (1961) is a compilation of Tudor's favorite tales, presented in uncomplicated lan­guage, with beautifully bordered pages,
Tasha Tudor has illustrated numerous works by other authors, including The Secret Garden (1962) and A Little Princess (1963) by Frances Hodgson Burnett. For her edition of Rumer Godden's The Dolls' House (1962), Tudor looked to her own handcrafted dolls and marionettes for inspiration.
Ether Tudor Holmes inherited her mother's gift for storytelling, as seen in Amy's Goose (1977), the moving story of the rehabilitation of a wounded goose. Tudor's warm, sensitive pictures for her daughter's book are evocative of a New England autumn. Awarded the Regi­na Medal in 1971 for her body of work, Tudor has also been the subject of both a biography, Drawn from New England (1979), by another daughter, Bethany Tudor, and a beautiful photographic celebration, The Private World of Tasha Tudor (1992), by Richard Brown.
To the modern child, Tudor's books may appear ide­alized and dated; however, they celebrate the ageless wonder of childhood and reflect Tudor's belief in a cre­ative, warm, and nurturing home.
M.O'D.H.
Source: Children's Books and their Creators, Anita Silvey.
---
Tasha Tudor Selected Works
As writer and illustrator
Pumpkin Moonshine
"Alexander the Gander"
A Tale for Easter
Snow before Christmas
Thistly B
The Dolls' Christmas
Edgar Allan Crow
Amanda and the Bear
A is for Annabelle
1 is One
A Time to Keep
Corgiville Fair
Tasha Tudor's Seasons of Delight
The Great Corgiville Kidnapping
As illustrator
A Child's Garden of Verses, by Robert Louis Stevenson,1947, Henry Z. Walck, Inc.
Increase Rabbit, by Thomas L. McCready, 1958, Ariel Books
The Secret Garden, by Frances Hodgson Burnett, 1962, Harper & Row Publishers
A Little Princess, by Frances Hodgson Burnett, 1963, HarperCollins Publishers
Wings from the Wind: An Anthology of Poems, 1964, J. B. Lippincott
The Wind in the Willows, by Kenneth Grahame, 1966, World Publishing
Little Women, by Louisa May Alcott, 1969, World Publishing
The Night Before Christmas, by Clement Clarke Moore, 1975, Rand McNally & Company
A Basket of Herbs, by Mary Mason Campbell, 1983, Stephen Greene Press
Mother Goose, 1989, Random House Books