Nielsen, Kay – Danish Illustrator, 1886-1957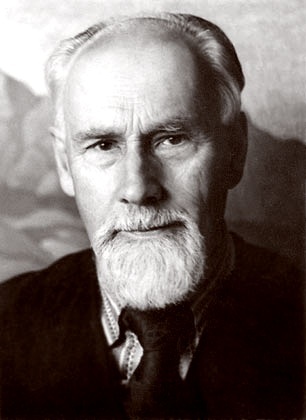 When Kay Nielsen died in California in 1957, he was virtually penniless and forgotten. From the height of his career as a celebrated illustrator of fairy tales, he had seemingly fallen into obscurity at the close of his life.
But since his death, Nielsen's place in history has become universally acknowledged and his name is invariably invoked as one of the deities of the golden age of illustration, alongside such immortals as Arthur Rackham, Walter Crane, and Edmund Dulac.
Brought up in an artistic household, Nielsen felt it was inevitable that he should have a career in the arts. His father rose to become the managing director of the Dagmartheater in Copenhagen; his mother was an actress at the Court of the Royal Theater in the same city. Their home was a salon of sorts, and young Kay was on familiar terms with many of the great Scandinavian artists and intellectuals of the day. He was continually drawing as a child and youth, inspired by Chinese carvings and Japanese watercolors his mother's father brought back from his many travels.
As a mature artist, Nielsen's style shows the influence of many cultures and periods, from the Mideast to Art Deco, while maintaining a highly individual stamp. He might be viewed as an artistic Viking, bringing to his distinct Scandinavian landscape the spoils of many lands.
After attending the Academie Julienne in Paris, Nielsen returned to Copenhagen and held his first exhibition in 1912, a series of black-and-white drawings. The British publisher Hodder and Stoughton felt that his style be appropriate for a deluxe edition of fairy tales it was planning to publish.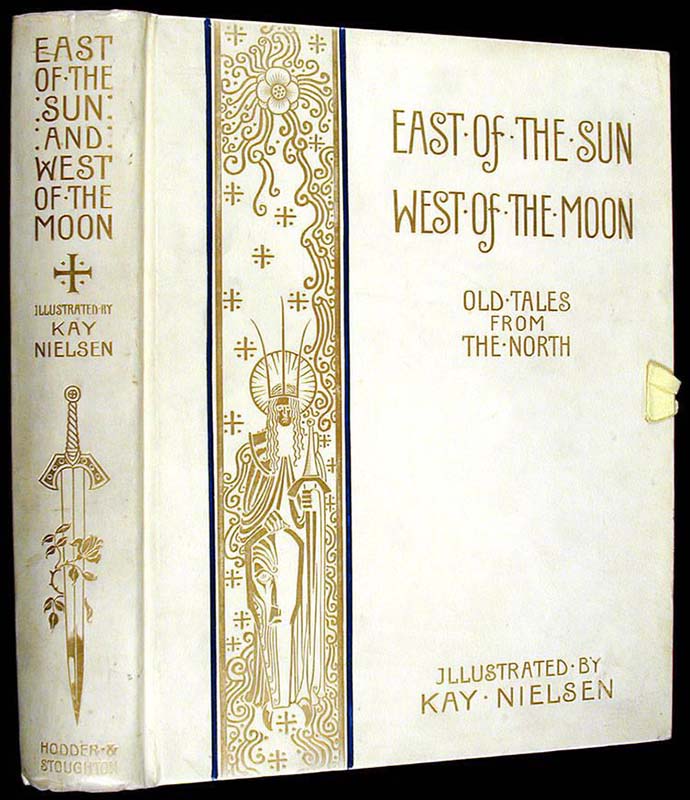 Kay Nielsen's reputation as an artist rests largely on the strength of his illustrations for those books of fairy tales. In Powder and Crinoline (1913), a collection of fairy tales retold by Sir Arthur Quiller-Couch, was the first of the series and East of the Sun and West of the Moon (1914), a collection of Norwegian folk-retold by the great folklorists Peter Chistien Ornsen and Jorgen Moe, the second.
Many thinks this book contains Nielsen's most characteristic, if not his greatest, work. The illustrations are pensive, with dramatic space and strong lines creating a he sense of movement. The deep Northern skies he depicts give his work a celestial scale that imparts a mythic impact to his heroes and heroines. The delicacy and elegance of the illustrations completely disregard the rough, folksy quality of the tales, leaving each to be enjoyed separately.
The onset of World War I brought a break in Nielsen's illustrating career, so he turned to the arena of his childhood and began designing for the stage. After the war, Nielsen illustrated Fairy Tales by Hans Christian Andersen (1922), in which the formality of the language, the fancy of Andersen's images, and the poignancy of the stories complement the art brilliantly. This was followed by Hansel and Gretel: Stories from the Brothers Grimm (1925), and Red Magic (1930) which would prove to be his last great work.
The pictures show a still-evolving artist; they are slightly less formal, demonstrating perhaps a folk-art influence, with greater use of color. Concentrating then on his theater work, Nielsen traveled to California in the late 1930s to design sets for a stage production, which led to work at the Walt Disney studios, where he designed the "Night on Bald Mountain" sequence for the film classic Fantasia.
He never returned to Denmark, remaining in California until his death. Kay Nielsen's work went unremarked until the 1970s, when a new appreciation of children's literature sparked renewed interest in and appreciation of his major contribution and ensured his place in the history children's literature.
S.G.K.
Source: Children's Books and their Creators, Anita Silvey.
---
List of Books Illustrated by Kay Nielsen