Ernest H. Shepard – English artist and book illustrator, 1879-1976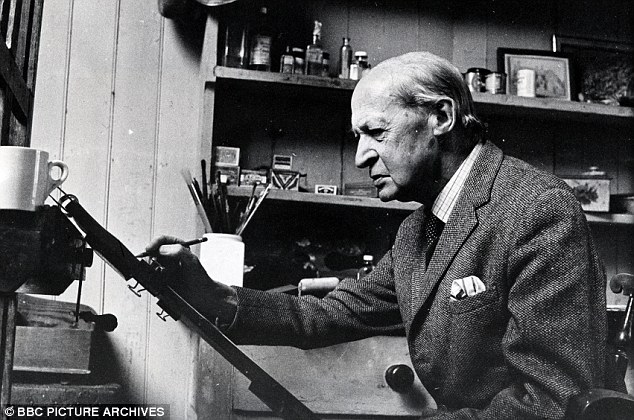 Although Ernest Howard Shepard is best known as the illustrator of works by A. A. Milne, the 1931 edition of Kenneth Graham's Wind in the Willows also helped to establish him as one of the foremost illustrators of humorous books for children. Shepard's mother, the daughter of a well-known watercolor artist, encouraged his early efforts and pointed him toward a career as an artist. She died when he was only ten, but Shepard's architect father continued to foster his son's artistic talent.
By the time he was fifteen, Shepard had definitely decided that he would become an artist and, at age eighteen, was admitted to the Royal Academy Schools, where he met his future wife, Florence Chaplin. The Shepards had two children, Graham and Mary, and Mary followed in her father's footsteps, becoming an artist known for her illustrations for the Mary Poppins books.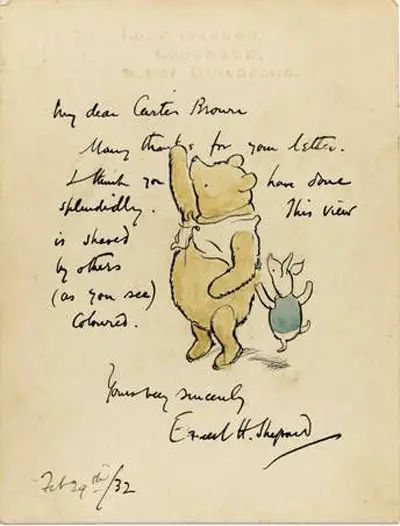 Quite early in his career, Shepard began drawing for the magazine Punch. His association with that magazine gave him experience in depicting comic themes. He was particularly adept at exposing the humor lying just beneath the surface of a situation and was able to capture the subtlest expression with an economy of line. Although Shepard made color plates somewhat late in his career, he is chiefly known for his pen-and-ink illustrations that are rich in detail and alive with the personalities of his characters.
His expert use of this medium allowed him to create memorable scenes that capture sense of place as well as a sense of character. Shepard's success as an illustrator was also due to an intuitive feel for motion in a picture, along with the elements of surprise and the unusual in his portrayal of characters. These attributes contribute to his success in capturing perfectly the childlike quality of Christopher Robin and the naiveté of Pooh in Winnie-the-Pooh (1926) and creating an unforgettable portrait of the witty but naughty Toad in The Wind in the Willows.
Shepard began his illustrations for The Wind in the Willows with great enthusiasm, though he had previously considered it a book that ought not to be illustrated. He had several meetings with Kenneth Grahame, who showed him the nearby river that had inspired him to describe the lives of Mole, Badger, Rat, and Toad. Guided by Grahame's request that he treat these characters kindly, Shepard spent an afternoon beside the river with his sketchbook, searching for Rat's boathouse and examining the holes that were home to some of the animals and the meadows where Mole retired for the winter.
Though Kenneth Grahame did not live to see the finished work, he did express approval of the drafts that Shepard was able to show him. Later in his life, Shepard also tried his hand at writing, producing two autobiographies, Drawn from Memory (1957) and Drawn from Life (1961). He also wrote and illustrated two children's books, Ben and Brock (1965) and Betty and Joe (1966).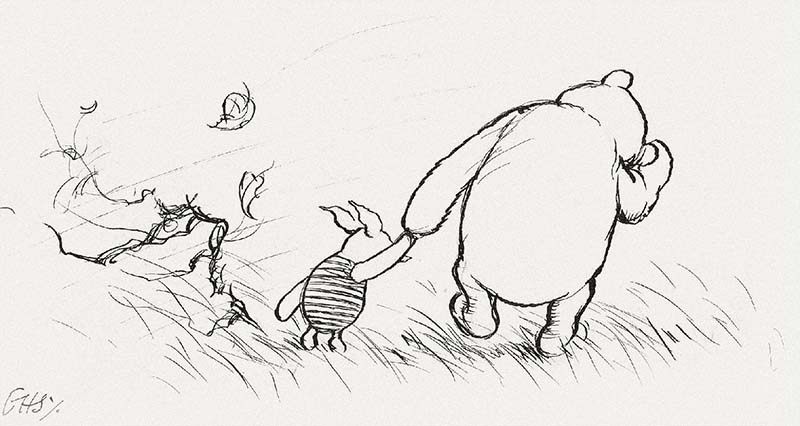 In all his work, Shepard encouraged readers to appreciate the humor in the stories he illustrated. Near the id of a long and immensely productive artistic life, Shepard received the Order of the British Empire in 1972, an honor he richly deserved for his contribution to the world of art and, in particular, to children's book illustration.
D.L.M.
References:
Silvey, Anita – Children's Book and Their Creators Houghton Mifflin, 1996.
---