A.A. Milne – British writer, poet, and playwright, 1882- 1956..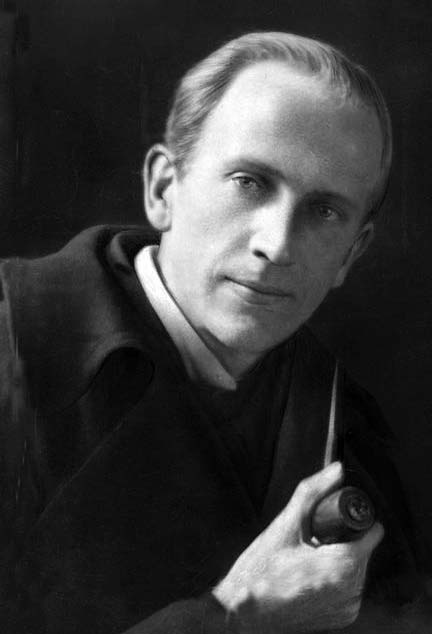 A.A. Milne – British writer, poet, and playwright, 1882- 1956. One would have to search far and wide to find fic­tional characters as beloved to so many readers as Winnie-the-Pooh, Piglet, Christopher Robin, and their many animal friends. Although Alan Alexander Milne wrote novels, short stories, poetry, and many plays for adults, in addition to his work as assistant editor of Punch from 1906 to 1914, it is his writings for children that have captured the hearts of millions of people worldwide and granted Milne everlasting fame.
Published in 1926 and 1928 respectively, Winnie-the- Pooh and The House at Pooh Corner introduced the stuffed-animal friends of Christopher Robin, Milne's small son. Dorothy Milne, Christopher Robin's mother, had given each toy a voice, and Christopher Robin engaged in active, imaginative play with them. Accord­ing to Christopher Milne's account of his life with his father.
A. A. Milne's role in his son's life was as an observer and a chronicler more than as a participant, and, as he grew older and began school, the boy came to resent the world's perception of him as merely a story­book character. Although it caused his son some grief, Milne's depiction of the sweet child who acts as a kind of parent to the animals of the Hundred Acre Wood while maintaining a childlike artlessness has created a lasting tribute to the dignity and joy of childhood.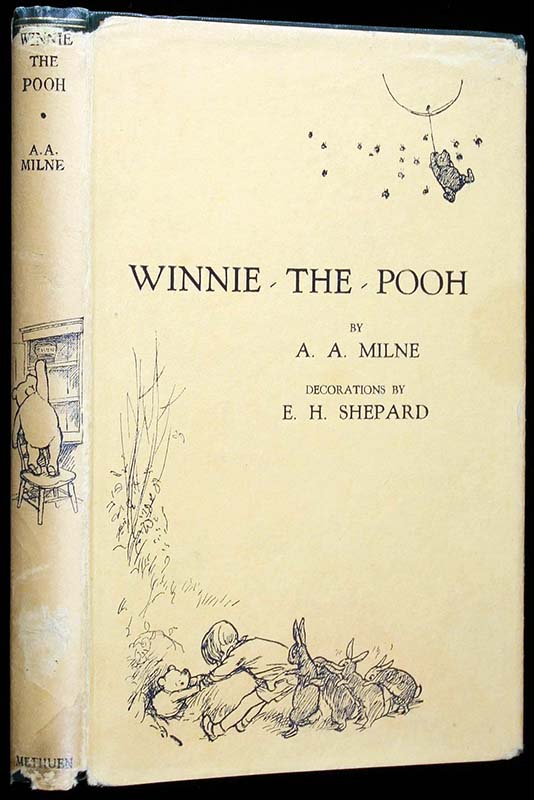 Milne's lighthearted prose, periodically interspersed with simple verses composed by Pooh, is a joy to read and displays Milne's mastery of the English language. The reader responds not only to the story but to the words themselves; Milne capitalizes various words and phrases to stress their importance to the characters, which provides the narrative with a distinctive charm and emphasizes the characters' naivete. Stylistically, the books shine. The animals of the Hundred Acre Wood possess endearing traits that allow them to be quickly described, but they are far from simple caricatures.
At various moments, readers can identify with fearful Piglet, bossy Rabbit, single-minded Kanga, glum and underappreciated Eeyore, the irrepressible, energetic Tigger, or Winnie-the-Pooh himself, a lovable, "hum- my" sort of bear, who, more than anything, loves "a little something" at eleven o'clock. Whether building a trap for Heffalump; planning an Expotition to the North Pole; staging the kidnapping of baby Roo in order to scare his newcomer mother, Kanga, into moving out of the Wood; or playing Poohsticks on the bridge over the river, Pooh Bear and his friends make their adventures memorable with their silly observations, calculations, and. deductions. 
Milne frames Winnie-the-Pooh with scenes showing Christopher Robin, faithful teddy bear in hand, request­ing and listening io his father's stories about Pooh, which sets the stage for the other tales by making dear that they are—however completely fleshed out and believable—mainly stories. Although The House at Pooh Comer contains similar charming tales about the "Bear of Very Little Brain" and his companions. Milne carefully depicts Christopher Robin's gradual separa­tion from his toys and his attraction to school and the opportunity to learn.
Indeed, Owl and Rabbit consider themselves more educated than the other in habitants of the forest, but their unintentional silliness and innocent ignorance, as well as Owl's secret insecurity about his own wisdom, allow the young reader to feel compara­tively knowledgeable. Simultaneously, they highlight Christopher Robin's need to step away from the security and authority of his childhood world in order to em­bark on the adventures involved in growing up. Even as Milne celebrates childhood, he subtly prepares both characters and readers for the inevitable need to forge ahead.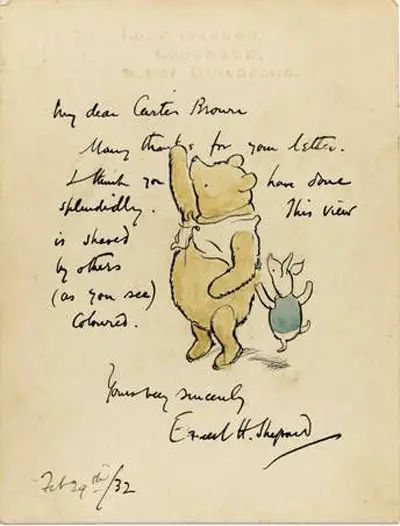 Ernest H. Shepard's illustrations, modeled after the actual toys, show character and movement in simple line vignettes, which add so much to the books that most people consider them to be inseparable from the texts. Shepard's artwork also graces When We Were Very Young (1924) and. Now We Are Six (1927), which contain poems that are, regardless of their simplicity, flawless in rhyme scheme, meter, and general composition. Many feature or are spoken by Christopher Robin; all reveal Milne's superior understanding of the world as viewed through a child's eyes.
Verses about toys, Nanny, friend­ships, ridiculous scenarios, and ordinary aspects of daily life represent the concerns of Christopher Robin's boy­hood. Despite the feet that the poetry depicts what is, in modem eyes, an overly idealized childhood and that some critics have suggested they are sentimental, the verses remain extremely popular with children and adults alike.
Publishers and producers have capitalized on the enduring success and appeal of the four books by mak­ing widely available countless cartoons, pop-up books, and condensed and. colorized versions of the stories. Unfortunately, many of these efforts involve tampering with or completely changing the artwork and text to something incalculably inferior to the inimitable collaboration of Milne and Shepard; at best, these versions lead at least some children back to the classic editions.
Milne's contributions to the world of children's liter­ature include a fantasy entitled Once on a Time (1917 in England, 1922 in the United States) and Toad of Toad Hall, a play based on The Wind in the Willows by Ken­neth Grahame. But best loved are those books, set in the Hundred Acre Wood, that touch a chord in the hearts of readers of all ages. Expert characterization, a carefree pastoral setting, and Milne's precision of lan­guage and style put Winnie-the-Pooh and The House at Pooh Corner in a class of their own. Winnie-the-Pooh's adventures are not only arguably the greatest toy fanta­sies ever written for children, they are also, simply and undeniably, great literature.
Anne Deifendeifer
Source: Children's Book and their Creators, Anita Silvey