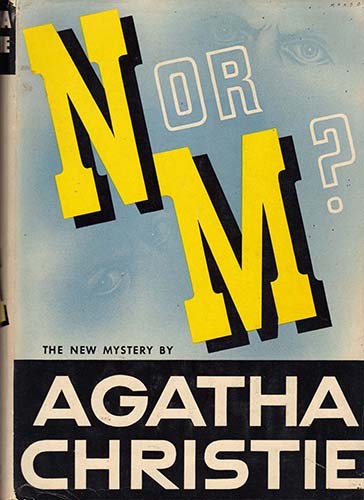 N or M? is a work of detective fiction by Agatha Christie first published in the US by Dodd, Mead and Company in 1941 and in the UK by the Collins Crime Club in November of the same year. The US edition retailed $2.00 and the UK edition at seven shillings and sixpence (7/6).
The title is taken from a catechism in the Book of Common Prayer which asks, "What is your Christian name? Answer N. or M." The "N. or M." here stands for the Latin, "nomen vel nomina", meaning "name or names". It is an accident of typography that "nomina" came to be represented by "m".
The novel is the first to feature the mature versions of her detectives Tommy and Tuppence, whose previous appearances had been in the adventure The Secret Adversary (1922) and the short story collection Partners in Crime (1929).
Plot Summary
[SPOILER ALERT]
After the outbreak of the Second World War and many years after they worked for British intelligence, middle-aged Tommy and Tuppence Beresford feel useless and sidelined. Then, Tommy is approached by a secret agent named Grant to go undercover once more. Grant tries to find German spies and fifth columnists but is hampered by traitors within British intelligence who follow and sabotage his work. Since Tommy has not been in the field for many years, nobody knows him, and he can investigate unofficially.
Grant explains that another British agent was recently murdered but left a cryptic message on his deathbed: "N or M. Song Susie". Grant suspects that "Song Susie" stands for Sans Souci, a hotel in (fictional) seaside Leahampton (based on Bournemouth), and "N" and "M" are known to be two top German spies, one male and one female. Tommy is to go to Sans Souci to investigate whether N, M or both are at the hotel and to figure out their identities.
Tommy is sent alone, but Tuppence decides to join him on his mission whether invited or not. Through good sleuthing, she learns where he is to be sent and actually arrives there before he does. Working together, they begin a search for the master spies.
Both N and M's identities are revealed at the end of the book; "N" is a top German spy, who is shot by British intelligence at the book's conclusion as he threatens Tuppence's life, and "M" is his female co-conspirator.
Publication history
1941, Dodd Mead and Company (New York), 1941, Hardback, 289 pp
1941, Collins Crime Club (London), November 1941, Hardback, 192 pp
1947, Dell Books, Paperback, 191 pp (Dell number 187)
1959, Pan Books, Paperback, 188 pp (Great Pan G259)
1962, Fontana Books (Imprint of HarperCollins), Paperback, 192 pp
The novel first appeared in the US in a condensed version in the March 1941 (Volume 76, Number 5) issue of Redbook magazine, with an illustration by Alan Haemer.
In the UK, an abridged version was serialized in seven parts in Woman's Pictorial from 26 April (Volume 41, Number 1059) to 7 June 1941 (Volume 41, Number 1065) under the title Secret Adventure. All the installments were illustrated by Clive Uptton.
N or M? – First Edition Book Identification Guide
The books are listed in the order of publication. While the majority of Agatha Christie's books were first published in the UK. There are many titles that were first published in the US. The title of the book may differs from the UK edition in some cases.
| Year | Title | Publisher | First edition/printing identification points |
| --- | --- | --- | --- |
| 1941 | N or M? | Dodd, Mead & Co, NY, 1941 | First edition. Date on the title & copyright page matches. No statement of later printings. Blue cloth lettered in black. Price $2.00. |
| 1941 | N or M? | William Collins & Sons, London, [1941] | First English edition. "1941" on single line stated on the copyright page. No statement of later printings. Red cloth lettered in black. Price 7/6. |
Note about Book Club Editions (BCE) and reprints:
UK: You can see statements of later reprint dates or of book club on the copyright page.
US: The US reprint publishers usually use the same sheets as the first edition and are harder to identify by looking at the title page or the copyright page. One may identify a BCE by looking at the DJ, which doesn't have a price on top of the front flap and a "Book Club Edition" imprint at the bottom. If the dust jacked is clipped at both the top/bottom of the front flap. You can safely assume it's a BCE . If the book is missing the dust jacket. Later BCE editions can be identified by its plain boards, while first printings are issued in quarter cloth.
Please refer to the gallery for detailed images of true first edition bindings and dust jackets.
N or M? – First Edition Dust Jacket Identification Guide
First edition bindings and various dust jacket printings identification.
Reference: