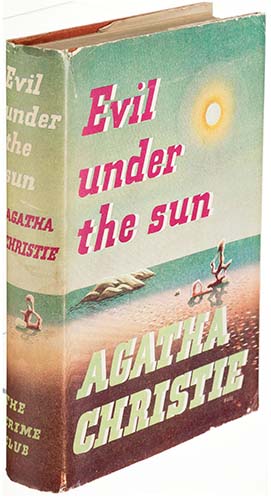 Evil Under the Sun is a work of detective fiction by British writer Agatha Christie, first published in the UK by the Collins Crime Club in June 1941 and in the US by Dodd, Mead and Company in October of the same year. The UK edition retailed at seven shillings and sixpence (7/6) and the US edition at $2.00.
The novel features Christie's detective, Hercule Poirot, who takes a holiday in Devon. During his stay, he notices a young woman who is flirtatious and attractive, but not well liked by a number of guests. When she is murdered during his stay, he finds himself drawn into investigating the circumstances surrounding the murder.
The plot has some similarities to the Christie short story "Triangle at Rhodes", which was first published in the US in This Week magazine in February 1936 and in the UK in issue 545 of the Strand Magazine in May 1936, and included in the collection Murder in the Mews (US title: Dead Man's Mirror) one year later.
Plot Summary
[SPOILER ALERT]
Hercule Poirot takes a quiet holiday at a secluded hotel in Devon. He finds that the other hotel guests include: Arlena Marshall, her husband Kenneth, and her step-daughter Linda; Horace Blatt; Major Barry, a retired officer; Rosamund Darnley, a former sweetheart of Kenneth; Patrick Redfern, and his wife Christine, a former teacher; Carrie Gardener, and her husband Odell; Reverend Stephen Lane; and Miss Emily Brewster, an athletic spinster. During the initial part of his stay, Poirot notes that Arlena is a flirtatious woman, who flirts with Patrick much to the fury of his wife, and that her step-daughter hates her. One morning, Arlena heads out for a secret rendezvous at Pixy Cove. By midday, she is found dead by Patrick and Brewster while they are rowing. An examination by the local police surgeon reveals she had been strangled by a man.
Both Poirot and the investigating officer, Inspector Colgate, interview the possible suspects about their movements during the morning – Kenneth had been typing letters; the Gardeners had been with Poirot all morning; Rosamund had been reading above Pixy Cove; Blatt had gone sailing; Linda and Christine went to Gull Cove and didn't return until before midday; and both Lane and Major Barry were absent from the island. At noon, Christine, Rosamund, Kenneth and Odell all met to play tennis. Poirot learns that Brewster was nearly hit by a bottle during the morning, thrown from one of the guest rooms, while the hotel chambermaid recalls hearing someone running a bath at noon. At a cave within Pixy Cove, Poirot notes smelling perfume that Arlena used there. Poirot later invites everyone to a picnic, which he uses to secretly observe their behaviour and test their vertigo. Following the picnic, Linda attempts suicide with Christine's sleeping pills. Poirot later discovers she felt guilt-ridden, after assuming she killed her step-mother through voodoo.
Via a request for similar cases to the current one, Poirot receives details on the strangulation of Alice Corrigan from Surrey police – her body was found by a local teacher, while her husband Edward had an alibi. Poirot is supplied with a photo of both people. Bringing together the suspects, Poirot denounces Patrick and Christine Redfern for Arlena's murder. She had been murdered to prevent her husband learning that she had been conned into investing a large inheritance towards "fabulous opportunities". The murder was well-planned to falsify the time of death. While Christine was with Linda, she set Linda's watch forward twenty minutes, asked for the time to set her alibi, then returned the watch to the correct time. Afterwards, Christine returned to her room and applied fake suntan makeup, which she concealed from sight, before tossing the bottle out the window. Sneaking out to Pixy Cove, Christine made certain Arlena saw her; Patrick had instructed Arlena to hide should his wife turn up before their rendezvous. Once Arlena was gone, Christine impersonated the dead body to fool Brewster, who immediately left to get help while Patrick remained behind. After Brewster's departure, Christine rushed back to the hotel to remove the makeup. Patrick then called out an unsuspecting Arlena and strangled her.
Poirot reveals that Christine lied about having a fear of heights, as she managed to traverse a suspended bridge during the picnic, and foolishly threw out the bottle of makeup from her room when Brewster was present outside. Linda's attempt at suicide was provoked by her. As further proof, Poirot reveals that the murder of Alice Corrigan happened in the same manner – the photo from Surrey Police identified Patrick as Edward Corrigan, who killed her, and Christine as the teacher who found the "body", before the murder had been committed. Poirot goads Patrick into a near-violent fury to expose himself, despite his wife trying to keep him quiet. With the case closed, Poirot tells Linda she did not kill Arlena and predicts she will not hate her next "step-mother", whereupon Kenneth and Rosamund rekindle their old love.
Publication history
1941, Collins Crime Club (London), June 1941, Hardback, 256 pp
1941, Dodd Mead and Company (New York), October 1941, Hardback, 260 pp
1945, Pocket Books (New York), Paperback, 183 pp (Pocket number 285)
1957, Fontana Books (Imprint of HarperCollins), Paperback, 189 pp
1963, Pan Books, Paperback, 217 pp
The book was first serialised in the US in Collier's Weekly in eleven parts from 14 December 1940 (Volume 106, Number 24) to 22 February 1941 (Volume 107, Number 8) with illustrations by Mario Cooper.
Evil Under the Sun – First Edition Book Identification Guide
The books are listed in the order of publication. While the majority of Agatha Christie's books were first published in the UK. There are many titles that were first published in the US. The title of the book may differs from the UK edition in some cases.
| Year | Title | Publisher | First edition/printing identification points |
| --- | --- | --- | --- |
| 1941 | Evil Under the Sun | William Collins & Sons, London, [1941] | First edition. "1941" on single line stated on the copyright page. No statement of later printings. Red cloth lettered in black. Price 4/6. |
| 1941 | Evil Under the Sun | Dodd, Mead & Co, NY, 1941 | First American edition. Date on the title & copyright page matches. No statement of later printings. Blue cloth lettered in black. Price $2.00. |
Note about Book Club Editions (BCE) and reprints:
UK: You can see statements of later reprint dates or of book club on the copyright page.
US: The US reprint publishers usually use the same sheets as the first edition and are harder to identify by looking at the title page or the copyright page. One may identify a BCE by looking at the DJ, which doesn't have a price on top of the front flap and a "Book Club Edition" imprint at the bottom. If the dust jacked is clipped at both the top/bottom of the front flap. You can safely assume it's a BCE . If the book is missing the dust jacket. Later BCE editions can be identified by its plain boards, while first printings are issued in quarter cloth.
Please refer to the gallery for detailed images of true first edition bindings and dust jackets.
Evil Under the Sun – First Edition Dust Jacket Identification Guide
First edition bindings and various dust jacket printings identification.
Reference: