Leo Lionni – American author and illustrator, 1910-1999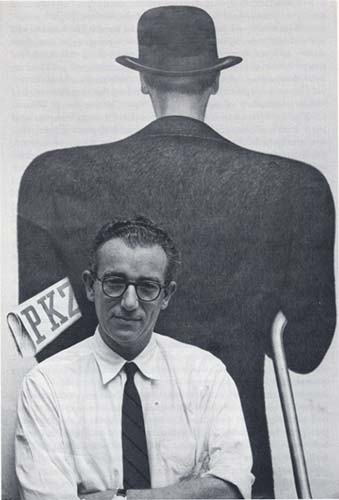 In Leo Lionni's Frederick (1967), a shy, poetic field mouse refuses to help harvest food for the approaching winter because he is busily gathering the warmth of the sun, the colors of the summer, and words to describe the sea­sons. Late in the winter, when it is dark and the mice are cold and hungry, Frederick's words spark the imagina­tion of his fellow mice so that they can see colors and feel the sun's warmth. In Frederick, as in his other pic­ture books, Lionni uses evocative words and expressive art to kindle the imagination so that the reader, too, can dream.
Although he has written more than thirty books for young children, Lionni did not start writing until he was a grandfather. The inspiration for his first book came during a train ride, when he was trying to enter­tain his grandchildren by telling them a story with piec­es of paper that he had torn from a magazine. From this experience came Little Blue and Little Yellow (1959), the story of two small circles of color who are best friends and one day hug each other until they turn green. The strong design and marvelous color in Lionni's work re­flect his lifelong career as an artist and graphic designer.
Born in Amsterdam, Leo Lionni spent his childhood living and traveling throughout Europe. Although he earned a Ph.D. in economics, he pursued a career in graphic arts instead and worked as a freelance designer before corning to the United States in 1939. In the States he worked for several corporations as an art director and was also the head of the Graphics Design Depart­ment of the Parsons School of Design.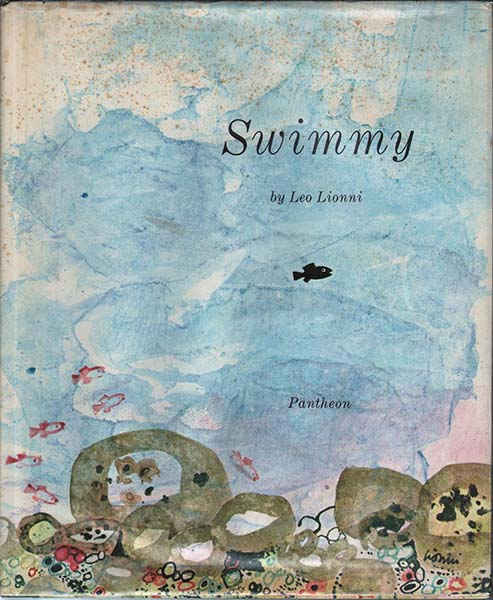 His contribu­tions to the field of graphic design resulted in his receiv­ing an American Institute of Graphic Arts Gold Medal in 1984. Given such a distinguished career, Leo Lionni's con­tribution to the world in his books for children is even more remarkable. Filled with small animal characters, these picture books unapologetically champion individ­uality and quietly celebrate the beauty of the natural world. Quite simple, the storylines assume the form of fables, and they almost always have more than one level of meaning.
Most often he uses collage—although he sometimes relies on other media—to create a rich, live­ly, and textured art. These bold colors and designs make his books particularly suitable for reading aloud to a group. Leo Lionni is one of the few artists to have four books designated as Caldecott Honor Books—Frederick, Inch by Inch (1960), Swimmy (1963), and Alexander and the Wind-Up Mouse (1969). His stories often treat serious subjects—war, friendship, and honesty—although generally the tone is playful.
In Swimmy, a tiny fish en­courages the other small fish to form collectively a giant fish so the larger fish won't eat them. The tale works as a simple story, although most adults see an underlying message in this book as well as in his others. Probably the only criticism of his work comes from those who find his messages and morals a bit too pointed. But what emerges most clearly is his consistent invitation for the reader to imagine, to experiment, and most of all to feel good about being an individual.
A.Q.
Source: Children's Books and their Creators, Anita Silvey.
---
Leo Lionni Selected Works
Alexander and the Wind-up Mouse
The Alphabet Tree
The Biggest House in the World
A Busy Year
A Color of His Own
Colors to Talk About
Cornelius: A Fable
An Extraordinary Egg
Fish is Fish
A Flea Story
Frederick (named by the National Education Association one of its "Teachers' Top 100 Books for Children" based on a 2007 online poll)
Geraldine, the Music Mouse
The Greentail Mouse
I Want to Stay Here! I Want to Go There!: A Flea Story
In the Rabbitgarden
Inch by Inch
It's Mine
Let's Make Rabbits: A Fable
Let's Play
Letters to Talk About
Little Blue and Little Yellow (a New York Times Best Illustrated Children's Book of the Year, 1959)
Matthew's Dream
Mouse Days: A Book of Seasons
Mr. McMouse
Nadarin
Nicolas, Where Have You Been?
Numbers to Talk About
On My Beach There are Many Pebbles
Parallel Botany
Pezzettino
Pulgada a Pulgada
Six Crows: A Fable
Swimmy (named by the National Education Association one of its "Teachers' Top 100 Books for Children" based on a 2007 online poll)
Theodore and the Talking Mushroom
Tico and the Golden Wings
Tillie and the Wall
Una Piedra Extraordinaria
What?: Pictures to Talk About
When?: Pictures to Talk About
Where?: Pictures to Talk About
Who?: Pictures to Talk AboutWords to Talk About