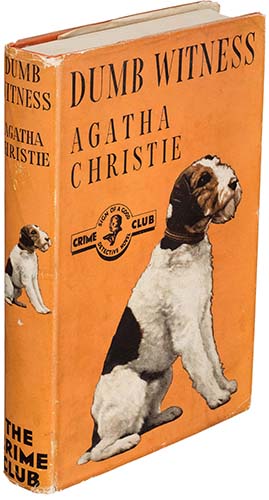 Dumb Witness is a detective fiction novel by British writer Agatha Christie, first published in the UK by the Collins Crime Club on 5 July 1937 and in the US by Dodd, Mead and Company later in the same year under the title of Poirot Loses a Client. The UK edition retailed at seven shillings and sixpence (7/6) and the US edition at $2.00.
The book features the Belgian detective Hercule Poirot and is narrated by his friend Arthur Hastings. It is the last book to feature the character of Hastings until the final Poirot novel, 1975's Curtain: Poirot's Last Case, which he also narrates.
References to other works
Chapter 11: "Poirot's travellings in the East, as far as I knew, consisted of one journey to Syria extended to Iraq, and which occupied perhaps a few weeks". After solving a case in Syria by the request of his friend, Poirot decided to travel to Iraq before returning to England and, while in Iraq, was requested to solve a case, which he did and which is told in Christie's 1936 novel Murder in Mesopotamia, after which Poirot returned to Syria and boarded Orient Express to return home and en route solved Murder on the Orient Express.
Chapter 18: Poirot gives a list of murderers from previous cases of his, more precisely Death in the Clouds (1935), The Mysterious Affair at Styles (1920), The Murder of Roger Ackroyd (1926), and The Mystery of the Blue Train (1928).
Plot Summary
[SPOILER ALERT]
Emily Arundell, a wealthy spinster, writes to Hercule Poirot in the belief she has been the victim of attempted murder after a fall in her home in Berkshire. However, her family and household believe she actually fell by accident, after tripping over a ball left by her fox terrier Bob. When Poirot receives the letter, he learns she has already died; her doctor, Dr Grainger, states her death was from chronic liver problems. While recovering from her earlier fall, a new will she made bequeaths her vast fortune and home to her companion, Miss Minnie Lawson.
Seeking to investigate Miss Arundell's belief that someone wanted to murder her, Poirot, accompanied by Captain Hastings, notes that under her previous will, her nephew and nieces — Charles Arundell, Theresa Arundell and Bella Tanios — would have inherited. All three consider contesting the will.
Visiting the house on the pretence of buying it, Poirot discovers a nail covered with varnish at the top of the stairs, deducing a string had been tied to it. Through Miss Arundell's last words, he concludes that Bob had been out all night and that she had therefore fallen down the stairs as a result of a tripwire, and there is a chance Miss Arundell was indeed murdered. Her family thus become suspects in that matter.
During his investigation, Poirot learns that a luminous aura was noticed coming from the dead woman's mouth when she spoke during a seance. Visiting Lawson at her home, he learns that she saw someone moving about on the night of Miss Arundell's fall, who wore a brooch with the initials "TA". At the same time, Lawson's gardener recalls Charles inquiring about his arsenic-based weed killer and is surprised to find the bottle containing it to be nearly empty.
Bella later leaves her husband Jacob, on the implication he bullies her, taking the children with her. After Lawson helps hide them in a hotel, Poirot moves her to another on fear of a second murder; before he does, he gives her a summary of Miss Arundell's death. The next day, Bella is found dead from an overdose of sleeping medication.
Poirot soon brings together the surviving family members and reveals that Bella was the murderer. She hated her husband, never truly loving him, and sought to separate from him and keep her children in England. As she had no means to do so, she decided to kill her aunt to inherit her portion of her wealth. When her first attempt with the tripwire failed, she decided to switch one of her aunt's capsules for her liver troubles, with one filled with elemental phosphorus, knowing that her death from the poison would mimic the symptoms of liver failure. The aura witnessed by those attending the seance was due to the poison Miss Arundell had unknowingly consumed. When she found out her aunt changed her will and that Poirot had discovered the cause of her death, Bella found herself in a far worse quandary. She relinquished her children back to their father before committing suicide; the medication was originally intended to be used to murder Jacob, who was to be her second victim.
Poirot reveals that Lawson saw Bella on the night of Emily's fall, though in a mirror; the brooch's initials were reversed from that of "AT" – Arabella Tanios. The arsenic was stolen by Theresa, who intended to use it, but could not bear to do so in the end. A small sum of cash that went missing was later discovered to have been stolen by Charles; he knew his aunt had changed her will before her death. Knowing Emily wished for no scandal, Poirot honours this, while Lawson decides to share her inheritance with Theresa, Charles, and Bella's children. Meanwhile, Poirot and Hastings find themselves returning home with Bob joining them.
Publication history
1937, Collins Crime Club (London), 5 July 1937, Hardcover, 320 pp
1938, Dodd Mead and Company (New York), 1937, Hardcover, 302 pp
1945, Avon Books, Paperback, 260 pp (Avon number 70)
1949, Pan Books, Paperback, 250 pp (Pan number 82)
1958, Fontana Books (Imprint of HarperCollins), Paperback, 255 pp
1965, Dell Books, Paperback, 252 pp 1969, Pan Books, Paperback, 218 pp
The book was first serialised in the US in The Saturday Evening Post in seven instalments from 7 November (Volume 209, Number 19) to 19 December 1936 (Volume 209, Number 25) under the title Poirot Loses a Client with illustrations by Henry Raleigh.
In the UK, the novel was serialised as an abridged version in the weekly Women's Pictorial magazine in seven instalments from 20 February (Volume 33, Number 841) to 3 April 1937 (Volume 33, Number 847) under the title Mystery of Littlegreen House. There were no chapter divisions and all of the instalments carried illustrations by "Raleigh".
Dumb Witness – First Edition Book Identification Guide
The books are listed in the order of publication. While the majority of Agatha Christie's books were first published in the UK. There are many titles that were first published in the US. The title of the book may differs from the UK edition in some cases.
| Year | Title | Publisher | First edition/printing identification points |
| --- | --- | --- | --- |
| 1937 | Dumb Witness | William Collins & Sons, London, [1937] | First edition. "Copyright 1937" stated on the copyright page. No statement of later printings. Red cloth lettered in black. Price 7/6. |
| 1937 | Poirot Loses a Client | Dodd, Mead & Co, NY, 1937 | First American edition. Date on the title & copyright page matches. No statement of later printings. No statement of later printings. Red cloth lettered in black. Price $ 2.00. |
Note about Book Club Editions (BCE) and reprints:
UK: You can see statements of later reprint dates or of book club on the copyright page.
US: The US reprint publishers usually use the same sheets as the first edition and are harder to identify by looking at the title page or the copyright page. One may identify a BCE by looking at the DJ, which doesn't have a price on top of the front flap and a "Book Club Edition" imprint at the bottom. If the dust jacked is clipped at both the top/bottom of the front flap. You can safely assume it's a BCE . If the book is missing the dust jacket. Later BCE editions can be identified by its plain boards, while first printings are issued in quarter cloth.
Please refer to the gallery for detailed images of true first edition bindings and dust jackets.
Dumb Witness – First Edition Dust Jacket Identification Guide
First edition bindings and various dust jacket printings identification.
Reference: