Kurt Wiese – American illustrator and author, 1887-1974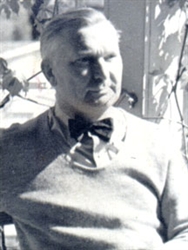 Kurt Wiese, one of the most prolific illustrators known in the field of American children's literature, illustrated over three hundred books during a highly respected career that spanned more than four decades. Best known for having illustrated Marjorie Flack's Story about Ping (1933) and Claire Huchet Bishop's timeless retelling of a Chinese folktale, Five Chinese Brothers (1938), Kurt Wiese was a versatile artist who impart­ed vitality, emotion, and a keen design sense to the vari­ety of media in which he worked.
Published in the late 1920s and early 1930s, Wiese's first books were among the titles that established the genesis of the American picture book. Wiese worked for the three preeminent juvenile book editors of the time, Louise Seaman of Macmillan, May Massee of Double­day, and Ernestine Evans of Coward-McCann.
So pro­ductive was he that he had more books than any other artist published in the fall of 1930. Wiese and colleagues Wanda Gag Berta and Elmer Hader, and Lois Lenski were some of America's first prominent author-illustrators for children. Their creative talents shifted the focus of picture books from Europe to the United States.
Born and schooled in Germany, Kurt Wiese later lived in China for six years, Australia for five years, and Brazil for four years. In 1927 a well-traveled Wiese arrived in America looking for work. He soon found employment with Colliers Weekly and shortly afterward illustrated one of his first books for Louise Seaman. As one of twelve small picture books that constituted Macmillan's "Happy Hour" series, Wiese's Three Little Kittens (1928) contained innovative book design elements and lively lithographs that launched his successful career.
In another of his notable picture books, Liang and Lo (1930), Wiese made new and exhilarating use of the interplay between two facing pages to picture the story of the young boy Liang and his newfound friend, Lo, who lives on a buffalo's back, and their encounter with a dragon. Knowledgeable in commercial color lithogra­phy, Wiese had a direct hand in creating his five-color illustrations for Liang and Lo. As a result, he achieved dramatic effects with color, making it serve both his drawings and the book's design.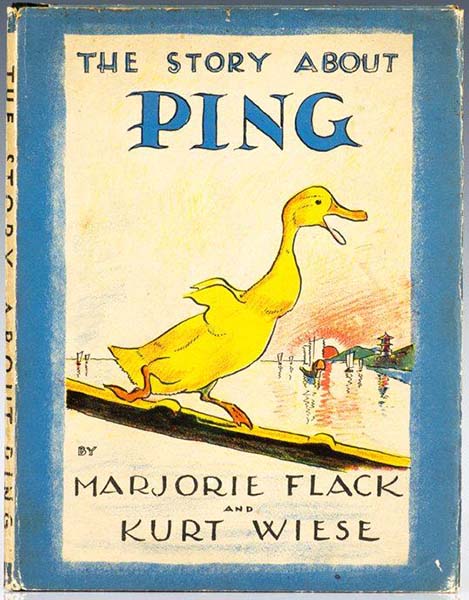 Kurt Wiese's years in China also helped create his illustra­tions for The Story about Ping. Sincere and straightfor­ward, Wiese's memorable pictures are a perfect match for Marjorie Flack's words, rich with imagery, about the young Chinese duck who lives with his large extended family on a wise-eyed boat on the great Yangtze River.
The resplendent lithographs, in predominant hues of yellow and blue, convey a cheerfulness touched by serenity, an appropriate mood that makes Ping's misadventure away from home palatable and universal to very young chil­dren. Developmentally significant to American picture books, The Story about Ping was one of the earliest col­laborative efforts between a well-known writer and an accomplished illustrator. This important change in the making of picture books took hold, flourished, and came to fruition years later during the Golden Age of children's hook publishing.
In spite of some criticism for his stereotypic depic­tion of the Chinese in Five Chinese Brothers, Wiese's choke of the long and narrow horizontal format, his animated two-color drawings of the clever brothers who possess unique magical powers, and tile comic-strip feel imparted by the turning of the pages combine to make an exemplary picture book.
Among the several series of children's books Wiese illustrated were the tremendously popular "Freddy, the Pig" stories by Walter Rollin Brooks. Other noteworthy titles in Wiese's vast body of work include two Caldecott Honor books that he wrote and illustrated, You Can Write Chinese (1945) and Fish in the Air (1948). A Newbery Award for Young Fu of the Upper Yangtze and a Newbery Honor for Honk the Moose, Li Lun, Lad of Courage, and Daughter of the Mountains.
Kurt Wiese's global experience gave young American chil­dren some of their first glimpses of other cultures and countries in picture-book form; his masterful, artistic interpretations of words have enlarged, enriched, and enchanted the children's book world.
S.L.S.
Source: Children's Books and their Creators, Anita Silvey.
---
Kurt Wiese Selected Works
Freddy the Pig
Freddy the Pig was featured in 26 books written by Walter R. Brooks, illustrated by Wiese, and published by Alfred A. Knopf from 1927 to 1958. The first two, titled To and Again and More To and Again – in reference to constituent journeys to and back again from Florida and the North Pole, were illustrated by Adolfo Best Maugard. Reprints of the first two books, titled Freddy Goes to Florida and Freddy Goes to the North Pole, were illustrated by Kurt Wiese. They were followed by Freddy the Detective (1932), three more various titles, 19 novels with "Freddy" titles (1940–1958) and The Collected Poems of Freddy the Pig (1953). For some time all 25 novels have been issued with "Freddy" titles.
Other
Bambi, A Life in the Woods, translated by Whittaker Chambers from the 1923 German by Felix Salten (Simon & Schuster, 1929)
Poodle-oodle of Doodle Farm, Lawton and Ruth Mackall, (Frederick A. Stokes, 1929), (Illustrations by Kurt Wiese)
The Hound of Florence, translated by Huntley Paterson from the 1923 German by Felix Salten (Simon & Schuster, 1930)
Young Fu of the Upper Yangtze, Elizabeth Foreman Lewis (Philadelphia, Chicago: John C. Winston Co., 1932)
Silver Chief, Dog of the North, Jack O'Brien (Winston, 1933)
The Story about Ping, Marjorie Flack (Viking Press, 1933)
Farm Boy: A Hunt for Indian Treasure, Phil Stong (Doubleday, Doran and Co., 1934)
Ho-Ming – Girl of New China, Elizabeth Lewis (Winston, 1934)
Honk, the Moose, Phil Stong (Dodd, Mead and Co., 1935)
Valiant, Dog Of The Timberline, Jack O'Brien (Grosset & Dunlap, 1935)
All the Mowgli Stories, Rudyard Kipling (Kipling Collection, Library of Congress; Doubleday, Doran, 1936)
Sheep, Archer B. Gilfillan (Boston: Little, Brown and Co., 1936)
Buddy the Bear [Coward-McCann, Inc.] 1936
The Five Chinese Brothers, Claire Huchet Bishop (Coward-McCann, 1938)
Yen-Foh A Chinese Boy, adapted from the Chinese by Ethel J. Eldridge (Chicago: Albert Whitman & Co., 1939)
Saranga The Pygmy by Attilio Gatti, Hodder and Stoughton, London, 1939 (Illustrations by Kurt Wiese)
Pecos Bill and Lightning, Leigh Peck (Boston: Houghton Mifflin Co., 1940)
With Love and Irony, Lin Yutang (John Day Company, 1940)
The Ferryman, Claire Huchet Bishop (Coward-McCann, 1941)
The Adventures of Monkey, adapted from the 1942 abridged translation by Arthur Waley from the Chinese of Wu Ch'eng-En (John Day, 1944)
You Can Write Chinese, picture book created by Wiese (Viking, 1945) – a Caldecott Honor Book
Twenty Thousand Leagues under the Sea, Jules Verne (Cleveland and New York: World Pub. Co., 1946) – an edition of the 1870 classic
Li Lun, Lad of Courage, Carolyn Treffinger (Abingdon Press, 1947)
Daughter of the Mountains, Louise Rankin (Viking, 1948)
Fish in the Air, picture book created by Wiese (Viking, 1948) – a Caldecott Honor Book
The Fables of Aesop, Joseph Jacobs [1889] (Macmillan US, 1950) – an edition of classic Aesop's Fables
Happy Easter, picture book created by Wiese (Viking, 1952)
All about Volcanoes and Earthquakes, Frederick H. Pough (Random House, 1953)
Lions in the Barn, Virginia Frances Voight (Holiday House, 1955)
Pika and the Roses, Elizabeth Coatsworth (Pantheon Books, 1959)
Twenty-two Bears, Claire Huchet Bishop (Viking, 1964)
The Truffle Pig, Claire Huchet Bishop (Coward, McCann & Geoghegan, 1971)