Ward, Lynd – American Graphic Artist, Illustrator, and Author, 1905-1985.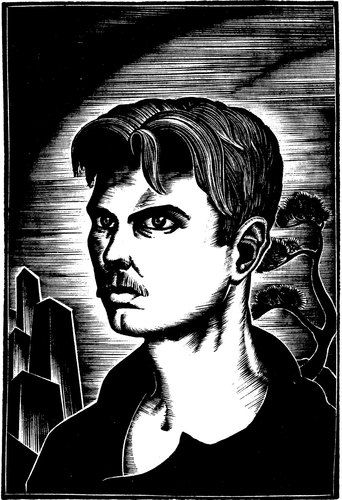 American Graphic Artist, Illustrator, and Author, 1905-1985. Lynd Kendall Ward was born in Chicago, son of Harry F. and Daisy Kendall Ward. Educated at Teachers College, Columbia University, he received his B.S. in 1926 with a major in fine arts.
While in college Ward met May McNeer, a writer, and they married during graduation week. The Wards traveled to Germany where Lynd studied at the National Academy of Graphic Arts in Leipzig (1926-27). Returning to the States, Lynd Ward turned his talents to graphic arts and illustration while May McNeer embarked on her career as a children's author. They took great pleasure in working together. Ward illustrated several children's books writ­ten by his wife.
Childhood experiences influenced Lynd Ward's life and work. Lynd's father was a Methodist minister whose first ministry included Chicago's "back of the yards" neighborhood, its abject poverty, and the legendary Jane Addams. His family's lasting struggle to better the lot of abandoned people dominated Ward's conscience and his spirit. The code of conduct for children of a Methodist minister did not permit reading funny papers on Sunday.
In this "extremity" young Lynd turn­ed to books. A volume of Bible stories with little text but absorbing pictures became his favorite. His addiction had begun. Throughout Lynd's growing years the family spent summers in a log cabin on Lonely Lake in the Canadian wilderness. These summers nurtured his en­during respect and love for nature. His mature work reflects this childhood world.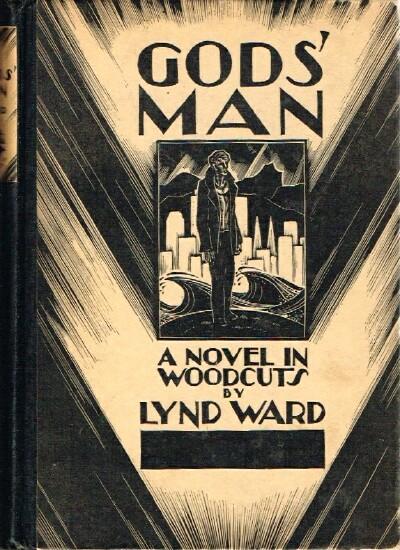 Lynd Ward's career began in 1929 with his first book, God's Man: A Novel in Woodcuts. Five more books, engravings without words, established his reputation as a wood engraver. Not wishing to be relegated to one medium, Ward experimented with a variety of techniques for book illustration. He worked in watercolor, oil, lithog­raphy, in full color, and in black and white. His artistic versatility and his interest in children's books deepened as his career in illustration flourished.
An amazing collection of illustrations now poured from this inspired artist. His prodigious body of work includes more than two hundred books for children and adults. There is depth and variety of subject and style. Adult classics and scholarly editions stand beside chil­dren's fiction, biography, and picture books.
Some enduring favorites are The Biggest Bear (1952), winner of the 1953 Caldecott Award, the beloved tale of Johnny and his bear in which both story and cub grow dramati­cally through the humor and pathos of the illustrations; The Silver Pony (1973), a powerful wordless fantasy of a boy and his magical pony, which won the Lewis Car­roll Shelf Award and the Boston Globe-Horn Book Honor Award; America's Ethan Allen (1949) by Stuart Holbrook, recipient of a 1950 Caldecott Honor Award; The Cat Who Went to Heaven (1930) by Elizabeth Coatsworth, winner of the 1931 Newbery Award; Johnny Tremain (1943) by Esther Forbes, winner of the 1944 Newbery Award; and The Little Red Lighthouse and the Great Grey Bridge (1942), by Hildegarde Swift, a gentle story enlivened by Lynd Ward's winsome pictures.
Among the many biographies written by his wife that Ward illustrated were America's Abraham Lincoln (1957) and America's Mark Twain (1962). During his lifetime Lynd Ward was widely recognized for his distinguished contribution to children s literature. He clearly relished his life work as artist and illustrator. He believed that children's books offered great opportu­nities for "the best that artists can produce." In his Cal­decott acceptance speech Ward opined that, more than any other artist he knew and "without punning," his life had been an open book, for "the things that I have learned are all there on the pages of the books on which I have worked."
P.W.
Source: Children's Books and their Creators, Anita Silvey.
---
Lynd Ward Works
Novels In woodcuts
Gods' Man (1929)
Madman's Drum (1930)
Wild Pilgrimage (1932)
Prelude to a Million Years (1933)
Song Without Words (1936)
Vertigo (1937)