Mark Twain – American author, 1835-1910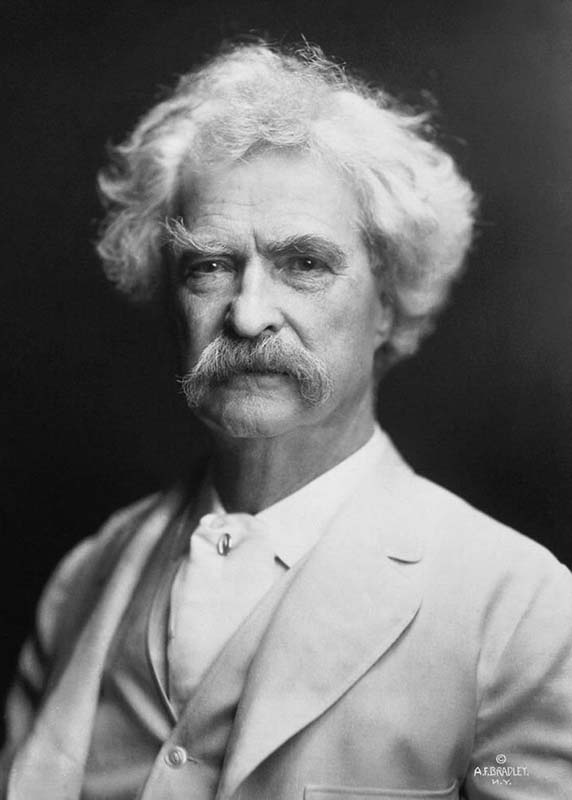 American author, 1835-1910. Born Samuel Lang­horne Clemens in Florida, Missouri, the youth who would become Mark Twain undertook careers as a printer, riverboat pilot, and prospector before turning to writing for his livelihood. First as a journalist and then as a writer of short stories, novels, and nonfiction, Twain was one of the nineteenth century's most success­ful writers.
Since his death, young and adult readers around the world have continued to enjoy Twain's work, though the suitability of his writing for children has always been a subject of debate. In his own time Mark Twain's work was attacked as too coarse for children; more recently, it has been criticized as too racist.
Perhaps the best explanation for Twain's reputation as a children's writer comes from Justin Kaplan's Mr. Clemens and Mark Twain (1966), a seminal biography that explores the split between Samuel Clemens, the man who strove for respectability and acceptance among America's eastern literary and social establish­ments, and Clemens's alter ego, Mark Twain, the earthy, funny, frontier-formed rough who loved attacking the hypocrisies of his era.
Just as there is this split between Mr. Clemens and Mark Twain, there is a split between the fun-loving Mark Twain, much-loved children's author, and the dark Mark Twain, revered by adults— including many scholars—as one of the world's great literary geniuses. As an author writing for adults, Twain imbues his works with irony and barbed social criticism that es­capes most young readers, traits apparent even in such traditionally child-pleasing works as The Prince and the Pauper (1881), The Adventures of Huckleberry Finn (1884), and A Connecticut Yankee in King Arthur's Court (1889).
Bitter disillusionment is another adult element that runs through Twain's work, dominating such late- period writings as "The Mysterious Stranger" (1898), Mark Twain's Burlesque Autobiography (1906), and "The War Prayer." Though Twain's works (with the exception of the notorious but insignificant 1601, published in 1876) are not adult in the modern sense, they can in­clude violence and language that many find inappro­priate for children.
On the other hand, Mark Twain's suitability as a children's author is attested to by his perennial popularity among young readers. Twain's marvelously accessible sense of humor—his sense of fun—has always been appreciated by the young. There is a nearly universal appeal to clas­sic Twain humor, whether it is in the form of Tom Saw­yer tricking his pals into paying for the honor of paint­ing Aunt Polly's fence or of King Arthur's armored knights clanking to the rescue on their newly invented bicycles. Besides enjoying his sense of humor, young readers also appreciate the fact that Twain writes about children in a realistic way.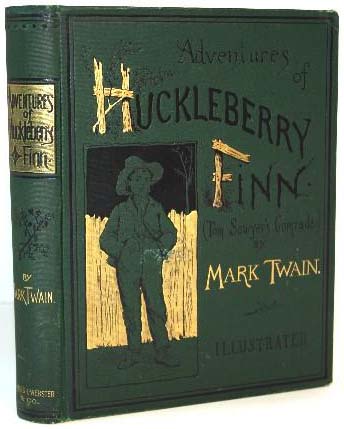 Mark Twain's best young characters are neither miniature adults nor stock symbols of inno­cence but rounded human beings. They are frequently in conflict with adult authority and can be, in turn, as disobedient, sweet, frightened, brave, serious, and play­ful as real children. It is the realistic completeness of Twain's child characters that makes them live long aft® the reading world has forgotten the countless one ­dimensional children born of the dime-novel tradition that flourished during Twain's lifetime.
Twain's two greatest works featuring child characters are The Adventures of Tom Sawyer and The Adventures of Huckleberry Finn, illustrated by Edward Kemble. Set in the fictional, pre-Civil War riv­er town of St. Petersburg, The Adventures of Tom Sawyer (1875) is the story of a boy on the edge of adolescence, living a life that alternates between the restrictions imposed by the respectable adult-dominated society of St. Petersburg and the freedom offered by the Missis­sippi River wilderness surrounding the town. Acting out Everybody's fantasy, Tom gets to live wild on Jackson's Island, explore the labyrinths of McDougal's Cave, defeat the ominous Indian Joe, discover a treasure in gold, and woo Becky Thatcher, the girl of his puppy­love dreams.
Tom also enjoys the sport of pulling practi­cal jokes against such enemies of the State of Boyhood as the schoolteacher and the Sunday-school superinten­dent. Younger readers enjoy The Adventures of Tom Saw­yer for its pranks and adventures of boyhood glory, but adults are more likely to appreciate the novel's nostalgic re-creation of the pleasures of boyhood. Twain's third- person narrative, detached and distant from the action, reinforces the nostalgic aspect of the novel, particularly when he bathes boyhood incidents in an irony that only adults can appreciate.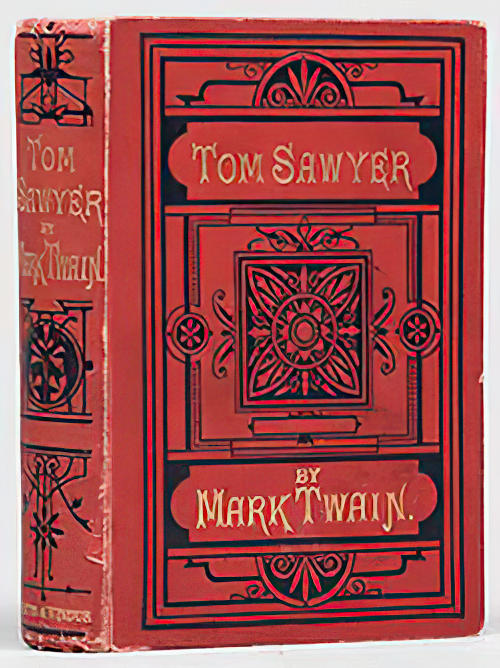 Always a popular character, Tom would reappear in The Adventures of Huckleberry Finn as well as in two of Twain's least-satisfying books, Tom Sawyer Abroad (1894) and Tom Sawyer Detective (1896). Twain also attempted to revive Tom in "Huck Finn and Tom Sawyer among the Indians'" and "Tom Sawyer's Conspiracy," two unpublished fragments.
Huckleberry Finn has attracted young readers who delight in Huck, the book's picaresque narrator, as well as his adventures. Huck's adventures are amusing and thrilling enough to hold the attention of young readers, while his journey down the Mississippi strikes a deeper chord by representing the delightful—and terrifying— possibilities inherent in any attempt to escape the tyr­anny of adult society.
Besides attracting young readers, The Adventures of Huckleberry Finn has attracted debate over its suitability for children. Certainly its irony eludes many young readers, and the book's plot includes such "unsuitable" elements as theft, murder, running away from home, child abuse, human slavery, and mob vio­lence. Furthermore, the text is spiced with dialect speech that many younger readers have trouble deci­phering and contains language that many children and adults find offensive. The book's language has generated accusations of racism. These accusations have, in turn, generated hot denials from those readers who see the book as a testament to racial tolerance.
Although there is no denying that some of Huck's words are racially offensive, he does, however, avow that he will "go to hell" rather than see his friend Jim remain enslaved. De­spite this, the controversy over Huckleberry Finn con­tinues to swirl like a Mississippi back eddy, just as the book itself continues to roll on with all the force of Huck's "monstrous big" river. Having appeared in over 850 editions published in some sixty-five languages, The Adventures of Huckleberry Finn remains a reading rite of passage for much of the literate world.
Twain's image as an author for children has been shaped not only by his own talent for writing about children but also by the various ways in which his works have been packaged. For years publishers have abridged, bowdlerized, and illustrated Twain's work expressly for the children's market. His work has also been packaged for children via feature films, television programs, stage plays, musicals, animated films, and comic books. Fre­quently, such child-oriented packaging has resulted in many freckle-faced and barefoot interpretations that omit or gloss over Twain's darker intentions.
As far as Twain's intentions go, his Slovenly Peter, a translation of a German fairy tale, is his only work indisputably intended for children alone, and it was not published until 1935. Twain's later attempts to revive the character of Tom Sawyer, as well as the largely forgotten Personal Recollections of Joan of Arc (1896), might be argued to have been intended for young readers, but it is clear Twain hoped they would be read by adults as well as children.
On the other hand, his large body of non­fiction, including all of his immensely popular travel books, was not intended for young readers—though there is no reason a young adult reader could not enjoy the hilarious Innocents Abroad (1869) or the rousing Roughing It (1872). Similarly, such popular novels as The Adventures of Huckleberry Finn, The Adventures of Tom Sawyer, The Prince and the Pauper, and A Connecticut Yankee in King Arthur's Court, were not written with children in mind—at least not exclusively so. It is large­ly these novels' enthusiastic appropriation by the young that has earned them their reputations as children's novels.
Despite Louisa May Alcott's unfriendly recom­mendation that the coarse Mark Twain should not write for children, the fact is that most often Twain's intended audience was the entire family, not just its younger nor just its older members. Like all popular writers of his time and station, Twain tried (if not always successfully) to observe those nineteenth-century standards of taste and decorum that held that good writing should be fit for consumption by men, women, and children alike. So conscious of these standards was Twain that he willingly allowed his upright and proper wife, Olivia, to censor from his work anything that might prove offensive to young or old.
That Twain could successfully write for both young and old at the same time is as much a mark of his great­ness as the fact that his work is as popular now, among both young and old, as it was when first published. And while the list of those who write for children but man­age to appeal to adults is long, Twain is among the very few writers who have managed to find an audience of children without writing specifically for them.
Donald A. Barclay
Source: Children's Books and their Creators, Anita Silvey.
---
Mark Twain Works
Publication Order of Tom Sawyer and Huckleberry Finn Books
The Adventures of Tom Sawyer (1876)
The Adventures of Huckleberry Finn (1885)
Tom Sawyer Abroad (1894)
Tom Sawyer Detective (1896)
Publication Order of Diaries Of Adam and Eve Books
Extracts from Adam's Diary (1904)
Eve's Diary (1906)
Publication Order of Standalone Novels
The Gilded Age (1873)
The Prince and the Pauper (1881)
The Tragedy of Pudd'nhead Wilson (1884)
Personal Recollections of Joan of Arc (1886)
A Connecticut Yankee in King Arthur's Court (1889)
The American Claimant (1892)
A Double Barrelled Detective Story (1902)
A Dog's Tale (1904)
King Leopold's Soliloquy (1905)
A Horse's Tale (1907)
Captain Stormfield's Visit to Heaven (1909)
The Adventures of Thomas Jefferson Snodgrass (1928)
A Murder, a Mystery and a Marriage (1945)
The Adventures of Colonel Sellers (1965)
Publication Order of Short Story Collections
The Celebrated Jumping Frog of Calaveras County (1867)
Eye Openers (1871)
Screamers (1871)
Mark Twain's Sketches (1874)
Sketches, New and Old (1875)
The Stolen White Elephant (1882)
Merry Tales (1892)
The 1,000,000 Pound Bank-Note (1893)
The Man That Corrupted Hadleyburg (1900)
The $30,000 Bequest and Other Stories (1906)
The Mysterious Stranger and Other Stories (1916)
Publication Order of Non-Fiction Books
The Innocents Abroad (1869)
Mark Twain's Autobiography and First Romance (1871)
The Innocents At Home (1872)
Roughing It (1872)
A Tramp Abroad (1880)
Life on the Mississippi (1883)
Following the Equator (1897)
How to Tell a Story and Other Essays (1897)
English As She is Taught (1900)
What is Man? (1906)
My Debut as a Literary Person (1906)
Christian Science (1907)
Is Shakespeare Dead? (1909)
Mark Twain's Speeches (1910)