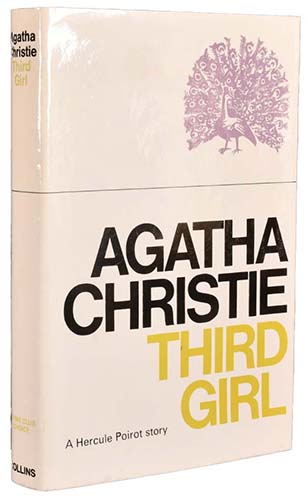 Third Girl is a work of detective fiction by Agatha Christie and first published in the UK by the Collins Crime Club in November 1966 and in the US by Dodd, Mead and Company the following year. The UK edition retailed at eighteen shillings (18/-) and the US edition at $4.50.
It features her Belgian detective Hercule Poirot and the recurring character Ariadne Oliver. The novel is notable for being the first in many years in which Poirot is present from beginning to end. It is uncommon in that the investigation includes discovering the first crime, which happens comparatively late in the novel.
The novel reintroduces Stillingfleet, a character from the short story The Dream and first published in book form in the UK in The Adventure of the Christmas Pudding in 1960, and Mr Goby, whose previous appearance had been in After the Funeral in 1953.
In Chapter 4, while Poirot is pretending he shares a military history with Sir Roderick, he makes reference to Colonel Race from novels such as Death on the Nile and Cards on the Table, as well as Inspector Giraud from Murder on the Links.
Plot Summary
[SPOILER ALERT]
Norma Restarick seeks help from Poirot, believing she may have committed murder. When she sees him in person, she flees, saying he is too old. He pursues the case finding that Ariadne Oliver sent Norma to him. He believes there is a murder that prompted Norma's fears. Poirot and Mrs Oliver gather information, visiting her parents' home and her apartment building. Norma does not return home after a weekend visit to her father and stepmother. Mrs Oliver finds her in a café by chance with her boyfriend David. Poirot meets Norma at the café, where she mentions the death again. After describing the odd times where she cannot recall what has happened she leaves in fear again. Mrs Oliver trails David, ending up in the hospital after being coshed on the head upon leaving his art studio. Poirot arranges for Dr Stillingfleet to follow Norma; he pulls her to safety from a close call with speeding traffic and brings her to his place for treatment and for safety.
Norma's father Andrew abandoned her and her mother Grace when Norma was about 5 years old. Andrew had run off with a woman in a relationship that ended soon after. He travelled in Africa in financially successful ventures. Norma lived with her mother until Grace's death two and a half years before. Andrew returned to England after his brother Simon died a year earlier, to work in the family firm, arriving with a new young wife, Mary. Norma can recognize nothing familiar in this man, but accepts him. Norma is the third girl in her flat in the fashion of young women advertising for a third girl to share the rent. The main tenant, Claudia, is secretary to her newfound father; the other girl, Frances, travels often for the art gallery that employs her.
Mrs Oliver learns that a woman in the apartment building had recently died by falling from her window. A week passes before she tells Poirot, who feels this is what bothers Norma. The woman was Louise Charpentier. Norma says that her father ran off with Louise Birell. Later, Mrs Oliver finds a piece of paper linking Louise Charpentier to Andrew. Mary Restarick has been ill from poison in her food. Sir Roderick engages Poirot to find documents missing from his files which brings young Sonia under suspicion.
Norma is lured from Dr Stillingfleet by an ad in the newspaper to meet David, and is again drugged. Frances kills David. She sets it up to appear that Norma did it, but the blood on the knife was congealed when Norma found herself holding it. With police and family gathered in the flat, Poirot announces that Andrew did die in Africa. Robert Orwell is posing as her father to gain the wealth of the family. He had David paint portraits of him and his late wife in the style of a painter popular 20 years earlier as part of the ruse. Most cruelly, he and his wife have been giving Norma various drugs that give her hallucinations and an altered sense of time, to set her up as guilty. Further, the wife had poisoned herself hoping to pin that on Norma, too. Louise wrote to Andrew on learning he was back in England, so Frances killed Louise; this is the murder Norma feared she did. The woman posing as her stepmother was also Frances, who used a blonde wig to cover her dark hair when changing roles. Poirot takes the wig from her bag to make that point. Murder of the two who could expose the imposters was just one of her crimes. Sonia is exonerated when she finds the papers Sir Roderick misplaced, and the two will marry. Poirot had chosen Dr Stillingfleet to help him with Norma in hopes the two would marry, and they will.
Publication history
1966, Collins Crime Club (London), November 1966, Hardcover, 256 pp
1967, Dodd Mead and Company (New York), 1967, Hardcover, 248 pp
1968, Fontana Books (Imprint of HarperCollins), Paperback, 190 pp
1968, Pocket Books (New York), Paperback
Third Girl – First Edition Book Identification Guide
The books are listed in the order of publication. While the majority of Agatha Christie's books were first published in the UK. There are many titles that were first published in the US. The title of the book may differs from the UK edition in some cases.
| Year | Title | Publisher | First edition/printing identification points |
| --- | --- | --- | --- |
| 1966 | Third Girl | William Collins & Sons, London, [1966] | First edition. "© Agatha Christie, Ltd., 1966" stated on the copyright page. No statement of later printings. Red cloth lettered in gold. Price 18s. |
| 1967 | Third Girl | Dodd, Mead & Co, NY, [1966] | First American edition. "First published … 1966" stated on the copyright page. Black cloth, blue spine. Price $ 4.50. |
Note about Book Club Editions (BCE) and reprints:
UK: You can see statements of later reprint dates or of book club on the copyright page.
US: The US reprint publishers usually use the same sheets as the first edition and are harder to identify by looking at the title page or the copyright page. One may identify a BCE by looking at the DJ, which doesn't have a price on top of the front flap and a "Book Club Edition" imprint at the bottom. If the dust jacked is clipped at both the top/bottom of the front flap. You can safely assume it's a BCE . If the book is missing the dust jacket. Later BCE editions can be identified by its plain boards, while first printings are issued in quarter cloth.
Please refer to the gallery for detailed images of true first edition bindings and dust jackets.
Third Girl – First Edition Dust Jacket Identification Guide
First edition bindings and various dust jacket printings identification.
Reference: