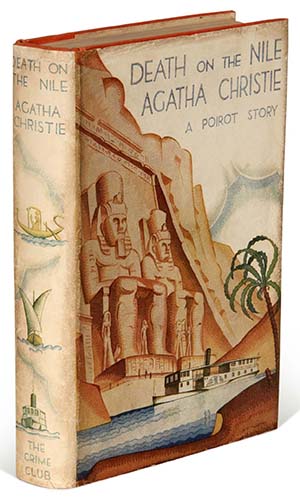 Death on the Nile is a work of detective fiction by British writer Agatha Christie, published in the UK by the Collins Crime Club on 1 November 1937 and in the US by Dodd, Mead and Company the following year. The UK edition retailed at seven shillings and sixpence (7/6) and the US edition at $2.00.
The book features the Belgian detective Hercule Poirot. The action takes place in Egypt, mostly on the River Nile. The novel is unrelated to Christie's earlier short story of the same name, which featured Parker Pyne as the detective.
References to other works:
Plot Summary
[SPOILER ALERT]
While on holiday in Aswan to board the steamer Karnak, set to tour along the Nile River from Shellal to Wadi Halfa, Hercule Poirot is approached by successful socialite Linnet Doyle née Ridgeway. She wants to commission him to deter her former friend Jacqueline de Bellefort from hounding and stalking her. Linnet had recently married Jacqueline's ex-fiancé, Simon Doyle, which has made Jacqueline bitterly resentful. Poirot refuses the commission and unsuccessfully attempts to dissuade Jacqueline from pursuing her plans. Simon and Linnet secretly follow Poirot to escape Jacqueline but find she had learned of their plans and boarded ahead of them. The other Karnak passengers include Linnet's maid Louise Bourget; her trustee Andrew Pennington; romance novelist Salome Otterbourne and her daughter Rosalie; Tim Allerton and his mother; elderly American socialite Marie Van Schuyler, her cousin Cornelia Robson and her nurse Miss Bowers; outspoken communist Mr Ferguson; Italian archaeologist Guido Richetti; solicitor Jim Fanthorp; and Austrian physician Dr Bessner.
While visiting Abu Simbel when the Karnak stops there, Linnet narrowly avoids being crushed to death by a large boulder that falls from a cliff. Jacqueline is suspected of pushing the boulder off the cliff, but she was aboard the steamer at the time of the incident. At Wadi Halfa, Poirot's friend Colonel Race boards the steamer for the return trip. Race tells Poirot that he seeks a murderer among the passengers.
The following night in the steamer's lounge, Jacqueline expresses her bitterness toward Simon. She shoots him in the leg with a pistol but immediately breaks down with remorse and kicks the pistol away. She is taken to her cabin by the two other people present, Fanthorp and Cornelia. Simon is shortly brought to Dr Bessner's cabin for treatment for his injury. Fanthorp looks for Jacqueline's pistol but reports that it has disappeared. The following morning, Linnet is found dead, shot in the head, while her valuable string of pearls has disappeared. Jacqueline's pistol is recovered from the Nile; it was wrapped in a velvet stole that Miss van Schuyler had reported missing the day before. Two shots have been fired from the pistol.
While interviewing Louise in the cabin in which Simon is resting, Poirot notes oddness in the words she uses. Miss Bowers returns Linnet's pearl necklace, which was stolen by Miss Van Schuyler, a kleptomaniac. However, Poirot realizes it is merely an imitation of Linnet's genuine necklace. He notes two bottles of nail polish in the victim's room, one of which intrigues him. Louise is then found stabbed to death in her cabin. Mrs Otterbourne later meets with Poirot and Race in Simon's cabin, claiming she saw who killed the maid, to which Simon loudly declares his surprise. Before revealing who it is, she is shot dead from outside the cabin.
Poirot soon confronts Pennington over his attempted murder of Linnet by pushing the boulder off the cliff; Pennington had speculated unsuccessfully with her inheritance and came to Egypt upon learning of her marriage to trick her into signing documents that would exonerate him. However, he claims he did not murder anyone, despite his revolver having been used in Mrs Otterbourne's murder. Poirot recovers Linnet's genuine pearls from Tim, who had substituted an imitation string of pearls for the genuine necklace. Race realizes Richetti is the man he is looking for.
Poirot tells Race, Bessner, and Cornelia that Simon killed Linnet. The murder was planned by Jacqueline; the pair are still lovers. Linnet had deliberately and unashamedly tried to take Simon away from Jacqueline, and Simon decided to go along with it so he could murder her for her money later. Afraid of the none-too-bright Simon being caught and executed, Jacqueline concocted what she thought was a foolproof plan. On the night of the murder, Jacqueline deliberately missed Simon, who faked his leg injury with red ink. While Fanthorp and Cornelia were distracted by Jacqueline, Simon took the pistol, went to Linnet's cabin, and shot her. He placed the nail polish bottle that had contained the red ink on Linnet's washstand, then returned to the lounge and shot himself in the leg. Simon used the stole to silence the pistol, loaded a spare cartridge to make it seem that only two shots were fired, and threw the pistol overboard. Louise had witnessed Simon entering Linnet's cabin that night, and hinted at this to Simon when Poirot was interviewing her, planning to blackmail him. Jacqueline, again in an attempt to protect her lover, stabbed Louise to death. Mrs Otterbourne saw Jacqueline entering Louise's cabin; when she went to tell Poirot, Simon had raised his voice to alert Jacqueline in the next room. She immediately shot and killed Otterbourne before the truth could be revealed. Poirot confronts Simon, who confesses. He is arrested, as are Jacqueline and Richetti. As the steamer arrives back in Shellal and the passengers disembark, Jacqueline shoots Simon and herself with another pistol so they may escape the gallows. When pressed, Poirot reveals he had always known she had a second pistol, but had chosen to allow her to take her own life.
Publication history
1937, Collins Crime Club (London), 1 November 1937, Hardback, 288 pp
1938, Dodd Mead and Company (New York),
1938, Hardback, 326 pp 1944, Avon Books, Paperback, 262 pp (Avon number 46)
1949, Pan Books, Paperback, 255 pp (Pan number 87)
1953, Penguin Books, Paperback, (Penguin number 927), 249 pp
1960, Fontana Books (Imprint of HarperCollins), Paperback, 253 pp
1963, Bantam Books, Paperback, 214 pp
The book was first serialized in the US in The Saturday Evening Post in eight installments from 15 May (Volume 209, Number 46) to 3 July 1937 (Volume 210, Number 1) with illustrations by Henry Raleigh.
Death on the Nile – First Edition Book Identification Guide
The books are listed in the order of publication. While the majority of Agatha Christie's books were first published in the UK. There are many titles that were first published in the US. The title of the book may differs from the UK edition in some cases.
| Year | Title | Publisher | First edition/printing identification points |
| --- | --- | --- | --- |
| 1937 | Death on the Nile | William Collins & Sons, London, 1937 | First edition. "Copyright 1937" stated on the copyright page. No statement of later printings. Red or orange cloth lettered in black. Price 7/6. |
| 1938 | Death on the Nile | Dodd, Mead & Co, NY, 1938 | First American edition. Title page date 1938 and copyright page date 1937. No statement of later printings. Decorative orange cloth, lettered in black. Price $ 2.00. |
Note about Book Club Editions (BCE) and reprints:
UK: You can see statements of later reprint dates or of book club on the copyright page.
US: The US reprint publishers usually use the same sheets as the first edition and are harder to identify by looking at the title page or the copyright page. One may identify a BCE by looking at the DJ, which doesn't have a price on top of the front flap and a "Book Club Edition" imprint at the bottom. If the dust jacked is clipped at both the top/bottom of the front flap. You can safely assume it's a BCE . If the book is missing the dust jacket. Later BCE editions can be identified by its plain boards, while first printings are issued in quarter cloth.
Please refer to the gallery for detailed images of true first edition bindings and dust jackets.
Death on the Nile – First Edition Dust Jacket Identification Guide
First edition bindings and various dust jacket printings identification.
Reference: