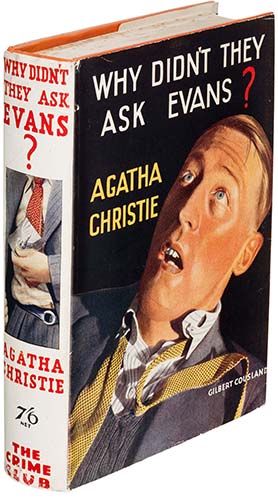 Why Didn't They Ask Evans? is a work of detective fiction by Agatha Christie, first published in the United Kingdom by the Collins Crime Club in September 1934 and in the United States by Dodd, Mead and Company in 1935 under the title of The Boomerang Clue. The UK edition retailed at seven shillings and sixpence (7/6) and the US edition at $2.00.
The novel is set in Wales and Hampshire. Bobby Jones finds a man dying at his local golf course. A photo he saw in the man's pocket is replaced, as police seek his identity. Bobby and his friend Lady Frances Derwent have adventures as they solve the mystery of the man's last words: "Why didn't they ask Evans?"
In the introduction of Agatha Christie's book Passenger to Frankfurt (Dodd, Mead hardcover, 1970) she gives examples of how she has come up with ideas for her books. Included is this explanation: "You go to tea with a friend. As you arrive, her brother closes a book he is reading – throws it aside, says: 'Not bad, but why on earth didn't they ask Evans?' So you decide immediately a book of yours shortly to be written will bear the title, Why Didn't They Ask Evans? You don't know yet who Evans is going to be. Never mind. Evans will come in due course – the title is fixed."
Plot Summary
[SPOILER ALERT]
Bobby Jones is playing golf with Dr Thomas in the Welsh seaside town of Marchbolt. Seeking the golf ball he hit over the cliff edge, he sees a man lying on the rocks below. The doctor says the man is fatally injured and seeks help. Bobby stays with the man, who briefly regains consciousness, says "Why didn't they ask Evans?", and then dies. Bobby finds a photograph of a beautiful woman in the man's coat pocket, but no identification. Roger Bassington-ffrench, a stranger wearing plus fours, offers to stay with the body so Bobby can play the organ at his father's church.
The dead man is identified as Alex Pritchard by his sister, Amelia Cayman, at the inquest. She is said to be the woman in the photograph; Bobby wonders how such a beautiful girl could become such a coarse older woman. After the inquest, Mrs Cayman and her husband want to know if Pritchard had any last words. Bobby says that he did not. Later, when talking with his friend Lady Frances "Frankie" Derwent, Bobby remembers that Pritchard did have last words and writes to the Caymans to tell them.
Bobby receives and rejects an unexpected job offer from a firm in Buenos Aires. Soon afterwards Bobby nearly dies after drinking from a poisoned bottle of beer. The local police do not pursue this. Frankie thinks Bobby is targeted for murder. Bobby agrees when he sees the issue of the local paper with the photograph used to find Pritchard's sister. Bobby sees that it is not the one he found in the dead man's pocket. He and Frankie realise that Bassington-ffrench swapped the photographs and that Mrs Cayman is not related to the dead man at all. Bobby and Frankie search for Bassington-ffrench. They trace him to Merroway Court in Hampshire, owned by Roger's brother and sister-in-law, Henry and Sylvia. They stage a car accident outside the house with the help of a doctor friend so that Frankie, feigning injury, will be invited to stay to recover. Frankie produces a newspaper cutting about the mysterious dead man; Sylvia remarks that he looks like Alan Carstairs, a traveller and big-game hunter who was a friend of John Savage, a millionaire who had killed himself after learning he had terminal cancer.
Frankie meets two neighbours of the Bassington-ffrenches – Dr Nicholson and his younger wife, Moira. Dr Nicholson runs a local sanatorium. Frankie gets Bobby to investigate the establishment. On the grounds at night, Bobby encounters a girl who says that she fears for her life; she is the original of the photograph that Bobby found in the dead man's pocket. Several days later, Moira Nicholson turns up at the local inn where Bobby stays in his disguise as Frankie's chauffeur. She says her husband is trying to kill her and says she knew Alan Carstairs before her marriage to the doctor. Bobby introduces her to Frankie. Moira suggests they ask Roger if he took the photograph from the body of the dead man. Roger admits that he took the photo, recognising Moira and wanting to avoid scandal for her. Frankie leaves after Henry is found dead in his home, an apparent suicide.
Interested in the will of the late John Savage, Frankie consults her family's solicitor in London and learns that Carstairs consulted him too. Savage was staying with Mr and Mrs Templeton when he became convinced he had cancer, although one specialist told him he was perfectly well. When he died by suicide, his will left seven hundred thousand pounds to the Templetons, who have apparently since left England. Carstairs was on their trail when he was killed. Bobby is kidnapped and Frankie is lured to the same isolated cottage by Roger. They manage to turn the tables on him with the timely arrival of Badger Beadon and find a drugged Moira in the house. When the police arrive, Roger has escaped.
Bobby and Frankie trace the witnesses to the signing of John Savage's will. They are the former cook and gardener of Mr and Mrs Templeton. Mr Templeton is also known as Mr Leo Cayman. The cook says that Gladys, the parlourmaid, was not asked to witness the will, made the night before Savage died. Frankie realises that the cook and gardener did not see Mr Savage before the signing, while the parlourmaid did and would have realised that it was Roger in the "deathbed" who wrote the will and not Mr Savage. The parlourmaid is Gladys Evans, hence the reason for Carstairs' question, "Why didn't they ask Evans?"
Tracing the parlourmaid, they discover she is now the married housekeeper at Bobby's home. Carstairs was trying to find her. Returning to Wales, they find Moira, who claims she is being followed by Roger and has come to them for help. Frankie is not deceived and spoils Moira's attempt to poison their coffee. Moira was Mrs Templeton and is Roger's co-conspirator. Moira then attempts to shoot Frankie and Bobby in the café when she is exposed, but is overpowered and arrested. Several weeks later, Frankie receives a letter from Roger, posted from South America, in which he confesses to murdering Carstairs, murdering his brother, and conspiring in all of Moira's past crimes. Bobby and Frankie realise they are in love and become engaged.
Publication history
1933, The McCall Company (abridged version as part of Six Redbook Novels)
1934, Collins Crime Club (London), September 1934, Hardcover, 256 pp
1935, Dodd Mead and Company (New York),
1935, Hardcover, 290 pp as The Boomerang Clue (priced at $2.00).
1944, Dell Books (New York), Paperback, (Dell number 46 [mapback]), 224 pp
1956, Fontana Books (Imprint of HarperCollins), Paperback, 192 pp
The novel was first published in the US in the Redbook magazine in a condensed version in the issue for November 1933 (Volume 62, Number 1) under the title The Boomerang Clue with illustrations by Joseph Franké. This version was then published in Six Redbook Novels by The McCall Company in 1933, prior to the publication of the full text by Dodd Mead in 1935. The other five condensed novels in this volume were The Thin Man by Dashiell Hammett, The Figure in the Fog by Mignon G. Eberhart, The Cross of Peace by Philip Gibbs, White Piracy by James Warner Bellah and Parade Ground by Charles L Clifford.
Why Didn't They Ask Evans? – First Edition Book Identification Guide
The books are listed in the order of publication. While the majority of Agatha Christie's books were first published in the UK. There are many titles that were first published in the US. The title of the book may differs from the UK edition in some cases.
| Year | Title | Publisher | First edition/printing identification points |
| --- | --- | --- | --- |
| 1934 | Why Didn't They Ask Evans? | William Collins & Sons, London, [1934] | First edition. "Copyright, 1934" stated on the copyright page. No statement of later printings Orange cloth lettered in black. Price 7/6. |
| 1935 | The Boomerang Clue | Dodd, Mead & Co, NY, 1935 | First American edition. Date on the title & copyright page matches. No statement of later printings. Decorative gray cloth, lettered in red. Price $ 2.00 |
Note about Book Club Editions (BCE) and reprints:
UK: You can see statements of later reprint dates or of book club on the copyright page.
US: The US reprint publishers usually use the same sheets as the first edition and are harder to identify by looking at the title page or the copyright page. One may identify a BCE by looking at the DJ, which doesn't have a price on top of the front flap and a "Book Club Edition" imprint at the bottom. If the dust jacked is clipped at both the top/bottom of the front flap. You can safely assume it's a BCE . If the book is missing the dust jacket. Later BCE editions can be identified by its plain boards, while first printings are issued in quarter cloth.
Please refer to the gallery for detailed images of true first edition bindings and dust jackets.
Why Didn't They Ask Evans? – First Edition Dust Jacket Identification Guide
First edition bindings and various dust jacket printings identification.
Reference: