The Secret of the Old Clock is the first volume in the Nancy Drew Mystery Stories series written under the pseudonym Carolyn Keene. It was first published on April 28, 1930, and rewritten in 1959 by Harriet Stratemeyer Adams.
Nancy Drew is a 16-year-old high school graduate (her age was changed to 18 in the 1959 rewrite). Her father, Carson Drew, is a well-known criminal defense lawyer. The Drews reside in River Heights and employ a housekeeper, Hannah Gruen. In early editions, she is depicted as a mere servant; later in the series, she becomes more of a family member.
In 2001, the novel ranked 53rd on Publishers Weekly's list of the all-time best-selling hardcover children's books in English, having sold about 2.7 million copies.
Summaries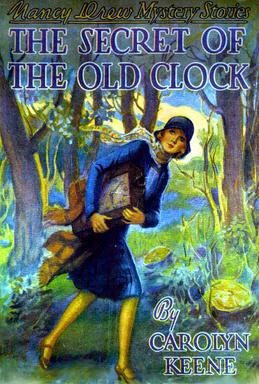 Sixteen-year-old Nancy Drew wishes to help the Turners, who are struggling relatives of the recently deceased Josiah Crowley, by finding a missing will that can give them claim to Crowely's estate. Aided along the way by chum Helen Corning, she becomes interested in the case because she dislikes Crowley's snobbish nouveau-riche social-climbing heirs presumptive, the Tophams.
A nasty encounter at a department store allows Nancy to discredit the Topham sisters when they break an expensive imported vase. Interviewing various Crowley relatives and friends, Nancy learns from an injured old lady that Crowley hinted that the clue to his will would be found in the family clock. When Helen gives Nancy charity tickets to sell, she sells them to the Tophams to gain entry to their home and quiz them about the clock.
Nancy then joins Helen at summer camp to investigate the Topham summer home nearby. There, she is overpowered by the burglars who stole the Crowley Clock and the rest of the Topham furniture. She is imprisoned in the vacant house while the caretaker is locked in a shed nearby. She is able to obtain the titular clock while the burglars drink beer and wine heavily (and illegally) at a wayside inn. (Prohibition in the United States was in force in 1930.)
Nancy is depicted as intentionally hiding stolen evidence (the clock) from the police and gunfire is involved in the police-robber chase. A climactic scene, inserted before the denouement and epilogue, has Nancy delighted to take the money from the Tophams and see it distributed to destitute family and friends.
Nancy comes across as very strong-willed, but also competitive with the Tophams. Although charitable and altruistic to the poor heirs, she enjoys seeing others in River Heights society lose their status earned by new money rather than character.
Nancy Drew #1 – Secret of the Old Clock First Edition Book Identification Points
Only the first few printings of the first/second year are included. Printings codes are based on the Farrah Guide, 12th printing. Please refer to the guide for later printings.
Note: Glossy+: Glossy frontis + 3 glossy internals.
How to Identify Nancy Drew - The Secret of the Old Clock First Edition Guide

| Printing | Frontis | Copyright Page | Rear Book Ads |
| --- | --- | --- | --- |
| 1930A-1 | Glossy+ | Nancy Drew #1-3 | Hardy Boys #1-8/Ted Scott Flying #1-11/Famous Rover Boy ad/Famous Rover Boy #1-30/Tom Swift #1-33/Don Sturdy #1-9/Radio Boys #1-12 |
| 1930B-2 | Glossy+ | Nancy Drew #1-3 | Amy Bell Marlowe(10)/Lilian Garis(16)Carolyn Wells Books(11)/Blythe Girls #1-10/Outdoor Girls #1-20/Hardy Boys #1-9/Buddy Books(20)/Western Stories #1-9/Stories of Sport & Adv.(19) |
| 1930C-3 | Glossy+ | Nancy Drew #1-3 | Amy Bell Marlowe(10)/Lilian Garis(16)Carolyn Wells Books(11)/Blythe Girls #1-10/Outdoor Girls #1-20/Buddy Books(20)/Hardy Boys #1-9/ Western Stories #1-9/Stories of Sport & Adv.(19) |
| 1930D-4 | Glossy+ | Nancy Drew #1-3 | Amy Bell Marlowe(10)/Lilian Garis(16)Carolyn Wells Books(11)/Blythe Girls #1-10/Outdoor Girls #1-20/Hardy Boys #1-9/Buddy Books(20)/Western Stories #1-9/Stories of Sport & Adv.(19) |
Nancy Drew #1 – Secret of the Old Clock First Edition Dust Jacket Identification Points
Note: ao: and other titles, G&D: Grosset & Dunlap
How to Identify Nancy Drew - The Secret of the Old Clock First Edition Dust Jacket

| Printing | Front Flap | Rear Cover | Rear Flap | Reverse/Inside | Format |
| --- | --- | --- | --- | --- | --- |
| 1930A-1 | Nancy Drew #1-3 | Amy Bell Marlowe(10) | Blythe Girls #1-10 | Tom Swift #1-33 ao | 1 |
| 1930B-2 | Nancy Drew #1-4 | Amy Bell Marlowe(10) | Blythe Girls #1-10 | Nancy Drew #1-3 ao | 1 |
| 1930C-3 | Nancy Drew #1-4 | Amy Bell Marlowe(10) | Blythe Girls #1-10 | List of G&D adult | 1 |
| 1930D-4 | Nancy Drew #1-5 | Amy Bell Marlowe(10) | Blythe Girls #1-10 | Nancy Drew #1-3 ao | 1 |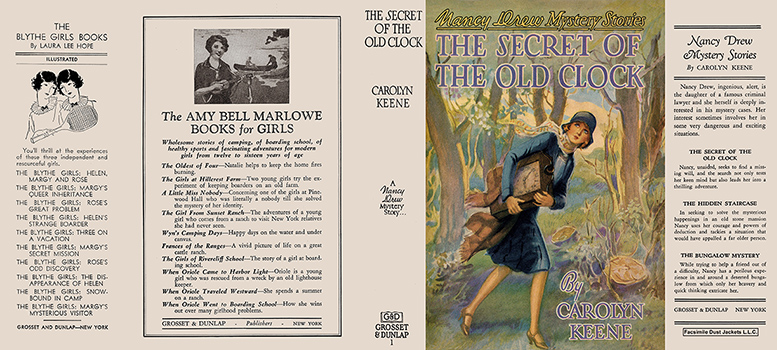 Reference:
Wikipedia
Farah's Guide to Nancy Drew, 12th printing