The Clue in the Old Stagecoach is the thirty-seventh volume in the Nancy Drew Mystery Stories series. It was first published in 1960 by Grosset & Dunlap under the pseudonym Carolyn Keene. The actual author was ghostwriter Harriet Stratemeyer Adams.
Summaries (original edition)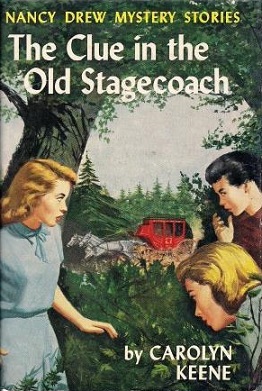 Mrs. Strook requests Nancy's help finding an old stagecoach she believes her uncle hid in her hometown of Francisville. Mrs. Strook believes the stagecoach houses a clue that will be valuable for the town! Can Nancy help her find the missing stagecoach?
Nancy Drew #37 The Clue in the Old Stagecoach First Edition Book Identification Points
Only the first few printings of the first/second year are included. Printings codes are based on the Farrah Guide, 12th printing. Please refer to the guide for later printings.
How to Identify Nancy Drew - The Clue in the Old Stagecoach First Edition Guide

| Printing | Frontis | Copyright Page | Notes |
| --- | --- | --- | --- |
| 1960A-1 | Plain | Nancy Drew #1-37, Dana Girls #1-21 | Title "The Secret of the Fire…" on page 180. |
| 1960B-2 | Plain | Nancy Drew #1-37, Dana Girls #1-21 | |
| 1960C-3 | Plain | Nancy Drew #1-37, Dana Girls #1-22 | |
Nancy Drew #37 The Clue in the Old Stagecoach First Edition Dust Jacket Identification Points
How to Identify Nancy Drew - The Clue in the Old Stagecoach First Edition Dust Jacket

| Printing | Price | Front Flap | Rear Panel | Rear Flap | Format |
| --- | --- | --- | --- | --- | --- |
| 1960A-1 | 100100 | Synopsis | Dana Girls #1-21 | Nancy Drew #1-37 | 16 |
| 1960B-2 | 100100 | Synopsis | Dana Girls #1-22 | Nancy Drew #1-37 | 16 |
| 1960C-3 | 100100 | Synopsis | Dana Girls #1-22 | Nancy Drew #1-37 | 16 |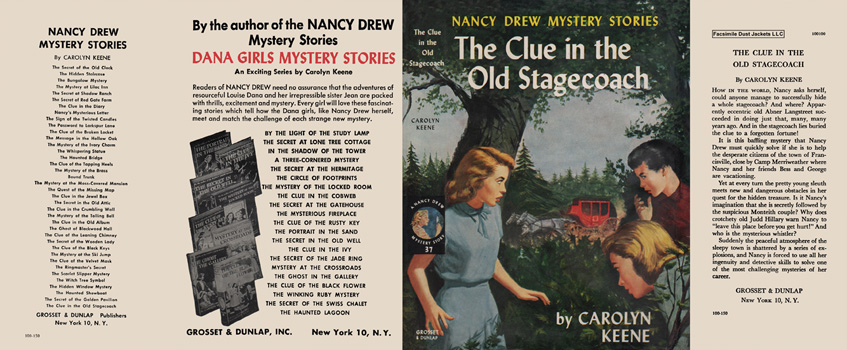 Reference:
Farah's Guide to Nancy Drew, 12th printing