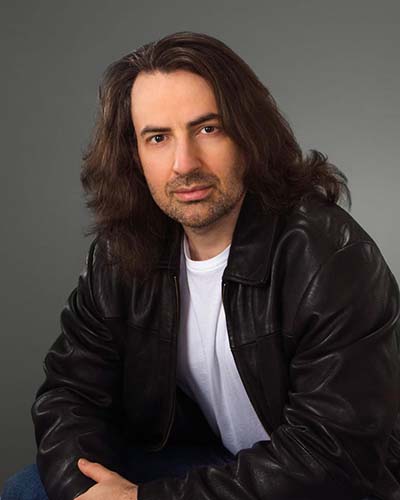 Jim Butcher is an American author best known for his fantasy and urban fantasy novels, particularly the Dresden Files series featuring the wizard and private investigator Harry Dresden. Born on October 26, 1971, in Independence, Missouri, Butcher developed a passion for storytelling and writing at an early age.
Raised in a household where reading was encouraged, Butcher was exposed to various genres of literature, which influenced his love for storytelling. He devoured books by authors such as J.R.R. Tolkien, C.S. Lewis, and Edgar Allan Poe, and found himself captivated by the world of fantasy and science fiction. These early literary influences served as the foundation for his future writing career.
Butcher's journey as a writer began during his childhood, when he would create stories and share them with friends and family. He honed his craft by crafting tales of adventure and magic, drawing inspiration from the rich landscapes of his imagination. As he grew older, his passion for writing continued to burn, prompting him to pursue his dream of becoming a published author.
After graduating from high school, Butcher enrolled at the University of Oklahoma, where he studied English literature. During his time there, he immersed himself in the works of renowned authors and explored various literary traditions and genres. Butcher's studies provided him with a deeper understanding of storytelling techniques and helped shape his own unique writing style.
Upon completing his studies, Butcher embarked on his writing career, determined to share his imaginative worlds with readers. His breakthrough came in the early 2000s with the publication of "Storm Front," the first book in the Dresden Files series. Set in modern-day Chicago, the series follows the adventures of Harry Dresden, a wizard and private investigator who navigates a world filled with supernatural beings and magical threats.
"Storm Front" introduced readers to Butcher's trademark blend of fantasy, mystery, and action, captivating audiences with its fast-paced narrative and engaging characters. The success of the Dresden Files series propelled Butcher into the spotlight and garnered a devoted fanbase eagerly awaiting each new installment.
Over the years, Butcher continued to expand his literary repertoire, venturing beyond the Dresden Files. In 2004, he embarked on a new series called Codex Alera, a six-book saga set in a world where elemental magic holds sway. Combining elements of epic fantasy with political intrigue and intricate world-building, the Codex Alera series showcased Butcher's versatility as an author.
In 2015, Butcher introduced readers to a new steampunk-inspired fantasy world with The Cinder Spires series. The Aeronaut's Windlass, the first book in the series, unveiled a thrilling tale of airships, high adventure, and memorable characters.
Throughout his career, Butcher's writing has been praised for its strong plotting, snappy dialogue, and vivid descriptions. He weaves together intricate storylines, crafting thrilling narratives that keep readers eagerly turning the pages. His ability to create complex and relatable characters has garnered widespread acclaim, endearing readers to the struggles and triumphs of his protagonists.
Jim Butcher's works have received numerous accolades and have been New York Times bestsellers, cementing his position as one of the leading voices in contemporary fantasy fiction. His dedication to his craft and his commitment to delivering immersive and entertaining stories have earned him a dedicated and passionate fanbase.
In addition to his success as an author, Butcher is known for his engaging presence at conventions and events, where he connects with readers and shares insights into his writing process. He has become a beloved figure in the literary community, known for his warmth, humor, and appreciation for his fans.
Jim Butcher Bibliography
Dresden Files Series:
Codex Alera Series:
Cinder Spires Series:

The Aeronaut's Windlass (2015)