The Haunted Bridge is the fifteenth volume in the Nancy Drew Mystery Stories series. It was originally published by Grosset & Dunlap in 1937. It was written by Mildred Wirt Benson, whom many readers and scholars consider the "truest" of the numerous Carolyn Keene ghostwriters, following an outline by Edna Stratemeyer.
Summaries (original edition)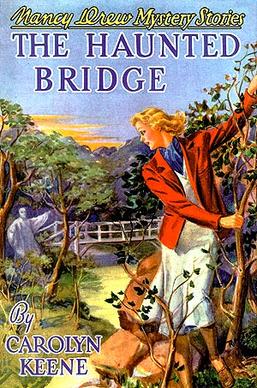 Nancy's father Carson Drew is on the trail of an international ring of jewel thieves, and asks her to assist him in his pursuit. The trail leads to a summer resort area. Before Nancy has a chance to start work on her father's case, a golf caddy tells her a frightening tale. In dense woods nearby is an old wooden footbridge guarded by a ghost! Intrigued by the caddy's story, Nancy decides to investigate.
Several riddles confront the young detective as she attempts to solve the mystery of the haunted bridge and track down a woman suspected of being a key member of the gang of the jewelry thieves.
Nancy Drew #15 The Haunted Bridge First Edition Book Identification Points
Only the first few printings of the first/second year are included. Printings codes are based on the Farrah Guide, 12th printing. Please refer to the guide for later printings.
Note: Glossy+: Glossy frontis + 3 glossy internals.
How to Identify Nancy Drew - The Haunted Bridge First Edition Guide

| Printing | Frontis | Copyright Page | Rear Book Ads |
| --- | --- | --- | --- |
| 1937B-1 | Glossy | Nancy Drew #1-15 | None |
| 1938A-2 | Glossy | Nancy Drew #1-15 | None |
| 1938B-3 | Glossy | Nancy Drew #1-15 | None |
Nancy Drew #15 The Haunted Bridge First Edition Dust Jacket Identification Points
How to Identify Nancy Drew - The Haunted Bridge First Edition Dust Jacket

| Printing | Price | Front Flap | Rear Panel | Rear Flap | Format |
| --- | --- | --- | --- | --- | --- |
| 1937B-1 | 5050 | Nancy Drew #1-15 | Judy Bolton #1-11 | Dana Girls #1-6 | 4 |
| 1938A-2 | 5050 | Nancy Drew #1-15 | Judy Bolton #1-11 | Dana Girls #1-7 | 4 |
| 1938B-3 | 5050 | Nancy Drew #1-16 | Headline Books(6) | Judy Bolton #1-11 | 4 |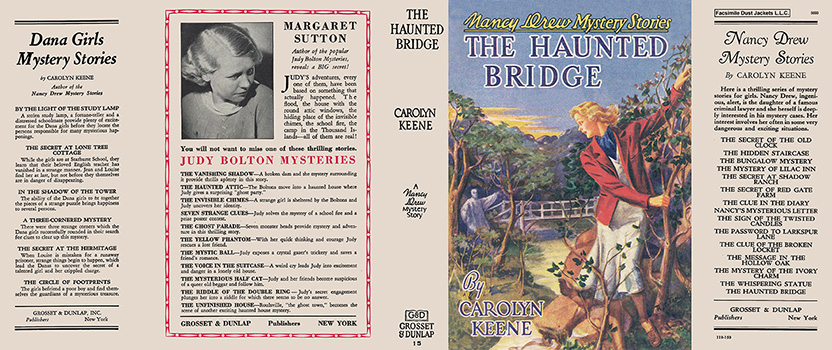 Reference:
Farah's Guide to Nancy Drew, 12th printing