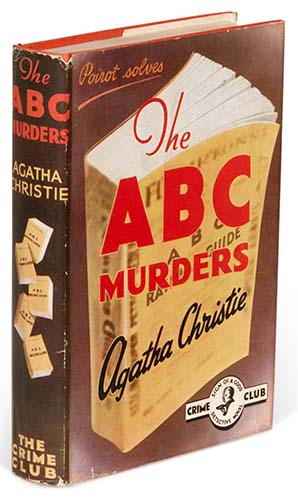 The A.B.C. Murders is a work of detective fiction by British writer Agatha Christie, featuring her characters Hercule Poirot, Arthur Hastings and Chief Inspector Japp, as they contend with a series of killings by a mysterious murderer known only as "A.B.C.". The book was first published in the UK by the Collins Crime Club on 6 January 1936, sold for seven shillings and sixpence (7/6) while a US edition, published by Dodd, Mead and Company on 14 February of the same year, was priced $2.00.
The form of the novel is unusual, combining first-person narrative and third-person narrative. This approach was previously used by Agatha Christie in The Man in the Brown Suit. In The A.B.C. Murders the third-person narrative is supposedly reconstructed by the first-person narrator of the story, Arthur Hastings.
The initial premise is that a serial killer is murdering people with alliterative names. The murders follow an alphabetical order, starting with a victim whose initials were A. A. The murders appear to lack a motive, yet Poirot suspects that there was a clear motive behind one of the murders.
References to other works
Plot Summary
[SPOILER ALERT]
Returning from South America, Arthur Hastings meets with his old friend, Hercule Poirot, at his new flat in London. Poirot shows him a mysterious letter he has received, signed "A.B.C.", that details a crime that is to be committed very soon, which he suspects will be a murder. Two more letters of the same nature soon arrive at his flat, each before a murder being carried out by A.B.C., and committed in alphabetical order: Alice Ascher, killed in her tobacco shop in Andover; Elizabeth "Betty" Barnard, a flirty waitress killed on the beach at Bexhill; and Sir Carmichael Clarke, a wealthy man, killed at his home in Churston. In each murder, an ABC Rail Guide is left beside the victim.
The police team for the investigation, led by Chief Inspector Japp, includes Inspector Crome, who doubts Poirot's detective abilities, and Dr. Thompson, who tries to profile the killer. Poirot forms a "Legion" of relatives of the deceased to uncover new information: Franklin Clarke, Sir Carmichael's brother; Mary Drower, Ascher's niece; Donald Fraser, Betty's fiancé; Megan Barnard, Betty's elder sister, and Thora Grey, Sir Carmichael's young assistant. Following a meeting with the third victim's widow, Lady Clarke, one key similarity between the murders is established – on the day of each murder, a man selling silk stockings has appeared at or near each crime scene. Despite this information, Poirot wonders why the letters were sent to him, rather than the police or the newspapers, and why the third letter misspelled Poirot's address, causing a delay in his receipt of it. Soon, A.B.C. sends his next letter, directing everybody to Doncaster, where it is suspected that the next murder will occur at the St. Leger Stakes race meeting that day. However, the murderer strikes at a cinema instead, and the victim's name does not match the alphabetical pattern of the other killings.
The police soon get a tip-off about the man linked to the murders – Alexander Bonaparte Cust, an epileptic travelling salesman, who suffers from memory blackouts and constant agonizing headaches as the result of a head injury during the First World War. Cust flees his apartment but collapses upon arriving at the Andover police station, where he is taken into custody. Apart from claiming that a stocking firm hired him, he lacks any memory of committing the murders but believes he must be guilty of them – he had been at the cinema when the last murder occurred and found blood on his sleeve and a knife in his pocket after he had left. The police learn that the firm in question never hired Cust. Their search of his room turns up an unopened box of ABC railway guides and the typewriter and fine paper used in A.B.C.'s letters, while the knife is discovered in the hallway outside his room where he dropped it. Poirot doubts Cust's guilt because of his memory blackouts, and especially because he had a solid alibi for the Bexhill murder.
Calling a Legion meeting, Poirot proclaims Cust's innocence, and exposes Franklin Clarke as the A.B.C. murdererer. His motive was simple – Lady Clarke is slowly dying from cancer, and upon her death, Carmichael would probably marry his assistant. Franklin feared a possible second marriage, as he wants all of his brother's wealth, so he chose to murder his brother while Lady Clarke was still alive. A chance encounter with Cust at a pub gave Franklin the idea for the murder plot – he would disguise his crime as part of a serial killing. Having created the letters Poirot would receive, Franklin set up Cust with his job, giving him the typewriter and other items Franklin would use to frame him for the murders. A suggestion by Hastings makes clear that the third letter was misaddressed intentionally because Franklin wanted no chance of the police interrupting that murder. Franklin then followed Cust to the cinema, committed the last murder, and planted the knife on him as he left.
Franklin laughs off Poirot's theory but panics when he is told that his fingerprint has been found on Cust's typewriter key and that Milly Higley, a co-worker of Betty Barnard, saw him in her company. Franklin attempts to end his life with his own gun, only to find that Poirot has emptied it with the help of a pickpocket. With the case solved, Poirot pairs off Donald with Megan. Later, Cust tells Poirot that the press has made him an offer for his story; Poirot suggests that he demand a higher price for it and that his headaches may have arisen from his spectacles. Once alone, Poirot tells Hastings that the claim of the fingerprint on the typewriter was a bluff but is pleased that the pair "went hunting once more".
Publication history
1936, Collins Crime Club (London), 6 January
1936, hardcover, 256 pp 1936, Dodd Mead and Company (New York), 14 February 1936, hardcover, 306 pp
1941, Pocket Books (New York), paperback, (Pocket number 88)
1948, Penguin Books, paperback, (Penguin number 683), 224 pp
1958, Pan Books, paperback (Great Pan 95), 191 pp
1962, Fontana Books (imprint of HarperCollins), paperback, 192 pp
The first true publication of The A.B.C. Murders occurred in the US with an abridged version appearing in the November 1935 (Volume XCIX, Number 5) issue of Cosmopolitan magazine with illustrations by Frederic Mizen.
The UK serialisation was in sixteen parts in the Daily Express from Monday 28 November to Thursday 12 December 1935. All the instalments carried an illustration by Steven Spurrier. This version did not contain any chapter divisions and totally omitted the foreword as well as chapters twenty-six, thirty-two and thirty-five. In addition most of chapters seven and twenty were missing. Combined with other abridgements, this serialisation omitted almost 40% of the text of the published novel.
The A.B.C. Murders – First Edition Book Identification Guide
The books are listed in the order of publication. While the majority of Agatha Christie's books were first published in the UK. There are many titles that were first published in the US. The title of the book may differs from the UK edition in some cases.
| Year | Title | Publisher | First edition/printing identification points |
| --- | --- | --- | --- |
| 1936 | The A.B.C. Murders | William Collins & Sons, London, [19 | First edition. "Copyright 1936" stated on the copyright page. No statement of later printings. Red cloth lettered in black. Price 7/6. |
| 1936 | The A.B.C. Murders | Dodd, Mead & Co, NY, 1936 | First American edition. Date on the title & copyright page matches. No statement of later printings. Yellow cloth lettered in green. dust jacket issued in two variants, red and green, no priority. Price $ 2.00. |
Note about Book Club Editions (BCE) and reprints:
UK: You can see statements of later reprint dates or of book club on the copyright page.
US: The US reprint publishers usually use the same sheets as the first edition and are harder to identify by looking at the title page or the copyright page. One may identify a BCE by looking at the DJ, which doesn't have a price on top of the front flap and a "Book Club Edition" imprint at the bottom. If the dust jacked is clipped at both the top/bottom of the front flap. You can safely assume it's a BCE . If the book is missing the dust jacket. Later BCE editions can be identified by its plain boards, while first printings are issued in quarter cloth.
Please refer to the gallery for detailed images of true first edition bindings and dust jackets.
The A.B.C. Murders – First Edition Dust Jacket Identification Guide
First edition bindings and various dust jacket printings identification.
Reference: