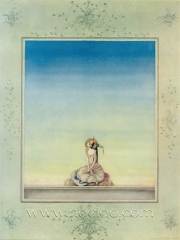 Kay Rasmus Nielsen (March 12, 1886 – June 21, 1957) was a Danish illustrator who was popular in the early 20th century, the "golden age of illustration". He joined the ranks of Arthur Rackham and Edmund Dulac in enjoying the success of the gift books of the early 20th century. Nielsen is also known for his collaborations with Disney for whom he contributed many story sketches and illustrations.
I'm reintroducing the works of my favorite illustrator Kay Nielsen in his book: Hans Andersen's Fairy Tales. The images are re-scanned from the Limited Edition book published by Hodder in 1924. The new scanner I just acquired produces more accurate colors and also more details, the best yet.
I've also scanned all the B/W ilustrations, which I have not done previously. Cheers !!