The Mystery at the Moss-Covered Mansion is the eighteenth volume in the Nancy Drew Mystery Stories series published by Grossett & Dunlap, and was first published in 1941. The original text was written by ghostwriter Mildred Wirt Benson, based upon a plot outline from Stratemeyer Syndicate co-owner Harriet Stratemeyer Adams. The book's title was changed to Mystery of the Moss-Covered Mansion when it was revised in 1971, because the story is completely different and not much of the investigation takes place at the title location. In the original, many plots and much investigation all tie back to the same house deep in the forest, while Nancy helps her father locate an heiress, expose an impostor, investigate a murder, and look into strange screams at the mansion; none of the action in the original story took place in River Heights.
Summaries (original edition)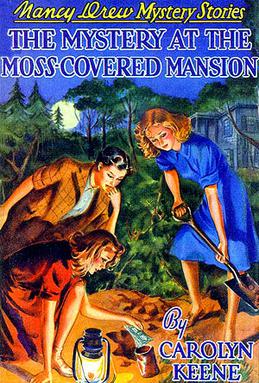 A friend of Carson Drew's has been arrested and charged with sending a truck loaded with explosive oranges into the Space Center complex at Cape Kennedy. Knowing that Mr. Billington could not possibly be guilt of sabotage, Nancy and her father rush to the defense of the accused man.
During the Drews' investigation Nancy become suspicious of an old spooky mansion that houses fierce African wild animals on its extensive grounds. Soon, she discovers that something besides the training of wild animals is going on at the mysterious estate. Many dangerous moments await Nancy before she proves Mr. Billington's innocence and thwarts the plans of treacherous subversives bent on undermining the U.S. space program.
Nancy Drew #18 The Mystery at the Moss-Covered Mansion First Edition Book Identification Points
Only the first few printings of the first/second year are included. Printings codes are based on the Farrah Guide, 12th printing. Please refer to the guide for later printings.
How to Identify Nancy Drew - The Mystery at the Moss-Covered Mansion First Edition Guide

| Printing | Frontis | Copyright Page | Rear Book Ads |
| --- | --- | --- | --- |
| 1941A-1 | Plain | No List | "The Quest of the Telltale Map" on page 215 |
| 1941B-2 | Plain | No List | "The Quest of the Telltale Map" on page 215 |
| 1941C-3 | Plain | No List | "The Quest of the Telltale Map" on page 215 |
How to Identify Nancy Drew - The Mystery at the Moss-Covered Mansion First Edition Dust Jacket

| Printing | Price | Front Flap | Rear Panel | Rear Flap | Format |
| --- | --- | --- | --- | --- | --- |
| 1941A-1 | 5050 | Nancy Drew #1-18 | Melody Lane #1-9 | Dana Girls #1-9 | 5 |
| 1941B-2 | 5050 | Nancy Drew #1-18 | Judy Bolton #1-11 | Dana Girls #1-10 | 5 |
| 1941C-3 | 5050 | Nancy Drew #1-18 | Melody Lane #1-9 | Dana Girls #1-10 | 5 |
Nancy Drew #18 The Mystery at the Moss-Covered Mansion First Edition Dust Jacket Identification Points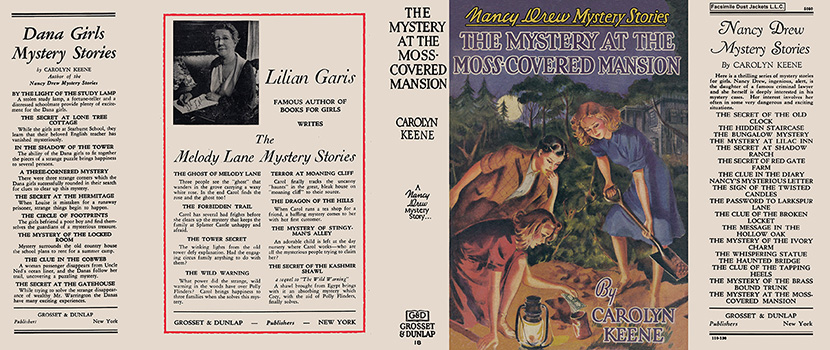 Reference:
Farah's Guide to Nancy Drew, 12th printing