The Mystery of the Brass Bound Trunk is the seventeenth volume in the Nancy Drew Mystery Stories series, written by Mildred Wirt Benson published under the pseudonym Carolyn Keene. It was first published in 1940 by Grosset & Dunlap and was extensively revised for publication in 1976.
Summaries (original edition)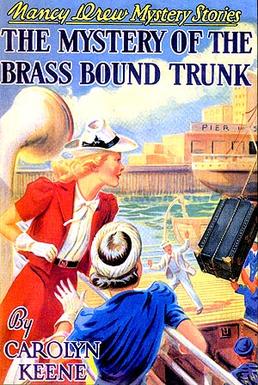 Nancy plans a trip to South America by boat, along with chums George and Bess. They have joined a tour being conducted by an exclusive girls school. To Nancy's amazement, the mother of one of the students( Mrs. Joslin) protests Nancy's presence on the tour. Prior to departure, Nancy learns there are issues involving the Trenton trunk company, mostly concerning the quality of merchandise; the owner of the company, who is a friend of Carson Drew, asks Nancy to interfere in daughter Doris' life and relationships so she will marry the son of a former business partner.
Nancy must solve several mysteries: who the mysterious red-haired young man could be; why Doris is so withdrawn; what is going on with the trunk company; why did Mrs. Joslin so vehemently protest Nancy's presence, as well as aiding her daughter Nestrelda; and solve the mix-up with Nestrelda's and Nancy's identical (or are they?) monogrammed Trenton trunks.
Nancy Drew #17 The Mystery of the Brass-Bound Trunk First Edition Book Identification Points
Only the first few printings of the first/second year are included. Printings codes are based on the Farrah Guide, 12th printing. Please refer to the guide for later printings.
How to Identify Nancy Drew - The Mystery of the Brass-Bound Trunk First Edition Guide

| Printing | Frontis | Copyright Page | Rear Book Ads |
| --- | --- | --- | --- |
| 1940A-1 | Glossy | Nancy Drew #1-17 | None |
| 1940B-2 | Glossy | Nancy Drew #1-17 | None |
| 1940C-3 | Glossy | Nancy Drew #1-17 | None/Page 220 include next book |
Nancy Drew #17 The Mystery of the Brass-Bound Trunk First Edition Dust Jacket Identification Points
How to Identify Nancy Drew - The Mystery of the Brass-Bound Trunk First Edition Dust Jacket

| Printing | Price | Front Flap | Rear Panel | Rear Flap | Format |
| --- | --- | --- | --- | --- | --- |
| 1940A-1 | 5050 | Nancy Drew #1-16 | Melody Lane #1-8 | Dana Girls #1-8 | 5 |
| 1940B-2 | 5050 | Nancy Drew #1-16 | Melody Lane #1-8 | Dana Girls #1-9 | 5 |
| 1940C-3 | 5050 | Nancy Drew #1-16 | Melody Lane #1-8 | Dana Girls #1-9 | 5 |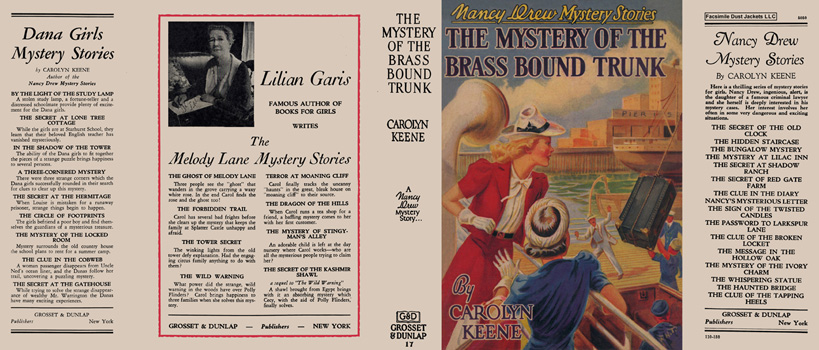 Reference:
Farah's Guide to Nancy Drew, 12th printing