Edith Nesbit – British author, 1858—1924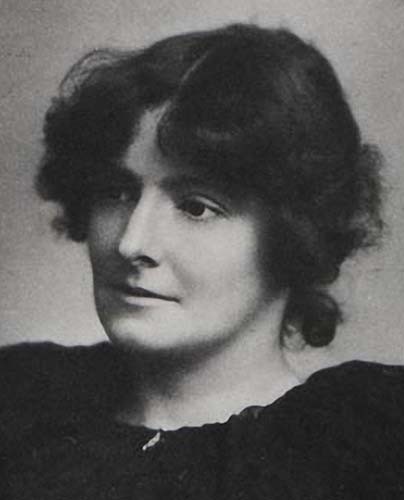 One wonders if Edith Nesbit was at all aware of just how unconventional her children's novels were and that they would determine the direction for both realistic family stories and fantasy in the twentieth century. What set her books apart from those that preceded them was that E. Nesbit did away with the didacticism prevalent in Victorian chil­dren's books, which sought to "improve" young readers.
E. Nesbit's narrators don't talk down to children; E. Nesbit speaks to her readers as respected and admired equals. Her characters—imaginative, intelligent, strong-willed individuals—are well intentioned if not always well behaved: They are real children with whom readers identify and empathize. E. Nesbit's fantasy novels combine her successful formula for the realistic family story with the added enticement of magic. Unlike fantasies of the past, her stories take place in the everyday world of Edwardian England, not in a make-believe fairyland. E. Nesbit did not sentimentalize children and childhood. She once wrote: "When I was a little child I used to pray fervently, tearfully, that when I should be grown up I might never forget what I thought, felt, and suffered then."
As a child, E. Nesbit was said to have been a rebellious tomboy with a great imagination and a passion for read­ing and writing. Her father, who ran a London agricul­tural college, died when she was three, and she was raised by her mother along with four older brothers and sisters. When she was fifteen years old, a newspaper published some of her verses, and she began to dream of becoming a poet.
A few years later, soon after her mar­riage to businessman Hubert Bland, her comfortable Victorian life took a turn when Bland, seriously ill with smallpox, lost his money when his partner absconded with the business's funds. It fell to E. Nesbit to support her small family. For the next nineteen years, she poured out a stream of novels, essays, articles, poems, greeting ­card verses, and short stories. Most of her work during that time was not memorable and today would be judged as highly sentimental.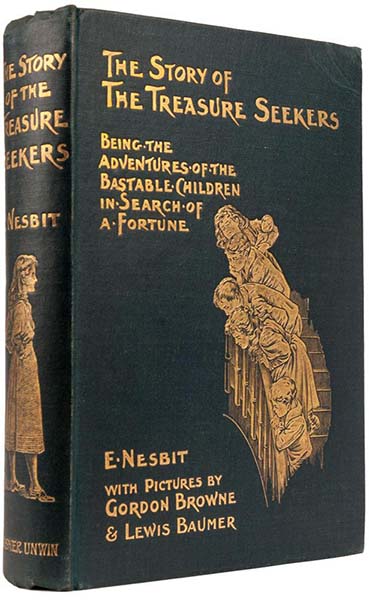 Edith Nesbit's first successful book for children was pub­lished in 1899, and nothing she had written before an­ticipated it. The Story of the Treasure Seekers essentially launched her career as a children's author. In this book, the motherless Bastable children decide to search for treasure to restore the family fortune after the failure of their father's business, and their attempts result in many humorous disasters. Two sequels, The Wouldbegoods (1901) and The New Treasure Seekers (1904), continued the comic misadventures of the Bastable children. Of the three, The Wouldbegoods is the best tribute to a theme in many of Nesbit's books: the power of literature and the imagination.
The Bastables are well read and highly imaginative. Their delight in pretending and make-believe, as inspired by stories, is contagious. In The Railway Children (1906), reality, merely a device lending credibility in the Bastable stories, has a darker side. Bobbie, Phyllis, and Peter have to move with their mother to a smaller house in the country because not only has the family fallen into financial difficulties, but their father is in prison. It is through their adventures at a nearby railroad station that the children are able to amuse themselves and cope valiantly with their situation.
Five Children and It (1902) was the first of E. Nesbit's fantasy novels. Set in contemporary England, this book must have been enchanting fare for young readers who solemnly believed magic was all around them, if only they knew where to look. The children in the story dis­cover not a beautiful fairy godmother, but an ill-tem­pered, odd-looking creature called a Psammead. The Psammead (often unwillingly) grants their wishes— not without short-lived, comic results—and the chil­dren learn that getting what one wishes for is not the key to happiness.
In the sequels The Phoenix and the Carpet (1904) and The Story of the Amulet (1906), the fantasy and humor are more and more refined. The Enchanted Castle (1907) is in many ways the most sophisticated achievement of E. Nesbit's career. It shares the same elements of E. Nesbit's other successful fantasy novels, yet the magic in this book is more mysterious and, at times, terrifying. The children's wishes produce unexpected and often undesirable results, and their attempts to understand the rules of the magic are frustratingly in vain.
Edith Nesbit continued writing until her death from a bronchial illness. While her children's stories brought her fame and wealth, ironically, her true ambition was to be a poet, and she always regretted that she had not spent more time on her poetry, Nevertheless, her influence on twentieth-century British and American chil­dren's literature has been widely acknowledged; perhaps it was the naivete of her own genius that freed her to produce such lasting and beloved classics.
K.F.
Source: Children's Books and their Creators, Anita Silvey.
---
Edith Nesbit's Selected Works
Bastable series
1901 The Wouldbegoods
1904 The New Treasure Seekers
The Complete History of the Bastable Family (1928) is a posthumous omnibus of the three Bastable novels, but it is not the complete history. Four more stories about the Bastables are included in the 1905 collection Oswald Bastable and Others. The Bastables also appear in the 1902 adult novel The Red House.
Psammead series
1902 Five Children and It
1904 The Phoenix and the Carpet
1906 The Story of the Amulet
House of Arden series
1908 The House of Arden
1909 Harding's Luck
Other children's novels
1906 The Railway Children
1907 The Enchanted Castle
1910 The Magic City
1911 The Wonderful Garden
1913 Wet Magic
1925 Five of Us—and Madeline (published posthumously in the collection of the same name, below)