James Daugherty – American Illustrator and Author 1889-1974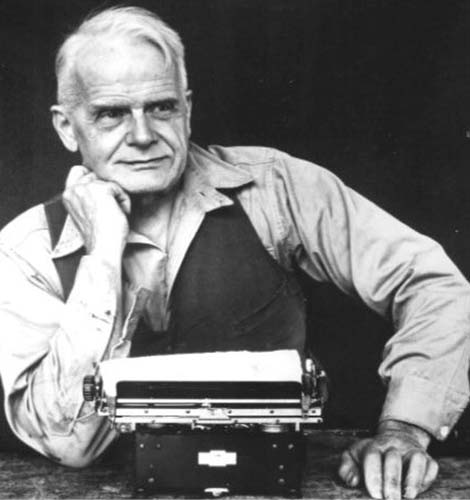 James Daugherty is primarily remem­bered for his inspired expression of the Ameri­can spirit in both visual and literary form, a spirit characterized by appreciation for the heroes of democracy and the affirmation of Manifest Destiny. James Daugherty confessed that his first reading of the poet Walt Whitman, when he was a young art student in England, was life­ changing for him: "I took fire from his vision of America." This fire inspired murals in public places and, later, book illustrations with swirling lines, energetic rhythm, humor, and a compas­sionate view of humanity.
Whitman's inspira­tion also found expression in Daugherty's care­fully composed dedicatory pages, his popular Random House/Landmark volumes, and lively biographical accounts of American heroes. His biographies include the winner of the 1940 Newbery Medal, Daniel Boone (1939); Poor Rich­ard, about Benjamin Franklin (1941); Abraham Lincoln (1943); and Of Courage Undaunted, about Lewis and Clark (1951). Some readers of Daniel Boone have commented on what they perceived as offhand treatment of American In­dians and African Americans; in fact, the histor­ical times were accurately reflected.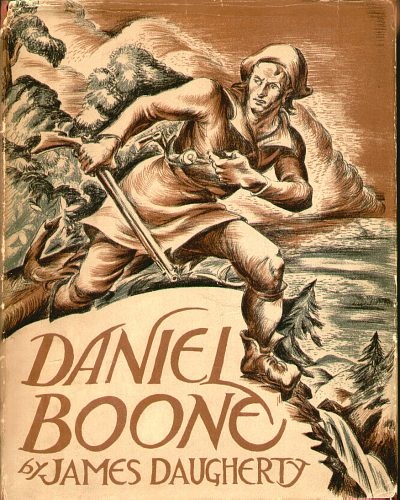 James Daugherty began to create art for young peo­ple in the mid-1920s when Doubleday's May Massee suggested he illustrate Daniel Boone, Wilderness Scout (1926), written by Stewart E. White. He subsequently became one of the best- known American illustrators of children's books, illustrating more than forty books by other authors. One of his most felicitous collab­orations was with Carl Sandburg in Abe Lin­coln Grows Up (1928), which remains an out­standing example of the book as art form, a seamless integration of subject, word, and im­age. For Daugherty, line and design were fore­most and to simplify was "the first of all the commandments." His work was exhibited in many one-man shows and is represented in a number of art collections.
James Daugherty's writing career did not begin un­til after he was well established as an illustrator. He first created text to go with his drawings in Andy and the Lion (1938), an Original version of the Androcles tale, which was a Caldecott Honor Book. Lynd Ward praised it as , a model picture book worthy of study by other writer-artists: "The interlocking relationship between the word and picture . . . has been carried several steps farther than I have seen it in any other place."
Nearly twenty years later, James Daugherty's illus­trations for Gillespie arid the Guards (1957), writ­ten by Benjamin Elkin, was also a Caldecott Honor Book. This story with folktale elements is about a boy who cleverly outwits the king's sharpsighted guards. In the turbulent 1960s, Daugherty chose to illustrate his own selections from the writings of Walt Whitman and Henry David Thoreau for young people: Walt Whitman's America (1964) and Henry David Thoreau, A Man for Our Time (1967).
James Daugherty's art and texts combine gusto, ex­uberance, and rich detail — singing, with Whit­man, a song of America. In his Newbery accep­tance speech in 1940, Daugherty summed up the spirit of his major lifework: "Wit and taste, beauty and joy are as much a necessary part of the democratic heritage as economics and the utilities… Children's books are a part of that art of joy and joy in art that is the certain inalien­able right of free people."
E.C.H.
Source: Children's Books and their Creators, Anita Silvey.