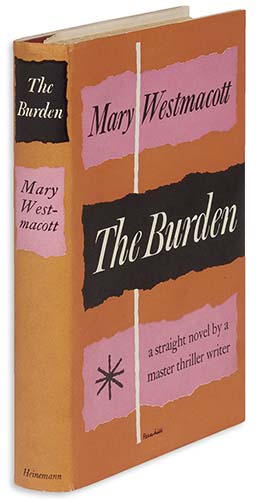 The Burden is a novel written by Agatha Christie and first published in the UK by Heinemann on 12 November 1956. Initially not published in the US, it was later issued as a paperback by Dell Publishing in September 1963. It was the last of six novels Christie wrote under the nom-de-plume Mary Westmacott.
The title of the novel is taken from Chapter 11, Verse 30 of the Gospel of Matthew. The full line, as quoted in the Epigraph to the novel, is:
"For my yoke is easy, and my burden is light."
Plot Summary
[SPOILER ALERT]
When Laura Franklin's younger sister Shirley comes into the world, Laura instantly resents her, and soon begins to wish and even to pray that her baby sister will die. But after saving Shirley's life in a fire, she experiences a complete change of feeling, and becomes very affectionate and protective towards her. Later, as the sisters grow up and fall in love, Laura begins to realise that the burden of her love for Shirley has had a dramatic effect on both their lives.
Publication history
1956, Heinemann (London), 12 November 1956, Hardcover, 236 pp
1963, Dell Books (New York), September 1963, Paperback, 223 pp
1973, William Collins and Sons, Hardcover, 192 pp 1973. Arbor House, (New York), Hardcover, 223 pp
1975, Fontana Books (Imprint of HarperCollins), Paperback, 192 pp
The Burden – First Edition Book Identification Guide
The books are listed in the order of publication. While the majority of Agatha Christie's books were first published in the UK. There are many titles that were first published in the US. The title of the book may differs from the UK edition in some cases.
| Year | Title | Publisher | First edition/printing identification points |
| --- | --- | --- | --- |
| 1956 | The Burden | William Heinemann, London, [1956] | First edition. "First Published 1952" stated on the copyright page. No US edition, later issued in paperback by Dell in 1963. Written under the Mary Westmacott pseudonym. Price 12s. |
Note about Book Club Editions (BCE) and reprints:
UK: You can see statements of later reprint dates or of book club on the copyright page.
US: The US reprint publishers usually use the same sheets as the first edition and are harder to identify by looking at the title page or the copyright page. One may identify a BCE by looking at the DJ, which doesn't have a price on top of the front flap and a "Book Club Edition" imprint at the bottom. If the dust jacked is clipped at both the top/bottom of the front flap. You can safely assume it's a BCE . If the book is missing the dust jacket. Later BCE editions can be identified by its plain boards, while first printings are issued in quarter cloth.
Please refer to the gallery for detailed images of true first edition bindings and dust jackets.
The Burden – First Edition Dust Jacket Identification Guide
First edition bindings and various dust jacket printings identification.
Reference: