Issac Asimov – American author, 1920-1992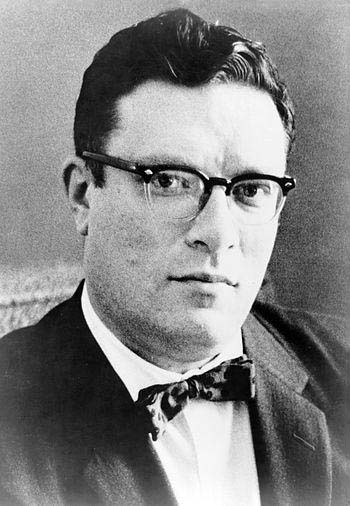 Isaac Asimov has been called one of the most prolific writers in America; at the time of his death, he had written or edited almost five hundred books. But it is not just the quantity of his work that is overwhelming but the quality of it as well. His writing is witty and colorful, encyclopedic and explanatory, concise and complex.
Born in Russia, Isaac Asimov emigrated to the United States with his family at age three. As a child, he was allowed to read only educational books; he began read­ing science books and was immediately hooked. He received his Ph.D. in biochemistry from Columbia Uni­versity and taught at the Boston University School of Medicine. When he was thirty-one, Asimov published the first book in a trilogy, Foundation (1951) and fol­lowed it with Foundation and Empire (1952) and Second Foundation (1953), and this trilogy is considered to be the cornerstone of modern science fiction.
Earlier sci­ence-fiction writers told of man's attempt to journey toward the stars; in Asimov's books, men, rulers of the Galaxy for generations, have begun to lose their hold, and Galactic civilization is collapsing, just as the Roman Empire, Asimov's model, had. Hari Seldon, patriarch of the Foundation, uses the science of psychohistory to prove that the behavior of the masses can be predicted; in other words, humanity follows patterns. In 1966 the Foundation Trilogy won Asimov the Hugo Award for the best all-time science fiction series. Asimov believed that sci­ence fiction was not only bound to fascinate children— "Science fiction is modern fairy tales. Kids may think giants, ogres., and wicked witches are babyish, but not Darth Vader!"—but also could serve as a learning device in that it stimulates curiosity and the desire to question.
Using the pseudonym Paul French, Asimov began his career as a children's writer with the publication of the first of his six Lucky Starr books, David Starr: Space Ranger (1952). This series told of the adventures of Dav­id "Lucky" Starr and his friend/cohort John Bigman Jones as they traveled from Venus to Mercury, from Jupiter to Saturn, to order to solve the puzzles of the universe: intergalactic conspiracies, scientists who used telepathic animal extensions for strength, and comput­ers misused to control and gain power. These books, full of suspense and humor, sparkling with complexities of plot, and bound to fascinate, provided readers with an introduction to science fiction that educated as well as excited.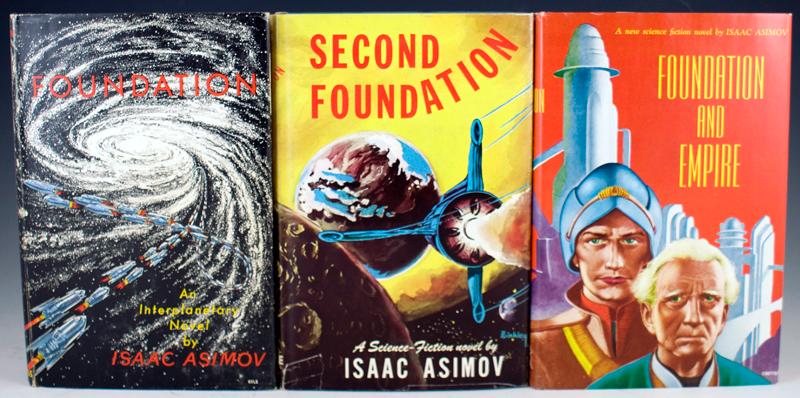 Isaac Asimov's ability to present clear, readable explana­tions of complex material, to synthesize vast amounts of factual information into a logical, condensed format, made him an ideal writer of nonfiction books for chil­dren. His thirty-volume "How Do We Find Out About" series covers the history of scientific discovery from dinosaurs to DNA. In these books, Asimov offered what textbooks do not: a sense of the history of science. How Do We Find Out About Genes? (1983), starts with Gregor Mendel's pea-breeding experiments and ends with Her­mann Muller's irradiation and mutation theories. Simi­larly, How Do We Find Out About Computers? (1984), begins with finger counting and the abacus and con­cedes with modern electronic devices. In another series, he focused on the planets in the Milky Way; in Saturn and Beyond (1979), he pointed out the fallacies in the various theories of the origin of the solar system but didn't espouse any one theory or push his reader toward any particular belief.
Displaying the same passionate enthusiasm he did when sharing his scientific knowledge, Asimov also wrote dozens of historical nonfiction books for chil­dren. The Roman Republic (1965) and The Roman Em­pire (1967) point out the impact and importance of Roman rule on the later history of Roman law and gov­ernment, The Story of Ruth (1972) explores the laws and customs of this Biblical era and the historical anteced­ents of the story, and The Golden Door: The United States from 1865 to 1918 (1977) probes the motivations of the people who shaped the events rather than just cata­loguing dates and facts. In 1985 Isaac Asimov received the Washington Post/Children's Book Guild Nonfiction Award for his total contribution to the quality of nonfic­tion for children. Isaac Asimov has left an enduring legacy— a lifetime of writing—that has educated, amazed, and amused readers for years.
M.I.A.
Source: Children's Books and their Creators, Anita Silvey.
---
Isaac Asimov Selected Bibliography
Science Fiction
"Greater Foundation" series
The Robot series was originally separate from the Foundation series. The Galactic Empire novels were published as independent stories, set earlier in the same future as Foundation. Later in life, Asimov synthesized the Robot series into a single coherent "history" that appeared in the extension of the Foundation series.
The Robot series:

The Caves of Steel, 1954. (first Elijah Baley SF-crime novel)
The Naked Sun, 1957. (second Elijah Baley SF-crime novel)
The Robots of Dawn, 1983. (third Elijah Baley SF-crime novel)
Robots and Empire, 1985. (sequel to the Elijah Baley trilogy)

Galactic Empire novels:

The Currents of Space,1952. (Republic of Trantor still expanding)
The Stars, Like Dust, 1951. (long before the Empire)
Pebble in the Sky, 1950. (early Galactic Empire)

Foundation prequels:

Prelude to Foundation, 1988.
Forward the Foundation, 1993.

Original Foundation trilogy:

Foundation, 1951.
Foundation and Empire, 1952. (also published with the title 'The Man Who Upset the Universe' as a 35c Ace paperback, D-125, in about 1952)
Second Foundation, 1953.

Extended Foundation series:

Foundation's Edge. 1982.
Foundation and Earth. 1986.
Lucky Starr series (as Paul French)
All published by Doubleday & Co
David Starr, Space Ranger (1952)
Lucky Starr and the Pirates of the Asteroids (1953)
Lucky Starr and the Oceans of Venus (1954)
Lucky Starr and the Big Sun of Mercury (1956)
Lucky Starr and the Moons of Jupiter (1957)
Lucky Starr and the Rings of Saturn (1958)
Norby Chronicles (with Janet Asimov)
All published by Walker & Company
Norby, the Mixed-Up Robot (1983)
Norby's Other Secret (1984)
Norby and the Lost Princess (1985)
Norby and the Invaders (1985)
Norby and the Queen's Necklace (1986)
Norby Finds a Villain (1987)
Norby Down to Earth (1988)
Norby and Yobo's Great Adventure (1989)
Norby and the Oldest Dragon (1990)
Norby and the Court Jester (1991)
Novels not part of a series
Novels marked with an asterisk * have minor connections to the Foundation and Robot series.
The End of Eternity (1955), Doubleday *
Fantastic Voyage (1966), Bantam Books (paperback) and Houghton Mifflin (hardback) (a novelization of the movie)
The Gods Themselves (1972), Doubleday
Fantastic Voyage II: Destination Brain (1987), Doubleday * (not a sequel to Fantastic Voyage, but a similar, independent story)
Nemesis (1989), Bantam Doubleday Dell *
Nightfall (1990), Doubleday, with Robert Silverberg (based on "Nightfall", a 1941 short story written by Asimov)
Child of Time (1992), Bantam Doubleday Dell, with Robert Silverberg (based on "The Ugly Little Boy", a 1958 short story written by Asimov)
The Positronic Man (1993), Bantam Doubleday Dell, * with Robert Silverberg (based on The Bicentennial Man, a 1976 novella written by Asimov)
Short-story collections
I, Robot. Gnome Books initially, later Doubleday & Co, 1950.
The Martian Way and Other Stories. Doubleday, 1955.
Earth Is Room Enough. Doubleday, 1957.
Nine Tomorrows. Doubleday, 1959.
The Rest of the Robots. Doubleday, 1964.
Through a Glass, Clearly. New English Library, 1967.
Asimov's Mysteries. Doubleday, 1968.
Nightfall and Other Stories. Doubleday, 1969.
The Early Asimov. Doubleday, 1972.
The Best of Isaac Asimov. Sphere, 1973.
Buy Jupiter and Other Stories. Doubleday, 1975.
The Bicentennial Man and Other Stories. Doubleday, 1976.
The Complete Robot. Doubleday, 1982.
The Winds of Change and Other Stories. Doubleday, 1983.
The Edge of Tomorrow. Tor, 1985.
The Alternate Asimovs. Doubleday, 1986.
The Best Science Fiction of Isaac Asimov. Doubleday, 1986.
Robot Dreams. Byron Preiss, 1986.
Azazel. Doubleday, 1988.
Robot Visions. Byron Preiss, 1990.
Gold. Harper Prism, 1995.
Magic. Harper Prism, 1996.
Issac Asimov's Book Collecting Guide
If you are a book collector, please check our Isaac Asimov's First Editions Book Identification Guide