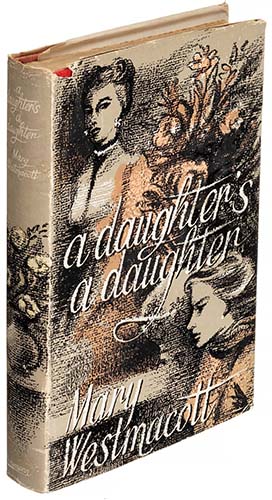 A Daughter's a Daughter is a novel written by Agatha Christie and first published in the UK by Heinemann on 24 November 1952. Initially unpublished in the US, it was later issued as a paperback by Dell Publishing in September 1963. It was the fifth of six novels Christie wrote under the nom-de-plume Mary Westmacott. Initially a play written by Christie in the late 1930s, the plot tells of a daughter's opposition to her mother's plan to remarry.
Following Christie's death, the copyright for the play was owned by her daughter, Rosalind Hicks, who was unenthusiastic about the play as it was believed that the main character was based on her. Following Hicks' death in 2004, a new production of the play, starring Jenny Seagrove and Honeysuckle Weeks and produced by Bill Kenwright, was to open in London's West End on 14 December 2009. Kenwright described the play as "brutal and incredibly honest" and "It's a good enough play to stand up without the Christie brand. It's quite a tough play. It is a substantial night at the theatre."
Publication history
1952, Heinemann (London), 24 November 1952, Hardback, 200 pp
1963, Dell Books (New York), September 1963, Paperback, 191 pp
1972, Arbor House (New York), Hardback, 191 pp
A Daughter's a Daughter – First Edition Book Identification Guide
The books are listed in the order of publication. While the majority of Agatha Christie's books were first published in the UK. There are many titles that were first published in the US. The title of the book may differs from the UK edition in some cases.
| Year | Title | Publisher | First edition/printing identification points |
| --- | --- | --- | --- |
| 1952 | A Daughter's a Daughter | William Heinemann, London, [1952] | First edition. "First Published 1952" stated on the copyright page. Burgundy cloth lettered in gold. No US edition, later issued in paperback by Dell in 1963. Written under the Mary Westmacott pseudonym. Price 10/6. |
Note about Book Club Editions (BCE) and reprints:
UK: You can see statements of later reprint dates or of book club on the copyright page.
US: The US reprint publishers usually use the same sheets as the first edition and are harder to identify by looking at the title page or the copyright page. One may identify a BCE by looking at the DJ, which doesn't have a price on top of the front flap and a "Book Club Edition" imprint at the bottom. If the dust jacked is clipped at both the top/bottom of the front flap. You can safely assume it's a BCE . If the book is missing the dust jacket. Later BCE editions can be identified by its plain boards, while first printings are issued in quarter cloth.
Please refer to the gallery for detailed images of true first edition bindings and dust jackets.
A Daughter's a Daughter – First Edition Dust Jacket Identification Guide
First edition bindings and various dust jacket printings identification.
Reference: