Betsy Lewin – American Author & Illustrator 1937-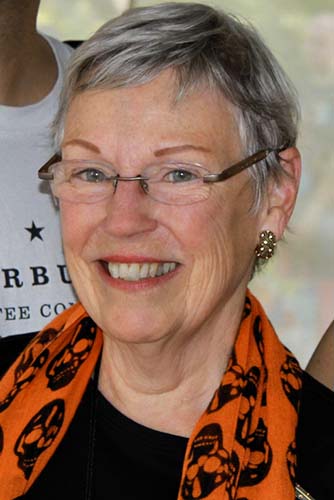 Betsy Lewin's love of drawing emanates, she contends, from a childhood filled with books and reading. Her mother, a kindergarten teacher, read regularly from storybooks filled with pictures by Kate Greenaway, Randolph Caldecott, E. H. Shepard, and Beatrix Pot­ter, and Lewin was soon covering paper bags, napkins, and margins of her own books with self-styled renditions of animals and caricatures of friends and family. Before long, her creations included stories to match the images on the page.
While Betsy Lewin was encouraged by her parents in her artistic endeavors — she entered and won several art competitions and at age fourteen sold her first painting — they discouraged her from pursuing such an impractical career. Neverthe­less, she persevered, leaving her Pennsylvania home to attend Pratt Institute of Art in New York City. Following graduation, she found work as a greeting card designer and then began writing and illustrating stories for children's magazines. Her first breakthrough in the chil­dren's book field was Cat Count. A poem, which had originally appeared in Humpty Dumpty's magazine, was expanded into a thirty-two-page picture book with black-and-white brush line drawings. Long out of print, the book was re-re­leased when Lewin agreed to enliven its appear­ance with full-color illustrations.
The title that brought Lewin her first wide­spread attention was Karen Ackerman's Aramintas Paintbox (1990). Lewin's frothy watercol­ors added warmth and appeal to the going-west tale. Lewin continues to provide illustrations for other author's stories while also writing tales of her own. Often her subjects are the result of travels to far-flung places with her illustrator ­husband Ted Lewin. Booby Hatch (1995) is based on experiences in the Galapagos Islands, Chub- bo's Pool (1998) on a visit to Botswana, What's the Matter Habibi? (1997) on travels to Egypt and Morocco. Sometimes these journeys have culminated in producing a book together for the peripatetic husband and wife. Gorilla Walk (1999) for example, features Betsy's field sketches alongside Ted's watercolor illustrations of the huge magnificent beasts they saw in Uganda.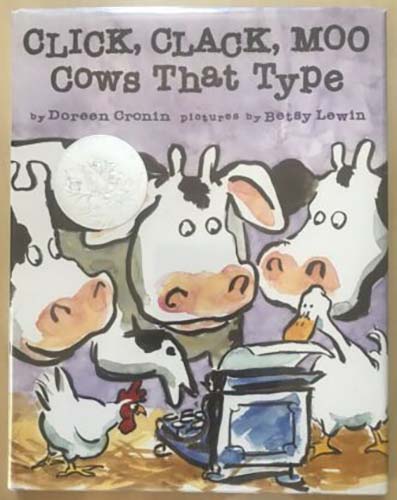 The loose strokes Betsy Lewin uses give her images a natural expression, energizing the page, and her smoothly integrated colors add gentleness. Humor filters through most of the artist's work. In 2000, she teamed with author Doreen Cronin to create Click Clack Moo: Cows That Type. This hilarious spoof on modern technology and la­bor relations received a Caldecott Honor award. Farmer Brown's cows' unusual typing skills set off a tale that rings with hilarity and ends with an unexpected — and even funnier — twist. Betsy Lewin has also collaborated with Mary Skillings Prigger in two jocular stories — Aunt Minnie
McGranahan (1999) and Aunt Minnie and the Twister (2002) — about an irrepressible spinster. Whether illustrating a lively schoolyard story (Recess Mess, 1996, written by Grace MacCarone) or collaborating with Elizabeth Win­throp to create a book about a dancing pig (Dumpy La Rue, 2001), Betsy Lewin can always find the humor in a story.
B.E.
Source: Children's Books and their Creators, Anita Silvey.
Betsy Lewin Bibliography (Illustrated Books)
Thump, Quack, Moo by Doreen Cronin and Betsy Lewin, Atheneum Books, 2006
Horse Song: The Naadam of Mongolia by Ted Lewin and Betsy Lewin, Lee & Low Books, 2008
Heat Wave by Eileen Spinelli, Harcourt Children's Books, 2007
Dooby, Dooby, Moo by Doreen Cronin, Atheneum Books, 2006
Click Clack, Quackity-Quack by Doreen Cronin, Atheneum Books, 2005
Click, Clack, Splish, Splash by Doreen Cronin, Atheneum Books, 2005
Duck For President by Doreen Cronin, Simon & Schuster, 2004
Animal Snackers by Betsy Lewin, Henry Holt, 2004
The Sleepover by Grace Maccarone, Scholastic, 2003
Cat Count by Betsy Lewin, Henry Holt, 2003
Two Eggs Please by Sarah Weeks, Simon & Schuster, 2003
A Hug Goes Around by Laura Krauss Melmed, HarperCollins, 2003
Giggle, Giggle, Quack by Doreen Cronin, Simon & Schuster, 2002
Aunt Minnie and the Twister by Mary S. Prigger, Clarion Books, 2002
Click, Clack, Moo: Cows That Type by Doreen Cronin, Simon & Schuster, 2000
Aunt Minnie McGranahan by Mary S. Prigger, Clarion Books, 1999
No Such Thing by Jackie French Koller, Boyds Mills Press, 1996
Somebody Catch My Homework by David Harrison, Boyds Mills Press, 1993
Chubbo's Pool by Betsy Lewin, Clarion Books, 1996
What's The Matter Habibi? by Betsy Lewin, Clarion Books, 1997
Promises by Elizabeth Winthrop, Clarion Books, 2000
Gorilla Walk by Ted and Betsy Lewin, (Lothrop) HarperCollins, 1999
Elephant Quest by Ted and Betsy Lewin, HarperCollins, 2000
Purrfectly Purrfect by Patricia Lauber, HarperCollins, 2000
Araminta's Paintbox by Karen Ackerman, Simon & Schuster, Aladdin paperback, 1990
Booby Hatch by Betsy Lewin, Clarion paperback, 1995
Yo Hungry Wolf! by David Vozar, B.D.Dell paperback, 1993
Dumpy La Rue by Elizabeth Winthrop, Henry Holt, 2001
A Houseful of Christmas by Barbara Joosse, Henry Holt, 2001
Itchy, Itchy Chicken Pox by Grace Maccarone, Scholastic
My Tooth is About to Fall Out by Grace Maccarone, Scholastic
Gym Day Winner by Grace Maccarone, Scholastic
Recess Mess by Grace Maccarone, Scholastic
Lunchbox Surprise by Grace Maccarone, Scholastic
I Have A Cold by Grace Maccarone, Scholastic
Class Trip by Grace Maccarone, Scholastic
Fraidy Cats by Stephen Krensky, Scholastic
Groundhog Day by Betsy Lewin, Scholastic
Is It Far to Zanzibar?: Poems About Tanzania by Nikki Grimes, HarperCollins
Walk a Green Path by Betsy Lewin, HarperCollins, 1995
What is the Shark Wears Tennis Shoes? by Winifred Morris, Atheneum Books, 1990
Kitten in Trouble by M. Polushkin, Simon & Schuster Children's Publishing, 1988
Furlie Cat by Berneice Frechet, 1986
Hip, Hippo, Hooray by Betsy Lewin, 1982
Penny by Beatrice Schenk de Regniers, Lothrop, Lee * Shepard Books, 1987