Edward Lear – English artist, illustrator, musician, author and poet. (1812-1888)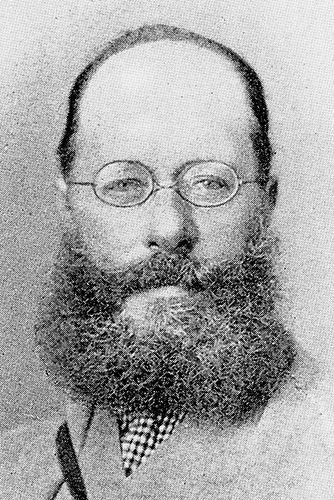 Edward Lear (1812-1888) was born in London. As the youngest of a large family he was obliged to support himself as a com­mercial artist by the age of fifteen. At nineteen, he became a draughtsman at the Zoological Gardens. His lithographs of parrots for an ornithologist led to another commission for the naturalist Lord Stanley, Earl of Derby, to prepare plates for a volume on the menagerie at Knowsley Hall. In his four years there, he became a favourite of the Earl's grandchildren, with whom he spent his evenings scribbling amusing pictures and writing nonsense verse.
Edward Lear moved to Italy in 1837, partly for reasons of health, where he became a successful drawing teacher and landscape painter. During one of his brief visits to England he gave les­sons in drawing to Queen Victoria, but he never again estab­lished a permanent home there, preferring to live and travel in warmer countries.
Edward Lear's contemporary popularity and lasting fame resulted from the publication of his Book of Nonsense in 1846. 'Derry down Derry', as he anonymously identified himself in the first edition, always enjoyed entertaining the children of his friends and later produced more nonsense collections, including Non­sense Songs, Stories, Botany and Alphabets (1871) and Laughable Lyrics (1877).
In 1872 he wrote: 'Long years ago, in days when much of my time was passed in a Country House [Knowsley Hall], where children and mirth abounded, the lines beginning: "There was an Old Man of Tobago," were suggested to me by a valued friend, as a form of verse lending itself to limitless vari­ety for Rhymes and Pictures; and thenceforth the greater part of the original drawings and verses for the first "Book of Non­sense were struck off with a pen, no assistance ever having been given me in any way but that of uproarious delight and welcome at the appearance of every new absurdity."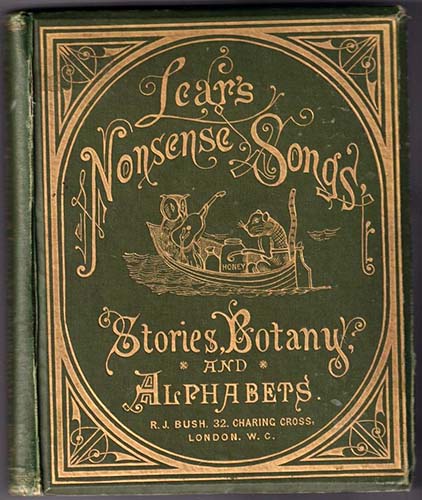 The verse form to which Lear refers is now called the 'lime­rick', a controversial term recorded in 1898 and possibly derived from a chorus to a song in which the Irish city of Limerick is named. The earliest known book of 'limericks', The History of Sixteen Wonderful Old Women, was published by John Harris in 1820, twenty-six years before Lear's Book of Nonsense. Another collection, Anecdotes and Adventures of Fifteen Gentlemen, which has been attributed to R.S. Sharpe, was published about 1822 and included 'There was an Old Man of Tobago', acknowledged by Edward Lear as his inspiration.
The first edition of the Book of Nonsense was published by Thomas McLean in two separately bound volumes, with both text and illustrations lithographed. The same process was used in his second edition of 1856. The Routledge firm issued a new, enlarged edition in 1861, with the illustrations redrawn on wood by the Dalziels Brothers from the lithographs. So great was the public demand for Lear's delightful compositions that a twenty-seventh edition was reached by 1889. In the 1870s two editions employing the new colour-printing techniques were published, the first with only one hundred and twelve illustra­tions and the later one, with one hundred and thirty.
Source: English Illustrated Books for Children, edited by Margaret Crawford Maloney.
Edward Lear Works
Illustrations of the Family of Psittacidae, or Parrots (1832)
Views in Rome and its Environs (1841)
Gleanings from the Menagerie at Knowsley Hall (1846)
Book of Nonsense (1846) Illustrated Excursions in Italy (1846)
Mount Timohorit, Albania (1848)
Journal of a Landscape Painter in Greece and Albania (1851)
The falls of the Kalama Albania (1851)
Journal of a Landscape Painter in Southern Calabria (1852)
Poems and Songs by Alfred Tennyson (1853, 1859, 1860) Twelve total musical settings published, each being for a Tennyson poem.
Journal of a Landscape Painter in Corsica (1870)
Nonsense Songs and Stories (1870, dated 1871)
Tortoises, Terrapins, and Turtles (1872), introduction by J.E. Gray
More Nonsense Songs, Pictures, etc. (1872)
Laughable Lyrics (1877)
Nonsense Alphabets
Argos from Mycenae (1884)
Nonsense Botany (1888)
Tennyson's Poems, illustrated by Lear (1889) Facsimile of a Nonsense Alphabet (1849, but not published until 1926)
The Quangle-Wangle's Hat (1876)
Edward Lear's Parrots by Brian Reade, Duckworth (1949), including 12 coloured plates from Lear's Psittacidae
The Scroobious Pip, unfinished at his death, but completed by Ogden Nash and illustrated by Nancy Ekholm Burkert (1968)
The Dong with a Luminous Nose, illustrated by Edward Gorey, Young Scott Books, NY (1969)