The Mystery at the Ski Jump is the twenty-ninth volume in the Nancy Drew Mystery Stories series. It was first published in 1952 by Grosset & Dunlap under the pseudonym Carolyn Keene. The actual author was ghostwriter Alma Sasse.
Summaries (original edition)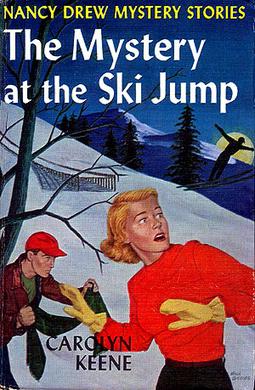 When Nancy learns that the Drews' housekeeper has been duped by an elegantly dressed woman into buying a stolen fur piece, the young detective starts a search for the clever swindler. To Nancy's astonishment, she discovers that the woman is using the name Nancy Drew.
The dishonest acts of the impostor point the finger of suspicion at Nancy herself and result in her being questioned by the police. Join Nancy in this thrilling mystery as she solves the mystery and clears her name.
Nancy Drew #29 The Mystery at the Ski Jump First Edition Book Identification Points
Only the first few printings of the first/second year are included. Printings codes are based on the Farrah Guide, 12th printing. Please refer to the guide for later printings.
How to Identify Nancy Drew - The Mystery at the Ski Jump First Edition Guide

| Printing | Frontis | Copyright Page | Notes |
| --- | --- | --- | --- |
| 1952A-1 | Plain | Nancy Drew #1-29, Dana Girls #1-14 | |
| 1952B-2 | Plain | Nancy Drew #1-29, Dana Girls #1-14 | |
| 1952C-3 | Plain | Nancy Drew #1-29, Dana Girls #1-14 | |
Nancy Drew #29 The Mystery at the Ski Jump First Edition Dust Jacket Identification Points
How to Identify Nancy Drew - The Mystery at the Ski Jump First Edition Dust Jacket

| Printing | Price | Front Flap | Rear Panel | Rear Flap | Format |
| --- | --- | --- | --- | --- | --- |
| 1952A-1 | | Nancy Drew #1-29 | Connie Blair #1-6 | Dana Girls #1-13 | 14 |
| 1952B-2 | | Nancy Drew #1-29 | Connie Blair #1-7 | Dana Girls #1-14 | 14 |
| 1952C-3 | | Nancy Drew #1-29 | Connie Blair #1-8 | Judy Bolton #1-24 | 14 |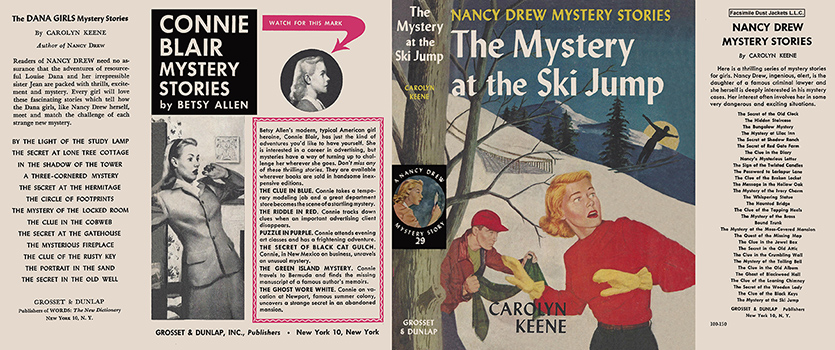 Reference:
Farah's Guide to Nancy Drew, 12th printing