The Clue of the Black Keys is the twenty-eighth volume in the Nancy Drew mystery series. It was first published in 1951 under the pseudonym Carolyn Keene. The actual authors were ghostwriters Wilhelmina Rankin and Harriet Stratemeyer Adams.
Summaries (original edition)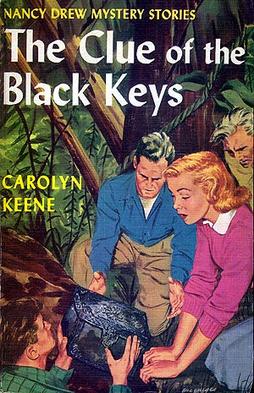 Terry Scott, a young archaeology professor, seeks Nancy's help in unearthing a secret of antiquity which can only be unlocked by three black keys. While on an archaeological expedition in Mexico, Terry and Dr. Joshua Pitt came across a clue to buried treasure. The clue was a cipher carved on a stone tablet.
Before the professor had time to translate the cipher, the tablet disappeared – along with Dr. Pitt! Terry tells Nancy of his suspicions of the Tinos, a Mexican couple posing as scientists who vanished the same night as Dr. Pitt. Nancy and her friends follow a tangled trail of clues that lead to the Florida Keys and finally to Mexico in this suspense-filled story that will thrill readers.
Nancy Drew #28 The Clue of the Black Keys First Edition Book Identification Points
Only the first few printings of the first/second year are included. Printings codes are based on the Farrah Guide, 12th printing. Please refer to the guide for later printings.
How to Identify Nancy Drew - The Clue of the Black Keys First Edition Guide

| Printing | Frontis | Copyright Page | Notes |
| --- | --- | --- | --- |
| 1951A-1 | Plain | Nancy Drew #1-28, Dana Girls #1-10 | |
| 1951B-2 | Plain | Nancy Drew #1-28, Dana Girls #1-12 | |
| 1951C-3 | Plain | Nancy Drew #1-28, Dana Girls #1-13 | |
Nancy Drew #28 The Clue of the Black Keys First Edition Dust Jacket Identification Points
How to Identify Nancy Drew - The Clue of the Black Keys First Edition Dust Jacket

| Printing | Price | Front Flap | Rear Panel | Rear Flap | Format |
| --- | --- | --- | --- | --- | --- |
| 1951A-1 | 7575 | Nancy Drew #1-28 | Judy Bolton #1-22 | Vicki Barr #1-6 | 13 |
| 1951B-2 | 7575 | Nancy Drew #1-28 | Judy Bolton #1-22 | Vicki Barr #1-6 | 13 |
| 1951C-3 | 7575 | Nancy Drew #1-28 | Judy Bolton #1-22 | Dana Girls #1-13 | 13 |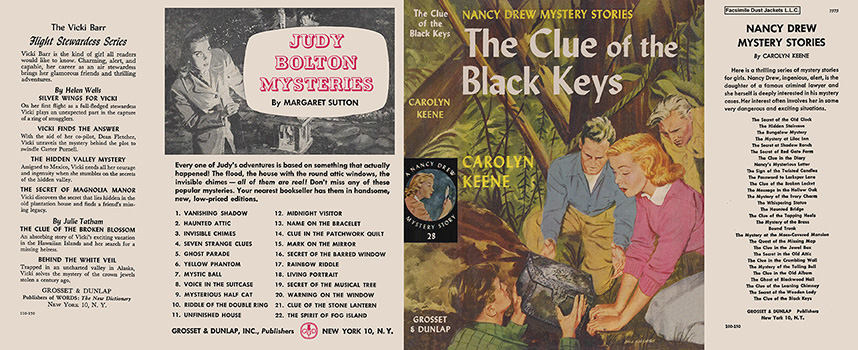 Reference:
Farah's Guide to Nancy Drew, 12th printing