The Bungalow Mystery is the third volume in the Nancy Drew Mystery Stories series written under the pseudonym Carolyn Keene. It was the last of three books in the "breeder set" trilogy, released in 1930, to test-market the series.
It was the final volume edited by Edward Stratemeyer before his death. His daughter, Harriet Stratemeyer Adams, extensively revised the novel in 1960.
Summaries (original edition)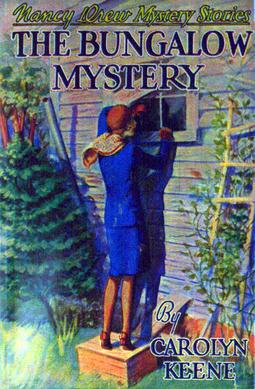 Laura Pendleton rescues Nancy Drew and her friend Helen, who can't swim, when their rowboat capsizes during a sudden, severe storm on Moon Lake. The girls from River Heights befriend the orphaned Laura, who has come to the area to meet her new guardian, Jacob Aborn. Mr. Aborn seems somewhat boorish to the River Heights girls, and Nancy, upon returning home, receives a phone call from Laura, who is desperate to escape from her "evil" guardian. He expects her to do household chores and cook, which seems natural, but when he demands her furs and jewels, she calls Nancy for help.
Laura escapes, and this leads Nancy back to the Aborn house, spying on a mysterious bungalow in the woods that he frequents. Nancy eventually enters the bungalow but is quickly hit on the head and knocked unconscious. However, when Nancy comes to, she soon exposes an impostor, who had intended to steal all of Laura's stocks and investments, as well as her jewels.
Nancy Drew #3 – The Bungalow Mystery First Edition Book Identification Points
Only the first few printings of the first/second year are included. Printings codes are based on the Farrah Guide, 12th printing. Please refer to the guide for later printings.
Note: Glossy+: Glossy frontis + 3 glossy internals.
How to Identify Nancy Drew - The Bungalow Mystery First Edition Guide

| Printing | Frontis | Copyright Page | Rear Book Ads |
| --- | --- | --- | --- |
| 1930A-1 | Glossy+ | Nancy Drew #1-3 | None |
| 1930B-2 | Glossy+ | Nancy Drew #1-3 | None |
| 1930C-3 | Glossy+ | Nancy Drew #1-3 | None |
Nancy Drew #3 – The Bungalow Mystery First Edition Dust Jacket Identification Points
ao: Among other titles
How to Identify Nancy Drew - The Bungalow Mystery First Edition Dust Jacket

| Printing | Front Flap | Rear Cover | Rear Flap | Reverse/Inside | Format |
| --- | --- | --- | --- | --- | --- |
| 1930A-1 | Nancy Drew #1-3 | Amy Bell Marlowe(10) | Blythe Girls #1-10 | Tom Swift #1-33 ao | 1 |
| 1930B-2 | Nancy Drew #1-4 | Amy Bell Marlowe(10) | Blythe Girls #1-10 | | 1 |
| 1930C-3 | Nancy Drew #1-5 | Amy Bell Marlowe(10) | Blythe Girls #1-10 | Nancy Drew #1-3 ao | 1 |
Reference:
Farah's Guide to Nancy Drew, 12th printing