Ursula K. Le Guin, American writer, 1929-2018.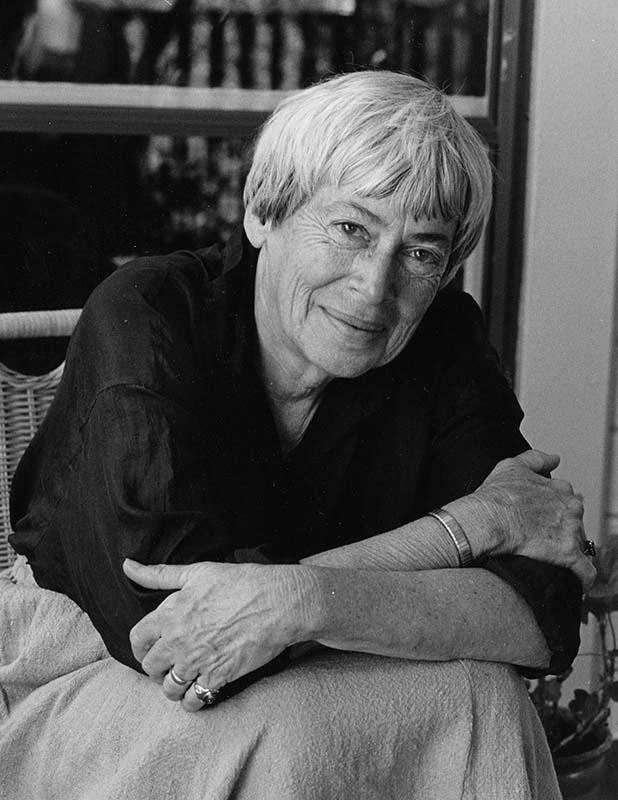 Ursula K. Le Guin, American writer, 1929-2018. Ursula Kroeber Le Guin, daughter of the anthropologist Alfred L. Kroeber and the writer Theodora Kroeber, was born in Berkeley, Cal­ifornia. After attending Radcliffe College and Columbia University, she spent a year as a Fulbright scholar in Par­is, where she met and married the historian Charles A. Le Guin.
She began publishing science fiction sto­ries in the early 1960s and has since written numerous novels, short stories, plays, poems, and essays. Widely known for her innovative, award-winning science fiction for adults, Le Guin also wrote the intimate yet epic children's fantasy, the Earthsea cycle, consisting of the original trilogy—A Wizard of Earthsea (1968), The Tombs of Atuan (1971), and The Farthest Shore (1972)— and a later volume, Tehanu (1990).
Earthsea—a collection of archipelagoes amid a con­stantly changing sea—is as fully developed a fantasy world as J.R.R. Tolkien's Middle Earth, with which it is often compared. Le Guin creates a setting both famil­iar and dreamlike, a pervasive metaphor for life as a per­ilous yet rewarding journey. Again like Tolkien, Le Guin strengthens readers' belief in and commitment to her created world by interweaving her plot with references to Earthsea's geography, languages, flora and fauna, histories, mythologies, traditions, and superstitions.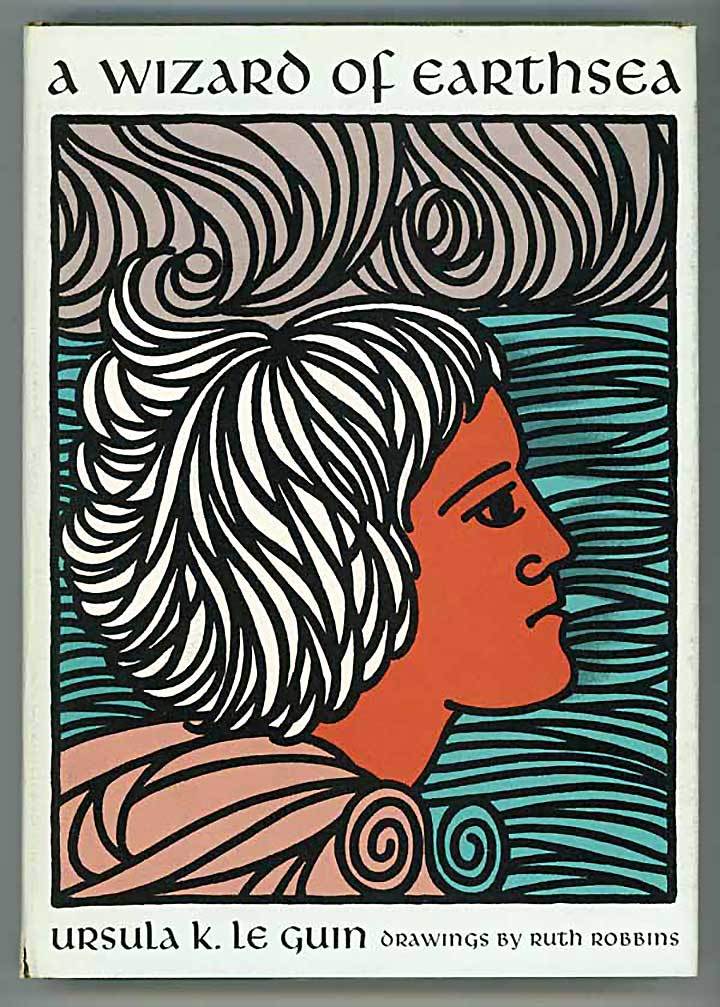 A Wizard of Earthsea tells the story of Ged's appren­ticeship as a wizard. While still a boy on Gont, Ged reveals a gift for magery when his spell saves his village from Karg invaders, and, as a consequence, Ogion, the local mage, teaches him to read and write in the Old Speech, the language of magic and dragons. Ogion also tries to teach him the observant patience of mages, but Ged, restless and proud, wants more knowledge, faster.
His training accelerates at the School of Wizards on Roke, where he learns such skills as shape-changing, summoning, and naming, but, still proud, Ged takes a dare and rends the fabric of being, unleashing an un­known beast from the realm of the dead to which his fate is thenceforth tied. Chastened and driven to con­quer the protean, elusive beast, Ged earns his staff and leaves Roke. His subsequent journeys and adventures— including confrontations with a zombie like creature, a beguiling witch, and an ancient dragon—satisfyingly complete this bildungs roman, written with a wry nod toward the process of a legend in the making.
The Tombs of Atuan depicts Ged as a mature man, with clear goals and full control of his powers. The story focuses not on Ged, however, but on Tenar, a priestess of the Nameless Ones, powers ostensibly worshiped by the rulers of the warlike Kargs, but in reality the focus of an ancient cult in which few believe but which none dare to deny. Consecrated to the Nameless Ones from early childhood, Tenar has been stripped of her name, her past, and any future. She is Arha, the Eaten One, the ever-reincarnated priestess of the Tombs, living only for the endless repetition of the cult's dark, arid rites, which she has killed to uphold.
Ged interrupts this sentence of death in life. Searching for the lost fragment of the ring of Erreth-Akbe, a talisman of peace that if made whole would presage the return of a King to Earthsea, Ged finds his way into the forbidden labyrinths of the Name­less Ones. Trapped by Arha, Ged breaks through her indoctrination and, using his genius for discovering true names, returns Tenar to Arha. Only then, acting together, can they then fulfill his quest.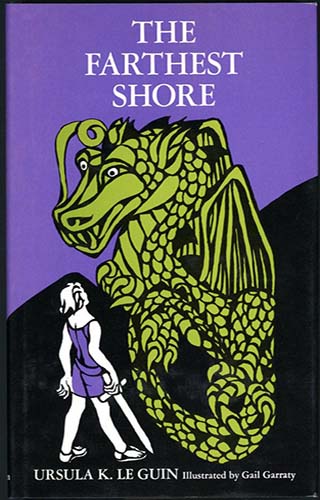 The Farthest Shore takes Ged beyond the limits of his powers. The springs of magery are running dry, and a seductive, cruel decadence is spreading from the islands of the outer reaches toward the heart of Earthsea. Ged, now Archmage of Roke, undertakes a final journey to discover and eliminate the source of the contagion. He takes with him a young man, Arren, Prince of Enlad, of the lineage of the old kings, and together through many trials of body and spirit they achieve a greater end than they had hoped: Earthsea is restored to wholeness and peace, and a king is restored to the long-empty throne.
The trilogy thus forms an elastic cycle, combining epic deeds and human qualities. In it we see a young hero grow to manhood as perhaps the greatest of Earth­sea's many great mages; we see unfolded the most signif­icant achievement of his prime; and we see him com­plete his life's work, both as a man and as a mage. Further, each volume describes Ged's exploration of a distinct realm of being and knowledge: the personal in A Wizard of Earthsea; the social in The Tombs of Atuan; and the spiritual in The Farthest Shore.
Ursula K. Le Guin has described the three themes as coming of age, sexuality, and death, further underscoring the completeness of the whole. Successfully combining Jungian concepts, such as the shadow, and concepts from Eastern philosophy, such as equilibrium of opposing forces, with the West­ern tradition of the hero-tale, Le Guin creates a fantasy epic with contemporary yet enduring resonance.
This self-containment makes all the more surprising the author's decision to return to Earthsea in Tehanu. Set contemporaneously with the events in The Farthest Shore, Tehanu provides a closer look at the nature and consequences of the dissolution of civilizing bonds chronicled there. Many years after the events in The Tombs of Atuan, Tenar is a widow living alone on a farm on Gont. Accepted and yet always a Karg stranger, she is immediately drawn to a severely abused and abandoned young girl and takes her into her home. Thus embroiled in the ebb and flow of power and evil that mark a law­less time, Tenar struggles to protect and nurture first her damaged young charge, Tehanu; later, the weary and emptied Ged who has returned to find oblivion on Gont; and ultimately, herself.
The book's focus on sexu­ality, cruelty, and violence; the closely paced plot; and the use of Tenar's thoughts to establish point of view, all clearly differentiate it from the three earlier, more sweeping and traditional fantasy volumes. Tehanu tells a fascinating story, built on the compelling theme of dif­ferences between men's and women's ways of being and knowing and the possibility of somehow, someday syn­thesizing these, but it is a story with more appeal and meaning for adults than for children. Tehanu disturbs rather than completes the reader's understanding—and enjoyment of the Earthsea cycle.
Ursula K. Le Guin's other books for children include a realistic novel for young adults, Very Far Away from Anywhere Else (1976), and, for younger readers, two brief, dream­like tales, Catwings (1988) and Catwings Return (1989). In A Ride on the Red Mare's Back (1992) an Hans Andersen– like fairy tale, a brave and resourceful young girl rescues her brother from trolls, with the help of a magical red mare lovingly carved and painted for her by her father.
Simple objects—bread, knitting needles, woolen scarf, each made by her for others or by others for her— and the homely virtues of perseverance and kindness also help her in her quest. Through this skillful union of the fruits of simple domestic labor with the strength of family love, Le Guin creates a story from the magic of making and doing for the benefit of others, a story she told first and most satisfyingly in the Earthsea cycle.
-Susan Boulanger
Source: Children's Books and their Creators, Anita Silvey
---
Ursula K. Le Guin Series & Works List
Publication Order of Hainish Cycle Books
Rocannon's World (1966)
Planet of Exile (1966)
City of Illusions (1967)
The Left Hand of Darkness (1969)
The Dispossessed (1974)
The Word for World is Forest (1976)
Four Ways to Forgiveness (1995)
The Telling (2000)
Publication Order of Earthsea Cycle Books
A Wizard of Earthsea (1968)
The Tombs of Atuan (1970)
The Farthest Shore (1972)
Tehanu (1990)
The Other Wind (2001)
Publication Order of Earthsea Non-Fiction Books
Earthsea Revisioned (1993)
Publication Order of Adventures In Kroy Books
The Adventure of Cobbler's Rune (1982)
Solomon Leviathan's Nine-Hundred and Thirty-First Trip Around the World (1983)
Publication Order of Catwings Books
Catwings (1988)
Catwings Return (1989)
Wonderful Alexander and the Catwings (1994)
Jane On Her Own (1992)
Cat Dreams (2009)
Publication Order of Catwings Collections
Tales of the Catwings (1996)
More Tales of the Catwings (2000)
Publication Order of Chronicles Of The Western Shore Books
Gifts (2004)
Voices (2006)
Powers (2007)
Publication Order of Unreal and the Real Collections
Where on Earth (2012)
Outer Space, Inner Lands (2012)
Publication Order of Standalone Novels
The Lathe of Heaven (1971)
Very Far Away from Anywhere Else (1976)
The Eye of the Heron (1978)
Malafrena (1979)
The Beginning Place (1980)
Always Coming Home (1985)
Searoad: Chronicles of Klatsand (1991)
Changing Planes (2003)
Lavinia (2008)
Publication Order of Short Stories
The Water is Wide (1976)
Leese Webster (1979)
Gwilan's Harp (1981)
The Visionary: The Life Story of Flicker of the Serpentine of Telina-Na (1984)
The Ones Who Walk Away from Omelas (1991)
Nine Lives (1992)
Buffalo Gals: Won't You Come Out Tonight (1994)
The Wild Girls (2011)
Publication Order of Short Story Collections
Wild Angels (1974)
Orsinian Tales (1975)
The Wind's Twelve Quarters (1975)
Walking in Cornwall (1976)
Nebula Award Stories 11 (1976)
Hard Words and Other Poems (1981)
The Compass Rose (1982)
In the Red Zone (1983)
Buffalo Gals and Other Animal Presences (1987)
The Visionary, Wonders Hidden (1988)
Blue Moon Over Thurman Street (1993)
Going Out with Peacocks and Other Poems (1994)
A Fisherman of the Inland Sea (1994)
Unlocking the Air and Other Stories (1996)
Sixty Odd: New Poems (1999)
The Birthday of the World and Other Stories (2002)
Incredible Good Fortune: New Poems (2006)
Dragon Lords and Warrior Women (2010)
Finding My Elegy (2012)
Late in the Day: Poems 2010-2014
Publication Order of Picture Books
A Visit from Dr. Katz (1988)
Fire and Stone (1989)
Fish Soup (1992)
A Ride on the Red Mare's Back (1992)
Tom Mouse (2002)
Publication Order of Non-Fiction Books
From Elfland to Poughkeepsie (1973)
Dreams Must Explain Themselves (1975)
The Language of the Night (1979)
Steering the Craft (1984)
Dancing at the Edge of the World (1989)
The Way of the Water's Going (1989)
The Wave in the Mind (2004)
Cheek by Jowl (2009)
Lao Tzu: Tao Te Ching (2009)
The World Split Open (2014)
Publication Order of Non-Fiction Books
From Elfland to Poughkeepsie (1973)
Dreams Must Explain Themselves (1975)
The Language of the Night (1979)
Steering the Craft (1984)
Dancing at the Edge of the World (1989)
The Way of the Water's Going (1989)
The Wave in the Mind (2004)
Cheek by Jowl (2009)
Lao Tzu: Tao Te Ching (2009)
The World Split Open (2014)
Steering the Craft: A Twenty-First Century Guide to Sailing the Sea of Story (2015)