Sir Tenniel, John – British illustrator, 1820-1914.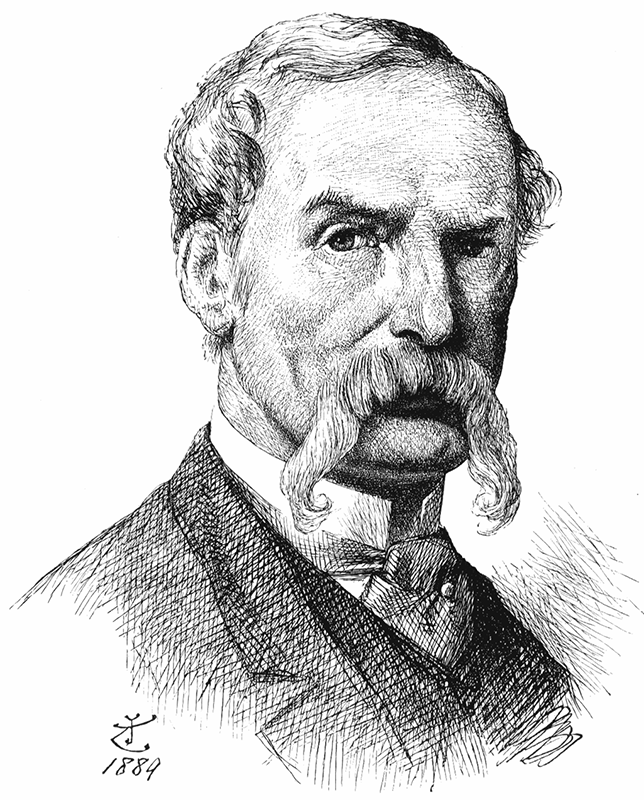 Sir Tenniel, John – British illustrator, 1820-1914. With the illustrations of only two children's books to his credit, Sir John Tenniel has nevertheless well earned his place as one of the great names in children's literature. His illustrations for Lewis Carroll's Alice's Adventures in Wonderland 1865 and Through the Looking-Glass (1872) have been termed the most perfect marriage of text and illustra­tion in a children s book, with the illustrator's style complementing and expanding the scope of the author's story and, with time, becoming virtually inseparable from it.
Thought by many to have been the epitome of the Victorian gentleman, John Tenniel was born the year before Queen Victoria ascended the throne and died on the eve of the First World War, when the world order with which he had been so comfortable changed forever. In between, he lived a solid, steady life of respectability and satisfactory personal achievement, and his strong, literal artistic style captured and reflected his times. He was primarily a self-taught artist, having quit the Royal Academy School "in utter disgust of there being no teaching'" and spent long hours at the British Museum and the Tower of London studying and copying suits of armor and books on medieval costume. He hoped to make his living as a painter, and he viewed the illustrat­ing work that came his way as incidental.
But in 1848 he was asked to illustrate Aesop's Fables, a retelling by the Reverend Thomas James. The book met with wide success, and as a result he was invited to become the primary illustrator for Punch, a satirical magazine that set the political and social tone of the day. Tenniel's political cartoons for Punch form the other half of his enduring body of work, and they greatly influenced British political life for the half century he drew them. His early studies of knights and ladies loomed large in Tenniel's artistic vocabulary, as did his interest in animals (particularly lions and eagles) and his very Victorian love of whimsy, which frequently ex­pressed itself in drawings of anthropomorphic animals: rabbits in waistcoats and fishes in knee breeches.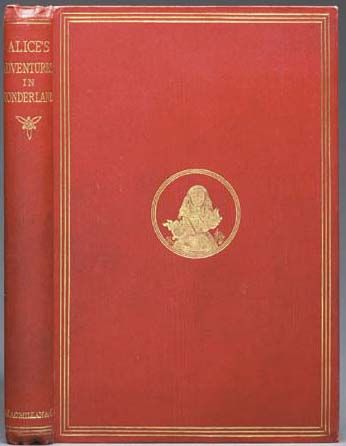 When Charles Dodgson, as Lewis Carroll, decided to publish the story about a little girl named Alice he had written for some of his young friends, he knew his own amateurish drawings would not do. He was taken with Tenniel's work in Punch and asked a mutual friend to introduce them. Thus began an extremely contentious, wearing, and ultimately fruitful collaboration.
The two gentlemen met in 1864, and over the next eight years and through two books, they conducted a very courte­ous, highly restrained, but deadly serious battle over artistic control of Wonderland.
Carroll had very definite ideas about how the illustrations for his books should look, having illustrated himself the first, unpublished version of Alice, called Alice's Adventures Under Ground. Tenniel felt himself to be little more than an employee of Carroll's, a position at which his independent nature balked. He had his own strong vision of the works, and occasionally, especially for the second book, Carroll incorporated his suggestions into the text. Carroll's mania for detail was matched only by Tenniel's, and the two drove each other to the ultimate reaches of patience with their competing fastidiousness.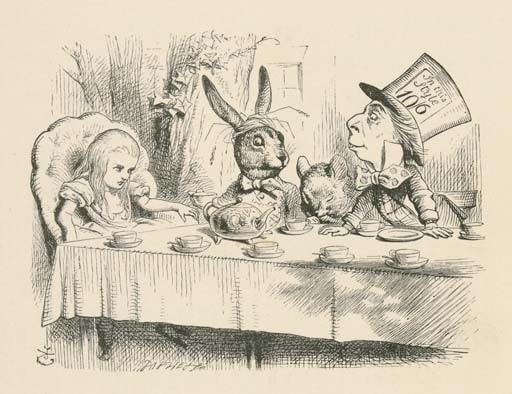 The drawings were done in the manner of the day. This involved sketches followed by finished pen-and- ink drawings on paper; transferred by the artist onto wooden blocks, the drawings were then engraved by an engraver and handed over to a printer. It was a long, laborious process, with many opportunities for mis­takes and misunderstandings.
In fact, John Tenniel and Car­roll recalled the first printing of Alice because they felt it had been improperly printed, to the detriment of the illustrations. Ultimately, however, the two men pro­duced books that have been celebrated for their beauty, wit, fantasy, and uncommon harmony between text and art. Tenniel diplomatically claimed,
It is a curious fact that with Through the Looking-Glass the faculty of mak­ing drawings for book illustrations departed from me,"
and he spent the rest of his career focused on his car­toons for Punch, When he died, a few days before his ninety-fourth birthday, his contemporaries mourned the passing of an era, along with the mail who exempli­fied and captured it so well.
S.G.K.
Source: Children's Books and Their Creators, Anita Silvey.