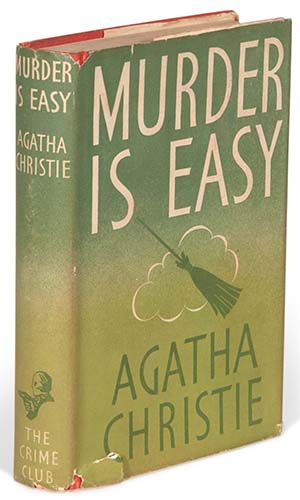 Murder is Easy is a work of detective fiction by Agatha Christie and first published in the UK by the Collins Crime Club on 5 June 1939 and in the US by Dodd, Mead and Company in September of the same year under the title of Easy to Kill. Christie's recurring character, Superintendent Battle, has a cameo appearance at the end, but plays no part in either the solution of the mystery or the apprehension of the criminal. The UK edition retailed at seven shillings and sixpence (7/6) and the US edition at $2.00.
The novel concerns the efforts of retired police officer Luke Fitzwilliam to discover the identity of a serial killer, active in the village of Wychwood under Ashe. He learns that the series of deaths were mistaken for accidents by the locals, while the local nobleman Lord Whitfield attributes most of the deaths to divine justice.
Plot Summary
[SPOILER ALERT]
Upon his return to England after his overseas job in the police, Luke Fitzwilliam shares a London-bound train carriage with Lavinia Pinkerton. She talks with him about her reason to travel to Scotland Yard, hoping for agreement. She plans to report a serial killer in her village and tells him who was killed and who will next be killed— Amy Gibbs, Tommy Pierce, and Harry Carter have been killed; Dr John Humbleby will be the next victim. This woman reminds him of a favourite aunt, so he replies politely and recalls what she said.
He reads of Miss Pinkerton's death the next day, and then of the death of Dr Humbleby, who has died of septicaemia. Luke will not let this rest, and he travels to the village, Wychwood under Ashe. He poses as one finding material for a book on beliefs in witchcraft and superstition, as he investigates. He stays at the home of Gordon Ragg aka Lord Whitfield (Easterfield in the U.S. edition), claiming to be a cousin of Bridget Conway, Whitfield's fiancée, and the cousin of his own good friend. He and Conway receive the assistance of Honoria Waynflete, a woman whom they believe may know the person behind the deaths. He talks with villagers to learn the stories of the recent murders, including Mr Abbot, the solicitor who fired Tommy Pierce from his service; the Reverend Mr Wake, local preacher; Mr Ellsworthy, an antique shop owner who appears to be mentally unstable, and Dr Thomas, Humbleby's younger partner. People in the village view the deaths as accidents. Amy Gibbs died after confusing her cough remedy with hat paint in the dark, Tommy Pierce died from falling from an upper-floor window at the library while cleaning the windows, Harry Carter fell from a bridge while drunk and drowned in the mud, and Humbleby died from a cut that became infected. Luke learns that Mrs Lydia Horton was another victim of these accidents—she was recovering from acute gastritis and was getting better before she had a sudden relapse and died.
Luke believes Ellsworthy to be the killer because of his mental instability. Seeing Ellsworthy return home with blood on his hands adds to this image. Later on in that day, Luke and Miss Waynflete witness Whitfield arguing with his chauffeur, Rivers, who had taken Whitfield's Rolls-Royce for a joyride. Luke finds Rivers dead, hit by a decorative stone. Luke and Bridget realise that they are in love with each other, and Bridget tells Gordon of her decision to break off the engagement. Speaking with Luke, Gordon makes an odd statement. He claims that God kills people that do him harm, dispensing divine justice upon wrongdoers. Whitfield mentions that Mrs Horton had argued with him, Tommy Pierce did mocking impressions of him, Harry Carter shouted at him while drunk, Amy Gibbs was impertinent to him, Humbleby disagreed with him on the village water supply, and Rivers used his car without permission and then spoke disrespectfully to him; and all of them died soon afterwards. Whitfield predicts that Luke and Bridget, having wronged him, will soon meet their fates too.
Luke changes his mind about who is responsible for the deaths, considering Whitfield as the murderer. He consults Miss Waynflete, who confirms his suspicions, and tells him of how she knew he was insane: when they were younger, Waynflete and Whitfield had been engaged to be married. But one evening, Whitfield killed the bird that she kept as a pet, with the appearance that he enjoyed doing it. She ended their engagement.
Luke and Bridget decide that Bridget will leave Whitfield's estate to stay at Honoria Waynflete's house. Luke collects their luggage and prepares to leave, while Bridget and Honoria take a walk in the woods. Honoria reveals herself to be the murderer. During her engagement to Whitfield, Honoria had killed her own pet bird after it bit her, which prompted Gordon to abandon the engagement. She vowed revenge on Gordon, and decided to set him up for crimes he did not commit. She encouraged him in the belief that God exacted immediate retribution from those who disrespected him.
Honoria poisoned the tea for Lydia Horton, while encouraging others to believe the problem was in the grapes sent by Whitfield. Honoria killed Amy by swapping the bottles around in the night and locking the door from the outside using pincers. She killed Carter by pushing him off the bridge on the day he had a row with Whitfield, and she likewise pushed Tommy Pierce out of the window while he was working. Whitfield had been the one to assign Tommy to this job.
Honoria sees that Lavinia Pinkerton realised she is the killer, and that Humbleby would be her next victim. Honoria follows Lavinia into London and then pushes her in front of a passing car. Honoria frames Whitfield by telling a witness that she saw the registration number of Whitfield's Rolls-Royce. After inviting Humbleby round to her house, she cut his hand with scissors. She then applied a dressing to the wound, a dressing with pus seeping from her cat's ear; Humbleby dies a few days later from blood infection. After witnessing Rivers being sacked, Honoria hits him with a sandbag and caves his skull in with the stone pineapple.
Honoria drugs Bridget's tea and takes her into the woods, where the two of them began talking. Bridget does not drink the tea and is ready for what comes. Honoria reveals a knife covered in Whitfield's fingerprints, and informs Bridget that she will kill her and leave the knife at the scene. Further, Honoria arranges for Whitfield to be seen walking alone through the area where Bridget's body will be. Instead, Bridget fights with Honoria. Luke realises that Honoria is the murderer and rescues Bridget. Bridget and Luke leave the village to live together as a married couple.
Publication history
1939, Collins Crime Club (London), 5 June 1939, Hardcover, 256 pp
1939, Dodd Mead and Company (New York), September 1939, Hardcover, 248 pp
1945, Pocket Books, Paperback, 152 pp (Pocket number 319)
1951, Pan Books, Paperback, 250 pp (Pan number 161) 1957, Penguin Books, Paperback, 172 pp
1960, Fontana Books (Imprint of HarperCollins), Paperback, 190 pp
The book was first serialised in the US in The Saturday Evening Post in seven parts from 19 November (Volume 211, Number 21) to 31 December 1938 (Volume 211, Number 27) under the title Easy to Kill with illustrations by Henry Raleigh. The UK serialisation was in twenty-three parts in the Daily Express from Tuesday, 10 January, to Friday, 3 February 1939, as Easy to Kill. All the instalments carried an illustration by "Prescott". This version did not contain any chapter divisions.
Murder Is Easy – First Edition Book Identification Guide
The books are listed in the order of publication. While the majority of Agatha Christie's books were first published in the UK. There are many titles that were first published in the US. The title of the book may differs from the UK edition in some cases.
| Year | Title | Publisher | First edition/printing identification points |
| --- | --- | --- | --- |
| 1939 | Murder Is Easy | William Collins & Sons, London, [19 | First edition. "Copyright 1939" stated on the copyright page. No statement of later printings. Orange cloth lettered in black. Price 7/6, |
| 1939 | Easy to Kill | Dodd, Mead & Co, NY, 1939 | First American edition. Date on the title & copyright page matches. No statement of later printings. Blue cloth lettered in black. Price $2.00. |
Note about Book Club Editions (BCE) and reprints:
UK: You can see statements of later reprint dates or of book club on the copyright page.
US: The US reprint publishers usually use the same sheets as the first edition and are harder to identify by looking at the title page or the copyright page. One may identify a BCE by looking at the DJ, which doesn't have a price on top of the front flap and a "Book Club Edition" imprint at the bottom. If the dust jacked is clipped at both the top/bottom of the front flap. You can safely assume it's a BCE . If the book is missing the dust jacket. Later BCE editions can be identified by its plain boards, while first printings are issued in quarter cloth.
Please refer to the gallery for detailed images of true first edition bindings and dust jackets.
Murder Is Easy – First Edition Dust Jacket Identification Guide
First edition bindings and various dust jacket printings identification.
Reference: