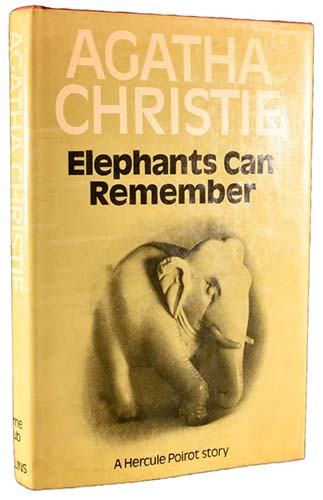 Elephants Can Remember is a work of detective fiction by British writer Agatha Christie, first published in 1972. It features her Belgian detective Hercule Poirot and the recurring character Ariadne Oliver. This was the last novel to feature either character, although it was succeeded by Curtain: Poirot's Last Case, which had been written in the early 1940s but was published last. Elephants Can Remember concentrates on memory and oral testimony.
Plot Summary
[SPOILER ALERT]
At a literary luncheon Ariadne Oliver is approached by a woman named Mrs Burton-Cox, whose son Desmond is engaged to Oliver's goddaughter Celia Ravenscroft. Mrs Burton-Cox questions the truth regarding the deaths of Celia's parents. Twelve years before, Oliver's close school friend Margaret Ravenscroft and her husband, General Alistair Ravenscroft, were found dead near their manor house in Overcliffe. Both had been shot with a revolver found between their bodies, which bore only their fingerprints. The investigation into their deaths found it impossible to determine if it was a double suicide, or if one of them murdered the other and then committed suicide. Their deaths left Celia and another child orphaned. After consulting Celia, Mrs Oliver invites her friend Hercule Poirot to resolve the issue.
Poirot and Mrs Oliver proceed to meet elderly witnesses associated with the case, whom they dub "elephants", and discover that Margaret Ravenscroft owned four wigs; that the Ravenscrofts' dog was devoted to the family, but bit Margaret a few days before her death; that Margaret had an identical twin sister, Dorothea, who had spent time in a number of psychiatric nursing homes, and was believed to have been involved in two violent incidents in Asia, including the drowning of her infant son after the death of her husband; and that a month before the couple died Dorothea had been sleepwalking and had died after falling off a cliff. Later Poirot learns the names of governesses who served the Ravenscroft family, one of whom, Zélie Meauhourat, travelled to Lausanne after the couple's deaths.
Poirot soon turns his attention to the Burton-Cox family, and learns that Desmond was adopted and knows nothing about his birth mother. Through his agent, Mr Goby, Poirot learns that Desmond is the illegitimate son of a deceased actress, Kathleen Fenn, who once had an affair with Mrs Burton-Cox's husband and who bequeathed a considerable fortune to Desmond, to be held in trust until he was of age or had married, and which would go to his adoptive mother if he died. Poirot suspects that Mrs Burton-Cox wants to prevent the marriage of Desmond and Celia in order to maintain the use of the money, but he finds no suggestion that Mrs Burton-Cox wishes to kill her son. Eventually he begins to suspect the truth about the Ravenscrofts' death and asks Zélie to return to England to help him to explain it to Desmond and Celia.
Poirot reveals that the woman who died with Alistair was not his wife but her twin, Dorothea. A month before the deaths she had fatally injured Margaret and Margaret had made her husband promise to protect her sister from arrest. Alistair had Zélie help him to conceal the truth of his wife's death by planting her body at the foot of a cliff and fabricating the story that it was Dorothea who had died, then having Dorothea take the place of his wife. While she fooled the Ravenscrofts' servants, the family dog could not be deceived and thus bit her. A month after his wife's death Alistair murdered Dorothea to prevent her from injuring anyone else, making certain that she held the revolver before she was killed, and then he committed suicide. Knowing the facts, Desmond and Celia can face the future together.
Publication history
1972, Collins Crime Club (London), November 1972, Hardcover, 256 pp
1972, Dodd Mead and Company (New York), Hardcover, 243 pp
1973, Dell Books, Paperback, 237 pp
The novel was serialised in the Star Weekly Novel, a Toronto newspaper supplement, in two abridged instalments from 10 to 17 February 1973 with each issue containing the same cover illustration by Laszlo Gal.
Elephants Can Remember – First Edition Book Identification Guide
The books are listed in the order of publication. While the majority of Agatha Christie's books were first published in the UK. There are many titles that were first published in the US. The title of the book may differs from the UK edition in some cases.
| Year | Title | Publisher | First edition/printing identification points |
| --- | --- | --- | --- |
| 1972 | Elephants Can Remember | William Collins & Sons, London, [1972] | First edition. "First Published in 1972" stated on the copyright page. Red cloth lettered in gold. Price £1.60. |
| 1972 | Elephants Can Remember | Dodd, Mead & Co, NY, [1972] | First American edition. "© Agatha Christie, Ltd., 1972" stated on the copyright page. Patterned gray boards, purple cloth spine lettered in gold and black. Price $ 6.95. |
Note about Book Club Editions (BCE) and reprints:
UK: You can see statements of later reprint dates or of book club on the copyright page.
US: The US reprint publishers usually use the same sheets as the first edition and are harder to identify by looking at the title page or the copyright page. One may identify a BCE by looking at the DJ, which doesn't have a price on top of the front flap and a "Book Club Edition" imprint at the bottom. If the dust jacked is clipped at both the top/bottom of the front flap. You can safely assume it's a BCE . If the book is missing the dust jacket. Later BCE editions can be identified by its plain boards, while first printings are issued in quarter cloth.
Please refer to the gallery for detailed images of true first edition bindings and dust jackets.
Elephants Can Remember – First Edition Dust Jacket Identification Guide
First edition bindings and various dust jacket printings identification.
Reference: