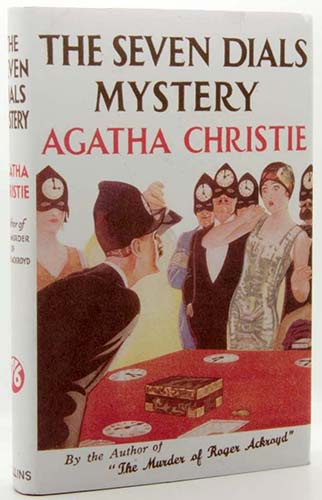 The Seven Dials Mystery is a work of detective fiction by Agatha Christie, first published in the UK by William Collins & Sons on 24 January 1929 and in the US by Dodd, Mead and Company later in the same year. The UK edition retailed at seven shillings and sixpence and the US edition at $2.00.
In this novel, Christie brings back the characters from an earlier novel, The Secret of Chimneys: Lady Eileen (Bundle) Brent, Lord Caterham, Bill Eversleigh, George Lomax, Tredwell, and Superintendent Battle.
In her autobiography, Christie states that this book was what she called "the light-hearted thriller type". She went on to say that they were always easy to write as they didn't require too much plotting or planning, presumably in contrast to the very-tightly planned detective stories.
She called this era her "plutocratic" period in that she was starting to receive sums for American serialisation rights which both exceeded what she earned in the UK for such rights and was, at this time, free of income tax. She compared this period favourably with the time at which she wrote these comments (1950s to 1960s) when she was plagued with income tax problems which lasted for some twenty years and ate up most of what people presumed was a large fortune.
Plot Summary
[SPOILER ALERT]
Sir Oswald and Lady Coote host a party at the stately home Chimneys, which they have rented for the season. The guest list includes Gerry Wade, Jimmy Thesiger, Ronny Devereux, Bill Eversleigh, and Rupert "Pongo" Bateman. Since Wade has a bad habit of oversleeping, the others play a joke on him by placing eight alarm clocks in his room and timing them to go off at intervals. The next morning, a footman finds Wade dead in his bed, with chloral on his nightstand. Thesiger notices that one of the eight alarm clocks is missing. It is later found in a hedge.
Lord Caterham and his daughter Lady Eileen "Bundle" Brent move back into Chimneys. When Bundle drives to London to see Eversleigh, Ronny Devereux jumps out in front of her car. Before he dies, Devereux mutters "Seven Dials…" and "Tell…Jimmy Thesiger." Bundle gets his body to a doctor, who tells her that her car did not hit Devereux; he was shot.
Seven Dials turns out to be a seedy nightclub and gambling den. Bundle recognizes the doorman as Alfred, a footman from Chimneys. Alfred tells her that he left Chimneys for far higher wages offered by Mosgorovsky, owner of the club. Alfred takes Bundle into a secret room, where she hides in a cupboard and witnesses a meeting of seven people wearing hoods with clock faces. They talk of the always-missing "Number Seven", and about an upcoming party at Wyvern Abbey, where a scientist called Eberhard will offer a secret formula for sale to the British Air Minister.
At the party, the formula is stolen and Jimmy Thesiger is shot in his right arm. Thesiger tells how he fought a man who climbed down the ivy. The next morning, Battle finds a charred left-handed glove with teeth marks in the fireplace. He theorizes that the thief threw the gun onto the lawn from the terrace and then climbed back into the house via the ivy. Bundle's father reports that Bauer, the footman who replaced Alfred, is missing.
Ronny Devereux's executors have sent Eversleigh a letter written by Devereux. Thesiger rings up Bundle and Gerry Wade's sister Loraine and tells them to meet him and Eversleigh at the Seven Dials club. Bundle shows Thesiger the room where the Seven Dials meet. Loraine finds Bill unconscious in the car and they take him into the club.
Someone knocks Bundle unconscious and she comes round in Eversleigh's arms. Mr Mosgorovsky takes them into the meeting of the Seven Dials, where Number Seven is revealed as Superintendent Battle. He reveals that they are a group of people doing secret service work for the government. Battle tells Bundle that the association has succeeded with their main target, an international criminal whose stock in trade is the theft of secret formulae: Jimmy Thesiger was arrested that afternoon with his accomplice, Loraine Wade. Battle explains that Thesiger killed Wade and Devereux when they got onto his track. Devereux took the eighth clock from Wade's room to see if anyone reacted to there being "seven dials". At Wyvern Abbey, Thesiger stole the formula, passed it to Loraine, then shot himself in his right arm and disposed of his left-hand glove using his teeth. Eversleigh feigned unconsciousness in the car outside the Seven Dials club. Thesiger never went for a doctor, but hid in the club, and knocked Bundle unconscious. Bundle takes Wade's place in the Seven Dials and marries Bill Eversleigh.
Publication history
1929, William Collins and Sons (London), 24 January 1929, Hardback, 282 pp
1929, Dodd Mead and Company (New York), 1929, Hardback, 310 pp
1932, William Collins and Sons, February 1932 (As part of the Agatha Christie Omnibus of Crime along with The Murder of Roger Ackroyd, The Mystery of the Blue Train and The Sittaford Mystery), Hardback (Priced at 7/6)
1948, Penguin Books, Paperback, (Penguin number 687), 247 pp
1954, Fontana Books (Imprint of HarperCollins), Paperback, 189 pp
1957, Avon Books (New York), Paperback
1962, Pan Books, Paperback (Great Pan 571), 207 pp
1964, Bantam Books (New York), Paperback, 184 pp
The Seven Dials Mystery – First Edition Book Identification Guide
The books are listed in the order of publication. While the majority of Agatha Christie's books were first published in the UK. There are many titles that were first published in the US. The title of the book may differs from the UK edition in some cases.
| Year | Title | Publisher | First edition/printing identification points |
| --- | --- | --- | --- |
| 1929 | The Seven Dials Mystery | William Collins & Sons, London, [1929] | First edition. "Copyright, 1928" stated on the copyright page. No statement of later printings. Black cloth lettered in red. Price 7/6 |
| 1929 | The Seven Dials Mystery | Dodd, Mead & Co, NY, 1929 | First American edition. Date on the title & copyright page matches. No statement of later printings. Orange cloth lettered in black. Issued with a white wrap around band, lettered in orange. Price $ 2.00. |
Note about Book Club Editions (BCE) and reprints:
UK: You can see statements of later reprint dates or of book club on the copyright page.
US: The US reprint publishers usually use the same sheets as the first edition and are harder to identify by looking at the title page or the copyright page. One may identify a BCE by looking at the DJ, which doesn't have a price on top of the front flap and a "Book Club Edition" imprint at the bottom. If the dust jacked is clipped at both the top/bottom of the front flap. You can safely assume it's a BCE . If the book is missing the dust jacket. Later BCE editions can be identified by its plain boards, while first printings are issued in quarter cloth.
Please refer to the gallery for detailed images of true first edition bindings and dust jackets.
The Seven Dials Mystery – First Edition Dust Jacket Identification Guide
First edition bindings and various dust jacket printings identification.
Reference: