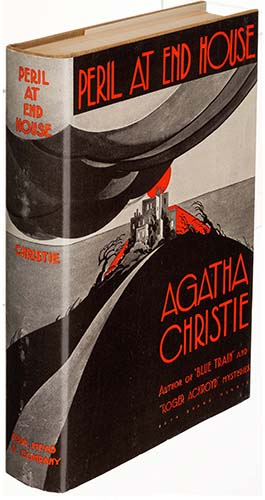 Peril at End House is a work of detective fiction by British writer Agatha Christie, first published in the US by the Dodd, Mead and Company in February 1932 and in the UK by the Collins Crime Club in March of the same year. The US edition retailed at $2.00 and the UK edition at seven shillings and sixpence (7/6).
The book features Christie's private detective Hercule Poirot, as well as Arthur Hastings and Chief Inspector Japp, and is the sixth novel featuring Poirot. Poirot and Hastings vacation in Cornwall, meeting young Magdala "Nick" Buckley and her friends. He is persuaded that someone is out to kill her. They meet all of her friends at her home called End House. Though he aims to protect Nick, a murder happens that provokes Poirot to mount a serious investigation.
References to other works
Two references (in chapters 1 and 5) are made to the events told in The Mystery of the Blue Train and it is clearly stated in chapter 1 that Peril at End House takes place the August following Poirot's trip to the French Riviera described in that book.
In chapter 9, there is an interesting remark in passing, on the cleverest type of crime, which later became the theme of Curtain: Poirot's Last Case, which ends with his death.
At the beginning of chapter 14, Hastings describes how Poirot's obsession for tidiness helped him solve a case when he straightened ornaments on a mantelpiece. This is an indirect reference to The Mysterious Affair at Styles.
In chapter 15, Poirot mentions the case The Chocolate Box included in the book Poirot's Early Cases, when he tells Commander Challenger that he indeed had failures in the past.
In chapter 16, Inspector Japp asks Poirot if he had not retired to grow marrows. This is an indirect reference to the failed attempt at retirement depicted in The Murder of Roger Ackroyd, when Poirot settled in the small village of King's Abbot, only to be prompted to investigate a murder in the village.
Plot Summary
[SPOILER ALERT]
Poirot and Hastings are staying at a Cornish resort. Conversing with Magdala "Nick" Buckley, Poirot believes that someone is out to kill her, confirmed when he finds a bullet that Nick had thought to be a wasp shooting past her head. Poirot explains his concern to Nick. Poirot suspects someone in Nick's inner circle. Nick's nearest living relative is a lawyer cousin, Charles Vyse, who arranged the re-mortgaging on End House for her to supply desperately needed funds. Her housekeeper is Ellen, and the lodge near End House is leased by Australians Mr and Mrs Croft. George Challenger has a soft spot for Nick. Nick's two closest friends are Freddie Rice, an abused wife, and Jim Lazarus, an art dealer in love with Freddie. When Nick had surgery six months earlier, the Crofts suggested she make a will.
It is not clear who wants Nick dead. Charles would inherit End House and Freddie would get the rest of the estate – none of which is worth killing for. At Poirot's advice, Nick calls her cousin Maggie to stay with her for a few weeks. When Maggie arrives, Nick hosts a party with everyone present but George. A renowned pilot named Michael Seton has gone missing, sparking debate about his fate. Nick receives a call while the guests are enjoying the party. Maggie is found dead, wearing Nick's shawl. Nick and Maggie had gone to freshen up, after which Maggie wore Nick's shawl. George is relieved to see Nick alive. Realizing that Maggie was killed by mistake under his nose, Poirot becomes furious, launching an investigation.
To protect Nick, Poirot tells everyone that she is going to a hospital. He asks her not to eat anything from an unknown source. The next day, the newspapers report that Michael Seton is dead and Poirot correctly deduces that Nick received that information through the call. Nick confesses to Poirot that she and Michael were secretly engaged. Michael was the sole heir of vast wealth, and that wealth will go to his fiancée. Poirot is wary of the Crofts: he asks Inspector Japp to inquire about them. Poirot and Hastings find the love letters written by Michael, but do not find Nick's original will. Nick recalls sending it to Charles, who denies receiving it. Mr Croft tells Poirot that he sent the will to Charles; one of the men is lying. Nick receives a box of chocolates laced with cocaine, allegedly sent by Poirot. Nick is safe as she ate only one. The chocolates were delivered by Freddie, who claims that Nick phoned her to bring them. Poirot suspects Freddie, who is a cocaine addict.
Poirot sets up a ruse with Nick's participation, telling the others that Nick is dead. Charles tells Poirot that he received Nick's will, which is read in End House, awarding her money to the Crofts for helping her father in Australia. This startles all except the Crofts. Poirot announces to the stunned guests that a seance will be conducted and Nick's "ghost" appears, exposing the Crofts. They replaced her will with a forged one and sent it to Charles after they heard news of her death. Japp reveals that the Crofts are known forgers. He arrests the duo. But Poirot announces that they had no hand in the murder. Just then, someone outside shoots at Freddie and misses, then shoots himself. Poirot captures the man, Freddie's sick and dying husband, who wrote many notes begging her for money.
Poirot reveals that the real murderer is Nick. Michael was engaged to Maggie, not Nick: the cousins have the same name, Magdala Buckley. After learning of Michael's wealth and disappearance, Nick plotted to present herself as Michael's fiancée to usurp his wealth, a plot which required Maggie's death. The attempts on her life were her own work. George used to supply cocaine to both Freddie and Nick concealed in wristwatches; Nick used her supply to poison the chocolates. Nick is arrested, taking Freddie's wristwatch as a "souvenir"; the full box contains enough for Nick to take an overdose and escape the gallows. Poirot tells George either to surrender himself or go away, allowing Freddie to recover from her addiction. In the end, Jim and Freddie decide to marry, and Jim, who is an art dealer, reveals to Poirot that one of Nick's paintings on the wall is actually of considerable value, though Nick herself did not realize it.
Publication history
1932, Dodd Mead and Company (New York), February 1932, Hardcover, 270 pp
1932, Collins Crime Club (London), March 1932, Hardcover, 256 pp
1938, Modern Age Books (New York), Hardcover, 177 pp
1942, Pocket Books (New York), Paperback, (Pocket number 167), 240 pp
1948, Penguin Books, Paperback, (Penguin number 688), 204 pp
1961, Fontana Books (Imprint of HarperCollins), Paperback, 191 pp
1966, Pan books X521, Paperback
The first true publication of the book was the US serialisation in the weekly Liberty magazine in eleven instalments from 13 June (Volume 8, Number 24) to 22 August 1931, (Volume 8, Number 34). There were slight abridgements to the text, no chapter divisions, and the reference in Chapter III to the character of Jim Lazarus as, "a Jew, of course, but a frightfully decent one" was deleted. The serialisation carried illustrations by W.D. Stevens.
In the UK, the novel was serialised in the weekly Women's Pictorial magazine in eleven instalments from 10 October (Volume 22, Number 561) to 19 December 1931, (Volume 22, Number 571) under the slightly different title of The Peril at End House. There were slight abridgements and no chapter divisions. All of the instalments carried illustrations by Fred W. Purvis.
Peril at End House – First Edition Book Identification Guide
The books are listed in the order of publication. While the majority of Agatha Christie's books were first published in the UK. There are many titles that were first published in the US. The title of the book may differs from the UK edition in some cases.
| Year | Title | Publisher | First edition/printing identification points |
| --- | --- | --- | --- |
| 1932 | Peril at End House | Dodd, Mead & Co, NY, 1932 | First edition. Date on the title & copyright page matches. No statement of later printings. Tan cloth lettred in red. Price $ 2.00 |
| 1932 | Peril at End House | William Collins & Sons, London, [1932] | First English edition. "Copyright, 1932" stated on the copyright page. Red cloth lettered in black. Issued with a wrap around band. Price 7/6. |
Note about Book Club Editions (BCE) and reprints:
UK: You can see statements of later reprint dates or of book club on the copyright page.
US: The US reprint publishers usually use the same sheets as the first edition and are harder to identify by looking at the title page or the copyright page. One may identify a BCE by looking at the DJ, which doesn't have a price on top of the front flap and a "Book Club Edition" imprint at the bottom. If the dust jacked is clipped at both the top/bottom of the front flap. You can safely assume it's a BCE . If the book is missing the dust jacket. Later BCE editions can be identified by its plain boards, while first printings are issued in quarter cloth.
Please refer to the gallery for detailed images of true first edition bindings and dust jackets.
Peril at End House – First Edition Dust Jacket Identification Guide
First edition bindings and various dust jacket printings identification.
Reference: