E.B. White – American essayist, poet, and children's book author, 1899-1985.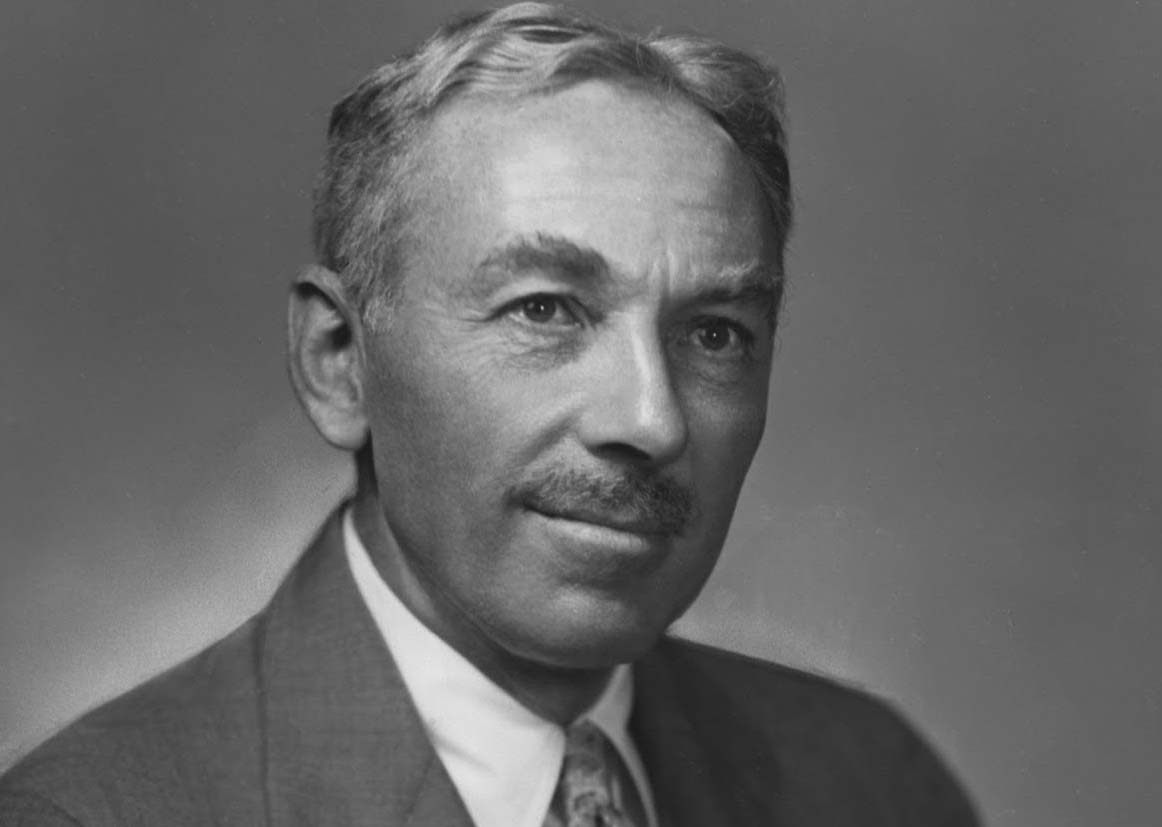 American essayist, poet, and children's book author, 1899-1985. More than once, Elwyn Brooks White pretended ignorance of literary affairs. In fact, when one critic sent him an exhaustive scholarly exegesis of White's children's classic, Charlottes Web (1952), the wry essayist, poet, and novelist replied, "It's good I did not know what in hell was going on. To have known might well have been catastrophic."
Actually, there can be little doubt about E. B. White's literary sophistication. He wrote virtually all his life, breaking into print for the first time in 1909 with a prize-winning poem in Womans Home Companion. Eleven years later, at the university, White was elected editor of the Cornell Daily Sun. Having tried a stint at newspaper reporting and advertising, White, in 1925, submitted some short sketches to the newly founded New Yorker magazine.
He joined the staff in 1926, and soon wrote for the magazine full-time, turning out countless pithy, ironical articles, squibs, and observa­tions. Although, over the years, White contributed to other magazines as well, his primary allegiance for almost half a century was to The New Yorker, on which he left an indelible stamp. Playwright Marc Connelly observed that it was White's distinctive style that "gave the steel and music to the magazine."
For children, however, White is of interest primarily as the author of three children's novels: Stuart Little (1945), Charlotte's Web (1952), and The Trumpet of the Swan (1970). These do nothing to dispel the notion of White as a consummate stylist whose sentences put him clearly in the literary tradition of Henry David Thoreau and Mark Twain, and whose manuscripts testify to the infi­nite pains he took to research his materials and to hone his text.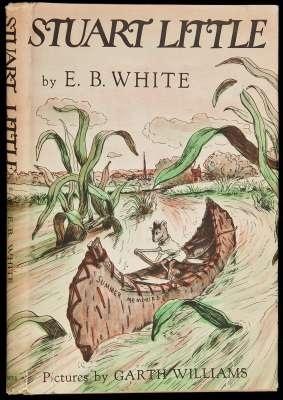 As a novelist, White showed himself a deft deviser of plots, a keen observer of character, a virtuoso in the ren­dering of emotion—whether porcine or human. Few can read Charlotte's Web for the first time without shed­ding a tear at the death of the arachnid heroine. And, indeed, while making a commercial recording of the book, White himself choked as he read those elegiacal words about Charlotte—"and no one was with her when she died"—so that the taping session had to be stopped.
But Charlotte's Web was not E.B. White's debut in the world of children's books. That honor goes to Stuart Lit­tle, the episodic, picaresque adventure story of a two- inch creature who, in White's words, "looks very much like a mouse," but who "obviously is not a mouse [but rather] a second son."
The story had been brewing with White for years as a disconnected series of bedtime tales for his nieces and nephews by the time it came to Harper. There, shep­herded by the distinguished editor Ursula Nordstrom and felicitously illustrated by Garth Williams, the book was eventually published—generally to high ac­claim, but not without violent objection from the influ­ential Anne Carroll Moore, head of the Children's Department of the New York Public Library, as well as from a number of librarians who objected to what was perceived as the hero's "monstrous birth." The adventures of the Lilliputian hero are inherently funny—as he loosens stuck piano keys, fetches a ring from a drain, gels rolled up in a window shade, and sails a toy boat through a storm In Central Park.
But quite beyond these surface amusements, the book sounds a resonant note as Stuart undertakes his quest for the beautiful bird, Margalo. And that quest, as E.B. White him­self noted, "symbolizes the continuing journey that everybody takes—in search of what is perfect and unat­tainable. This is perhaps too elusive an idea to put into a book for children, but I put it in anyway.''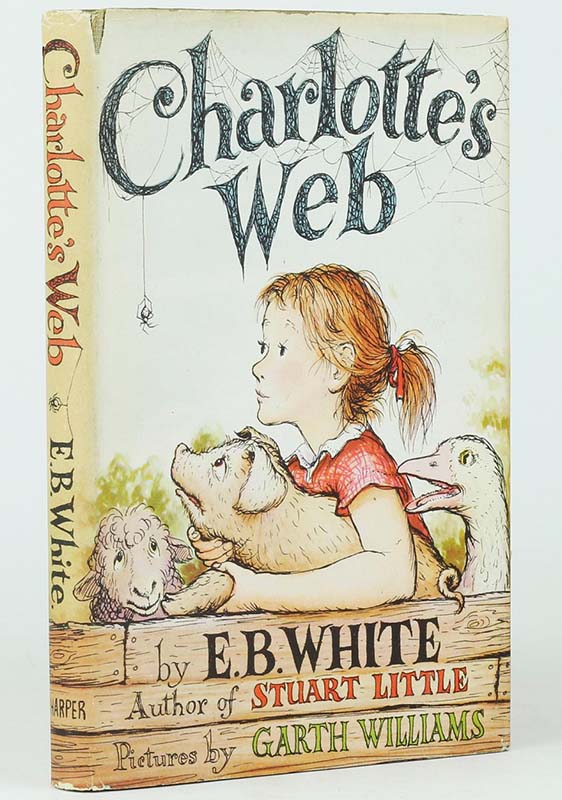 It is, however, White's second book, Charlotte's Web, which has drawn the most widespread admiration. Essentially a pastoral comedy in which a little girl, Fern, saves the life of the runty thirteenth pig of a litter, the novel operates on two planes. On the first, we follow life in the barnyard, in which the animals converse with each other and empathetically enter into the mercurial emotions of the pig, Wilbur. We meet the eponymous heroine, Charlotte, an articulate sophisticate, a lover of words, who—by the word, as it were—saves the life of Wilbur.
On the second, we have the story of the little girl, Fern, richly rendered by White, memorably drawn by Garth Williams. It was the poignant story of a girl in one fleeting moment of her life. In the beginning she has an empathy for and understanding of the animals she loves; at the book's end, she has grown into a world of Ferris wheels, of boys—and will be, forever, beyond "childish tilings."
The book is resonant, lyrical, serious, profound. It is one of the very few books for young children that face, squarely, the subject of death. And above all it is celebra­tory. White called it "pastoral, seasonal . . . concerned with ordinary people," "a hymn to the barn, an accep­tance of dung," a "story of friendship, life, death, sal­vation."
E.B. White's last book for children, The Trumpet of the Swan, published almost twenty years after Charlotte, is the unlikely tale of Louis, a mute trumpeter swan (named for Louis Armstrong), who compensates for his muteness by becoming a virtuoso player of a real trum­pet. Louis is befriended by a young boy, Sam Beaver, a male counterpart to Fern of Charlotte's Web, with the significant difference that, at book's end, Sam remains loyal to the bird and, in a manner, keeps the faith.
White wrote the book in old age and under the impression that he was in financial need. As he had done with Charlotte's Web, he researched his material thoroughly—making inquiries about everything from the annual migration of trumpeter swans to the work­ings of the swan boats in the Boston Public Garden, and he wrote the text with the same scrupulous attention to detail. Nonetheless, with the striking exception of John Updike, who praised the author's "sense of the precious instinctual heritage represented by wild nature," most critics responded coolly to the implausible swan who flies through the world encumbered with a trumpet and a slate on which to write.
E. B. White has a firm place in American letters as a distinguished essayist, a man who expressed his wry view of the world in exquisitely chiseled sentences. Applying that same craft to three books for children, E. B. White has won a place in the hearts of the young forever.
§ Peter F. Neumeyer
Source: Children's Books and their Creators, Anita Silvey.
---
Books by E.B. White
· Less than Nothing, or, The Life and Times of Sterling Finny (1927)
· White, E. B. (1929). The lady is cold : poems by E. B. W. New York: Harper and Brothers.
· Thurber, James; White, E. B. (1929). Is sex necessary? Or, why you feel the way you do. New Yorker: Harper & Brothers.
· Ho Hum: Newsbreaks from the New Yorker (1931). Intro by E. B. White, and much of the text as well.
· Alice Through the Cellophane, John Day (1933)
· Every Day is Saturday, Harper (1934)
· A Subtreasury of American Humor (1941). Co-edited with Katherine S. White.
· One Man's Meat (1942): A collection of his columns from Harper's Magazine
· The Wild Flag: Editorials From The New Yorker On Federal World Government And Other Matters (1943)
· Stuart Little (1945)
· Here Is New York
· Charlotte's Web (1952)
· The Second Tree from the Corner (1954)
· The Elements of Style (with William Strunk, Jr.) (1959, republished 1972, 1979, 1999, 2005)
· The Points of My Compass (1962)
· The Trumpet of the Swan (1970)
· Letters of E. B. White (1976)
· Essays of E. B. White (1977)
· Poems and Sketches of E. B. White (1981)
· Writings from "The New Yorker" (1990)
· In the Words of E. B. White (2011)
· Every Day is Saturday
· Quo Vadimus?
· The Fox of Peapack
· Farewell to Model T
· An E. B. White Reader. Edited by William W. Watt and Robert W. Bradford.