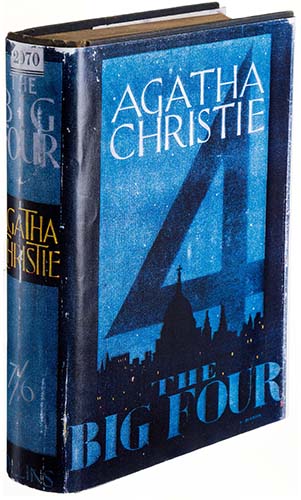 The Big Four is a work of detective fiction by Agatha Christie, first published in the UK by William Collins & Sons on 27 January 1927 and in the US by Dodd, Mead and Company later in the same year. It features Hercule Poirot, Arthur Hastings, and Inspector Japp. The UK edition retailed at seven shillings and sixpence (7/6) and the US edition at $2.00.
The structure of the novel is different from other Poirot stories, as it began from twelve short stories (eleven in the US) that had been separately published. This is a tale of international intrigue and espionage, therefore opening up the possibility of more spy fiction from Christie.
The book was published a few weeks after the disappearance and reappearance of Christie. The resulting publicity over her name caused the new novel to become a sales hit. Sales were good enough to more than double the success of The Murder of Roger Ackroyd. It sold despite not being a traditional murder mystery.
Plot Summary
[SPOILER ALERT]
An unexpected visitor called Mayerling comes in through Hercule Poirot's bedroom and collapses on the floor. The only clue to what he wants is his repeating Poirot's name and address and writing the number 4, many times. When Hastings jokingly calls it "The Mystery of the Big Four," the man begins speaking about an international crime cartel of that name. He describes the four leaders: Number 1 is a Chinese political mastermind named Li Chang Yen; Number 2 is probably American; Number 3 is a Frenchwoman; and Number 4 is known only as "the Destroyer." The man dies soon after and Poirot and Hastings go off on the trail of the Big Four.
From here, the novel becomes a series of loosely connected short stories.
Poirot and Hastings visit an informant, John Ingles, to ask him about the Big Four. Ingles shows Poirot a note from a fisherman who asked him for a few hundred pounds to hide himself from the Big Four. Poirot, Hastings and Ingles discover that the man who wrote the note, a Mr Jonathan Whalley, has been murdered by Number 4.
Poirot discovers that the Big Four have produced a form of wireless energy capable of focusing a beam of great intensity on any spot. A British scientist called Halliday was near success on this same concept when he was kidnapped while at a conference in France. Poirot and Hastings visit the notable French scientist Madame Olivier and discover she is Number 3.
Poirot discovers that American millionaire Abe Ryland is Number 2 and sends Hastings to spy on him.
Poirot investigates the death of a Mr Paynter in Worcestershire. Before his death, Paynter had written in ink "yellow jasmine" on his newspaper, and attempted to draw a number 4. Poirot reveals that Paynter's attending physician, a Doctor Quentin, was in fact Number 4, who gave Paynter an injection of yellow jasmine.
A month later, Japp informs Poirot of another mysterious death—that of chess grandmaster Gilmour Wilson, who died from heart failure while participating in a match with Russian refugee Doctor Savaronoff. Poirot deduces that the real Savaronoff died in Russia and that Number Four impersonated him, killing Wilson in order to preserve his cover.
Hastings is kidnapped by the Big Four and Poirot saves him.
Poirot identifies Number 4 as an obscure character actor called Claude Darrell. A former girlfriend reveals Darrell's identifying quirks.
In order to track the Big Four in secret, Poirot stages his own death. He and Hastings travel to the Big Four's mountain hideout in Italy and are taken captive. Poirot reveals that he is not Hercule Poirot, but his twin brother, Achille. He tells the Big Four that the mountain has been cordoned off and the police are on the scene. The Big Four escape just as the police raid the hideout.
Back home, Poirot reveals Achille Poirot did not exist – it was Hercule Poirot in disguise all along. He laments that all his other cases will seem boring and tame compared to this case. The novel ends with Hastings returning to Argentina and Poirot considering retirement.
Publication history
1927, William Collins and Sons (London), 27 January 1927, Hardcover, 282 pp
1927, Dodd Mead and Company (New York), 1927, Hardcover, 276 pp
1957, Penguin Books, Paperback (Penguin number 1196), 159 pp
1961, Pan Books, Paperback (Great Pan G427), 155 pp
1964, Avon Books (New York), paperback
1965, Fontana Books (Imprint of HarperCollins), paperback, 159 pp
1965, Dell Books (New York), paperback, 173 pp
The Big Four – First Edition Book Identification Guide
The books are listed in the order of publication. While the majority of Agatha Christie's books were first published in the UK. There are many titles that were first published in the US. The title of the book may differs from the UK edition in some cases.
| Year | Title | Publisher | First edition/printing identification points |
| --- | --- | --- | --- |
| 1927 | The Big Four | William Collins & Sons, London, [1927] | First edition. "Copyright, 1927" stated on the copyright page. No statement of later printings. Navy blue cloth, lettered in orange. Price 7/6. |
| 1927 | The Big Four | Dodd, Mead & Co, NY, 1927 | First American edition. Date on the title & copyright page matches. No statement of later printings. Blue cloth lettred in orange. Issued with orange wrap around band, lettred in black. Price $ 2.00 |
Note about Book Club Editions (BCE) and reprints:
UK: You can see statements of later reprint dates or of book club on the copyright page.
US: The US reprint publishers usually use the same sheets as the first edition and are harder to identify by looking at the title page or the copyright page. One may identify a BCE by looking at the DJ, which doesn't have a price on top of the front flap and a "Book Club Edition" imprint at the bottom. If the dust jacked is clipped at both the top/bottom of the front flap. You can safely assume it's a BCE . If the book is missing the dust jacket. Later BCE editions can be identified by its plain boards, while first printings are issued in quarter cloth.
Please refer to the gallery for detailed images of true first edition bindings and dust jackets.
The Big Four – First Edition Dust Jacket Identification Guide
First edition bindings and various dust jacket printings identification.
Reference: