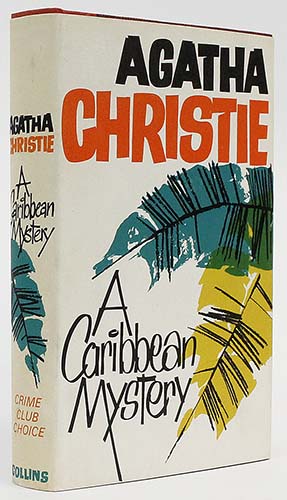 A Caribbean Mystery is a work of detective fiction by British writer Agatha Christie, first published in the UK by the Collins Crime Club on 16 November 1964 and in the United States by Dodd, Mead and Company the following year. The UK edition retailed at sixteen shillings (16/-) and the US edition at $4.50. It features the detective Miss Marple.
Two of the major characters reappear in the novel Nemesis, published in 1971. Jason Rafiel reappears posthumously, and his assistant Esther Walters assists Miss Marple in the early chapters of the subsequent story.
The novel is dedicated to John Cruikshank Rose, "with happy memories of my visit to the West Indies". Christie and her husband Max Mallowan became friends with John Rose in 1928 at the archaeological site at Ur. He was the architectural draftsman and when Max was in charge of the dig in Greater Syria at Tell Arpachiyah, Iraq in 1932, he hired Rose to be his draftsman. Rose was Scottish, and as Christie described him, "a beautiful draughtsman, with a quiet way of talking, and a gentle humour that I found irresistible."
Plot Summary
[SPOILER ALERT]
This story takes place at the Golden Palm resort on the Caribbean island of St Honoré. Miss Marple's nephew has paid for her to holiday there after a bout of ill health. She speaks with Major Palgrave, a well-travelled man with many stories to share. She sits, half listening, until Palgrave tells a story about a man who got away with murder more than once. When Palgrave asks her if she wants to see a picture of a murderer, she listens intently – but after he finds the snapshot in his wallet, he suddenly changes the subject. Miss Marple looks up to see why and spots several people nearby.
The next day, when the maid Victoria finds Major Palgrave dead in his room, Miss Marple is convinced he was murdered. She asks Dr Graham to find the photo he mentioned, pretending it is of her nephew, but it is not found. Meanwhile, she interviews the others: Tim and Molly Kendal, owners of the hotel; the Prescotts, a clergyman and his sister; Mr Jason Rafiel, a tycoon confined to a wheelchair; Jackson, his nurse/masseur/attendant/valet; Esther Walters, his secretary; the American Lucky Dyson and her husband, Greg; and Edward and Evelyn Hillingdon. On the beach, Miss Marple sees Señora de Caspearo, a woman on holiday who says she remembers Major Palgrave because he had an evil eye. Miss Marple corrects her that he had a glass eye, but she still says that it was evil.
Victoria informs the Kendals that she did not remember seeing the high blood pressure medication, Serenite, in Major Palgrave's room before his death, although it was found on his table after his death. That night, Victoria is found stabbed to death. Molly begins having nightmares. Miss Marple finds Jackson looking at Molly's cosmetics who says that if belladonna were added to it, it would cause nightmares. The following night, Tim finds Molly unconscious on the floor, apparently having taken an overdose of sleeping pills. The police are involved, and the cook, Enrico, tells them he saw Molly holding a steak knife before going outside. Miss Marple asks the others if Major Palgrave told people about the photo. Others claim Palgrave said it was not a photo of a wife killer but a husband killer. When police realize that the high blood pressure medicine did not belong to Major Palgrave, his body is exhumed and the autopsy reveals that he was dead by poison, as Miss Marple expected.
At night, Miss Marple is woken by the sounds of a search party. She is told that Tim woke up to find his wife is missing. They find what seems to be her body in a creek, but it turns out to be Lucky; the two women resemble one another.
Miss Marple abruptly realizes who the Major saw that night when he recognized the person in the snapshot as someone on the island. She wakes Mr Rafiel and Jackson, calling herself Nemesis, and they go to Tim and Molly Kendal's house. There they find Tim offering Molly a drink. Miss Marple tells Jackson to take the glass away. She says there is a deadly narcotic in it. While Jackson holds Tim down, She explains that Tim is the wife killer recognised by Major Palgrave. Miss Marple had thought Palgrave saw the Hillingdons and the Dysons over her right shoulder as they were coming up the beach, but had just realised that he had a glass eye on the left so he could not have seen them. Tim and Molly were sitting on her left. Further, the story that the Major told Miss Marple of the husband serially killing his wives and not getting caught, was the story of Tim Kendall. Tim was planning to kill Molly soon and so had to kill Major Palgrave when he recognised Tim. He also killed Victoria, who remembered the Serenite being in the wrong room. Tim put belladonna in Molly's cosmetics to make her appear mad to the others. Tim had asked his wife to meet him by the creek, but Molly had been distracted by a vision due to the belladonna and wandered off. Tim saw Lucky and mistook her for Molly in the darkness. He was about to poison Molly when Miss Marple interrupted him.
Esther Walters suddenly insists that Tim is not a killer. Tim shouts at her to keep quiet. He had been planning to marry Esther, after Molly's death, because he had heard that she was going to inherit a large sum of money from Jason Rafiel.
Mr Rafiel chooses to invest a bit in Molly, as she takes on running the Golden Palm resort herself. Miss Marple takes her flight home to England after her vacation in the tropical warmth.
Publication history
1964, Collins Crime Club (London), 16 November 1964, Hardcover, 256 pp
1965, Dodd Mead and Company (New York), Hardcover, 245 pp
1966, Fontana Books (Imprint of HarperCollins), Paperback, 157 pp
1966, Pocket Books (New York), Paperback, 176 pp
The novel was serialised in the Star Weekly Novel, a Toronto newspaper supplement, in two abridged installments from 16 to 23 January 1965, with each issue containing an uncredited cover illustration.
A Caribbean Mystery – First Edition Book Identification Guide
The books are listed in the order of publication. While the majority of Agatha Christie's books were first published in the UK. There are many titles that were first published in the US. The title of the book may differs from the UK edition in some cases.
| Year | Title | Publisher | First edition/printing identification points |
| --- | --- | --- | --- |
| 1964 | A Caribbean Mystery | William Collins & Sons, London, [1964] | First edition. "© Agatha Christie, Ltd., 1964" stated on the copyright page. No statement of later printings. Red cloth lettered in gold. Price 16s. |
| 1965 | A Caribbean Mystery | Dodd, Mead & Co, NY, [1965] | First American edition. "First published … 1965" stated on the copyright page. Black cloth lettered in black. Price $ 4.50. |
Note about Book Club Editions (BCE) and reprints:
UK: You can see statements of later reprint dates or of book club on the copyright page.
US: The US reprint publishers usually use the same sheets as the first edition and are harder to identify by looking at the title page or the copyright page. One may identify a BCE by looking at the DJ, which doesn't have a price on top of the front flap and a "Book Club Edition" imprint at the bottom. If the dust jacked is clipped at both the top/bottom of the front flap. You can safely assume it's a BCE . If the book is missing the dust jacket. Later BCE editions can be identified by its plain boards, while first printings are issued in quarter cloth.
Please refer to the gallery for detailed images of true first edition bindings and dust jackets.
A Caribbean Mystery – First Edition Dust Jacket Identification Guide
First edition bindings and various dust jacket printings identification.
Reference: