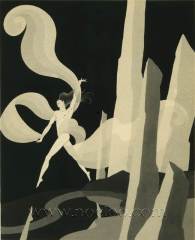 John Vassos was a noted American industrial designer and graphic designer. John Vassos was born in 1989 in Romania to Greek parents, he emigrated to America in 1919 where he attended the Fenway Art School. In 1924 he moved to New York, where he opened his own studio creating window displays, murals, and advertisements.
He was ccommissionedby EP Dutton in 1927 to illustrate Oscar Wilde's Salome. After Salome, he also did two other adaptations of Oscar Wilde's writing: The Ballad of Reading Gaol (1928) and The Harlot's House and Other Poems (1929). From 1927 to 1935 he illustrated nine books, his last, Humanities was limited to 2000 copies. He spent the rest of his career working for RCA as an industrial designer.  He passed away in 1985.
Presenting here are the illustrations from the First edition of Harlot's House and Other Poems by Oscar Wilde, published by  Dutton, New York, 1929.