During the Second World War, Pablo Picasso remained in Paris while the Germans occupied the city. Picasso's artistic style did not fit the Nazi ideal of art, so he did not exhibit during this time. He was often harassed by the Gestapo. During one search of his apartment, an officer saw a photograph of the painting Guernica. "Did you do that?" the German asked Picasso. "No," he replied, "You did".
Retreating to his studio, he continued to paint, producing works such as the Still Life with Guitar (1942) and The Charnel House (1944–48). Although the Germans outlawed bronze casting in Paris, Picasso continued regardless, using bronze smuggled to him by the French Resistance.
Around this time, Picasso wrote poetry as an alternative outlet. Between 1935 and 1959 he wrote over 300 poems. Largely untitled except for a date and sometimes the location of where it was written (for example "Paris 16 May 1936"), these works were gustatory, erotic and at times scatological, as were his two full-length plays Desire Caught by the Tail (1941) and The Four Little Girls (1949).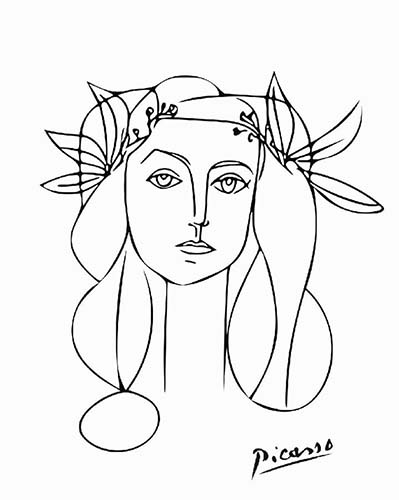 In 1944, after the liberation of Paris, Pablo Picasso, then 63 years old, began a romantic relationship with a young art student named Françoise Gilot. She was 40 years younger than he was. Picasso grew tired of his mistress Dora Maar; Picasso and Gilot began to live together. Eventually they had two children: Claude Picasso, born in 1947 and Paloma Picasso, born in 1949. In her 1964 book Life with Picasso, Gilot describes his abusive treatment and myriad infidelities which led her to leave him, taking the children with her. This was a severe blow to Picasso.
Pablo Picasso had affairs with women of an even greater age disparity than his and Gilot's. While still involved with Gilot, in 1951 Picasso had a six-week affair with Geneviève Laporte, who was four years younger than Gilot. By his 70s, many paintings, ink drawings and prints have as their theme an old, grotesque dwarf as the doting lover of a beautiful young model. Jacqueline Roque (1927–1986) worked at the Madoura Pottery in Vallauris on the French Riviera, where Picasso made and painted his famous ceramics. She became his lover, and then his second wife in 1961. The two were together for the remainder of Picasso's life.
His marriage to Roque was also a means of revenge against Gilot; with Picasso's encouragement, Gilot had divorced her then husband, Luc Simon, with the plan to marry Picasso to secure the rights of her children as Picasso's legitimate heirs. Picasso had already secretly married Roque, after Gilot had filed for divorce. His strained relationship with Claude and Paloma was never healed.
By this time, Picasso had constructed a huge Gothic home, and could afford large villas in the south of France, such as Mas Notre-Dame-de-Vie on the outskirts of Mougins, and in the Provence-Alpes-Côte d'Azur. He was an international celebrity, with often as much interest in his personal life as his art.
Picasso's Artworks:

World War II and late 1940s: 1939–1949