Virginia Lee Burton – American author and illustrator, 1909-1968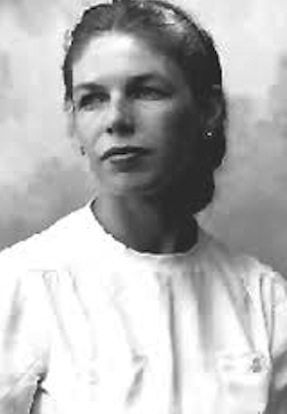 The undiminished reputation of Virginia Lee Burton is embodied in a lifework of seven books of her own cre­ation and her illustrations for seven books by other writers. Taking her cue from her small sons, Aristides and Michael, Burton chose subjects that would intrigue children: Choo Choo, the runaway engine; Mary Ann, the steam shovel who helped Mike Mulligan; Katy, the brave snowplow; the Little House, who survived a city burgeoning about her; Calico, the wonder horse of a Western adventure told in a comic-strip format.
All are characters who have survived for generation after gener­ation of readers. What also survives is the quality of the art: the strong drawings in Choo Choo (1937) and Calico the Wonder Horse (1941), full of liveliness and motion; the small telling details that children enjoy finding on the pages of Mike Mulligan and His Steam Shovel (1939); the satisfying integration of shaped text areas and pic­tures in The Little House (1942); the decorative borders that enhance Katy and the Big Snow (1943).
Elements that most distinguish Burton's work are her intricate theory of design, which she used in all her books but which was particularly effective in Anne Malcomson's The Song of Robin Hood (1947); her sense of the wholeness of the book, that is, the relationship of successive pages, which she showed by reprising each page in a sequence of tiny drawings on the endpapers of the 1950 edition of Calico and of Maybelle the Cable Car (1952). Over the years she kept refining her theories of design and became unhappy with her art for the 1941 edition of Calico.
Her zeal for perfection led her to redraw every illustration, sharpening details and using subtle gradations of black and white, and, happily, to use the word she originally wanted, Stinker instead of Slinker, in the title: Calico the Wonder Horse or The Saga of Stewy Stinker. In Life Story (1962) she used the device of a stage on which various characters—an astronomer, am explorer, a lecturer, am author, and an artist (her­self)—dramatically pull the curtains to reveal scenes showing the history of the universe and the develop­ment of life. Act V relied on the seasonal themes and set­ting of The Little House, but far from befog repetitious, the' familiar scenes fit into her overarching scheme—the story of life from cosmic bang to her own backyard.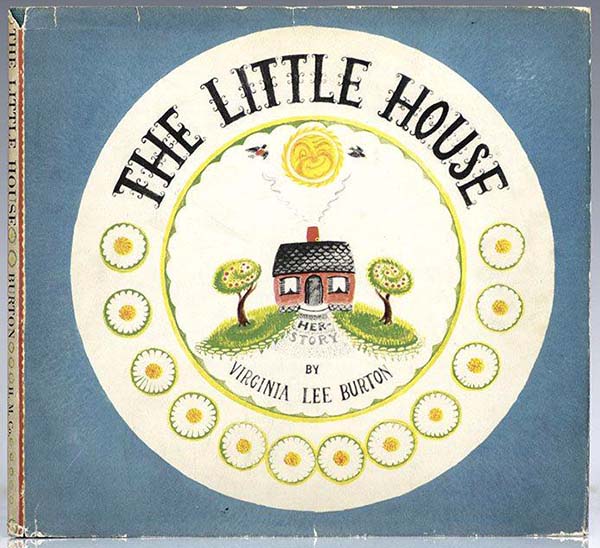 Although she illustrated several tales by Arna Bontemps and her favorite Hans Christian Ander­sen story? "The Emperor's New Clothes," Burton's long labor of love was The Song of Robin Hood. Using with virtuosity a black-and-white scratchboard technique, she designed full-page illustrations with vignettes fox each ballad verse that are vigorous, witty, and intricately designed and detailed. The Song of Robin Hood was named a Caldecott Honor Book in 1948 and The Little House won the 1943 Caldecott Award.
Born in Massachusetts, Virginia Lee Burton was brought up in California. Her father was the first dean at Massachu­setts Institute of Technology; her mother was a poet and painter who called herself Jeanne D'Orge. Burton intend­ed to make dance her career, but on coming to Boston in her late teens, she studied drawing with George Demetrios, a well-known sculptor whom she married in 1931. At her home in Folly Cove, part of Gloucester, Massachusetts, she taught her theories of design to friends and neighbors. Together they organized the Folly Cove Designers, a guild-type group that for over thirty years was internationally famous for its hand-block- printed textiles.
Virginia Lee Burton never considered herself a writer, and her ideas and their subsequent development into art pro­vided the impetus for her texts. Once her sons were grown her inspiration to create books for children waned, and she spent her time block-printing textiles and working on Design and How!, a book presenting her theories of design, which she had not finished at the time of her death. Her stories may be simple and straightforward; but her books have heroes and hero­ines children can understand and enjoy, ingenious and satisfactory endings, and lively illustrations. The books survive because they exhibit so effectively the elements most basic to children's literature.
L.K.
Source: Children's Books and their Creators, Anita Silvey.
---
Virginia Lee Burton Works
As author and illustrator:
Choo Choo (1937)
Mike Mulligan and His Steam Shovel (1939)
Calico the Wonder Horse, or the Saga of Stewy Stinker (1941)
Burton said she wrote the comic-strip-format Calico "for both Aris and Mike [her children] in an attempt to wean them away from comic books."
Burton said the house of the title "was based on our own little house which we moved from the street into 'a field of daises with apple trees growing around.'"
Katy and the Big Snow (1943)
Burton based the book's city of Geoppolis and its highway department on Gloucester.
Maybelle the Cable Car (1952)
Burton said this book reflected "my school days in San Francisco."
Burton presents the history of the world, from Big Bang to her present day, as a theater production.
As Illustrator:
Sad-Faced Boy, by Arna Bontemps (1937)
Fast Sooner Hound (1942) by Arna Bontemps and Jack Conroy; 1975
Don Coyote, by Leigh Peck (1942)
The Song of Robin Hood (1947), stories compiled by Anne Malcolmson, adapted for musical scores by Grace Castagnetta
The Emperor's New Clothes (1949) by Hans Christian Andersen; 1973
La Casita by Burton and Maria Elena Herrera; 1994